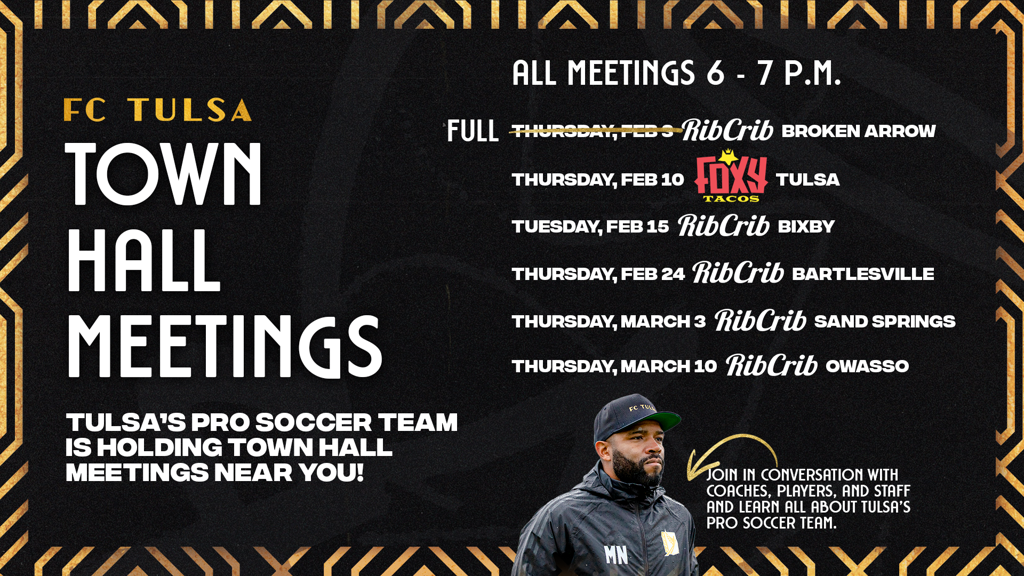 Players Scheduled to Attend Meet and Greets with Fans
TULSA – FC Tulsa is hosting a Town Hall near you this preseason. The club is partnering with Rib Cribs and Foxy Tacos throughout Tulsa and its suburbs to host six Town Hall events in February and March as the 2022 USL Championship season approaches.
FC Tulsa leadership, coaches and players will meet and greet with fans, sign autographs and answer questions about the upcoming 2022 season and the future of the club. All of the Town Halls will be from 6-7 p.m. CT and food and drinks will be available to purchase at each stop.
Fans will need to RSVP to these Town Halls by clicking this link and choosing which Town Hall(s) they'd like to attend.
"FC Tulsa is a club that represents not only downtown Tulsa, but the entirety of Northeast Oklahoma," said FC Tulsa president James Cannon. "We are thrilled to come to all corners of Tulsa and its surrounding areas to spread our message before the 2022 season kicks off. I hope we see plenty of fans at all of our stops across the city."
All 2022 FC Tulsa senior-rostered players are currently scheduled to attend at least one Town Hall, with dates and locations subject to players' availability. 
2022 FC Tulsa Town Hall Schedule:
2/8    BROKEN ARROW (FULL) – Rib Crib (121 W Kenosha St, Broken Arrow, OK 74012)
          Players: Kembo Kibato, Sean Lewis, Abuchi Obinwa, Ciaran Winters
 
2/10  TULSA – Foxy Tacos (1529 E 15th St, Tulsa, OK 74120)
          Players: Adrián Diz Pe, Eric Bird, Darío Suárez
 
2/15  BIXBY – Rib Crib (12850 S Memorial Dr, Bixby, OK 74008)
          Players: Jorge Corrales, Lebo Moloto, Johnny Fenwick
 
3/3  BARTLESVILLE – Rib Crib (2077 SE Washington Blvd, Bartlesville, OK 74006), presented by T-Mobile.
          Players: Jorge Corrales, Bradley Bourgeois, JJ Williams, Austin Wormell
 3/10    OWASSO – Rib Crib (8851 N 129TH E Ave, Owasso, OK 74055)
          Players: Joaquín Rivas, Ronald Rodríguez, Gabi Torres, Matheus Silva