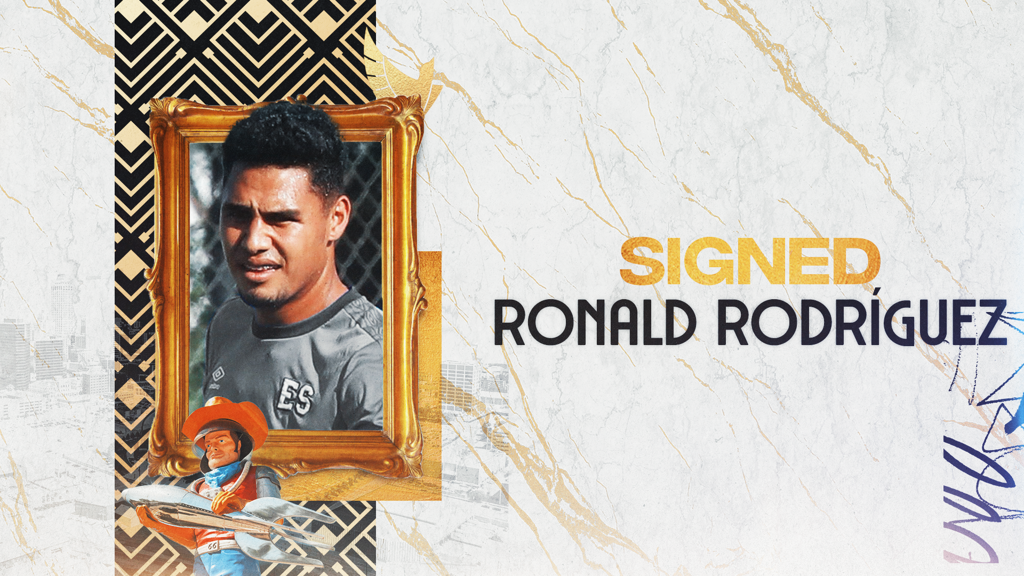 Center-back has 18 caps and One International Goal for "La Selecta"
TULSA – One of the top center-backs in El Salvador is heading Stateside. FC Tulsa has signed Salvadoran defender Ronald Rodríguez to its 2022 USL Championship roster, pending league and federation approval.
At just 23 years old, Rodríguez has already become an international star in his home country of El Salvador in 2021, appearing in 18 matches for "La Selecta" dating back to June of 2021. With 18 international starts, including caps in nine World Cup qualifiers for El Salvador this year, Rodríguez accumulated over 1,500 minutes of international duty in the last calendar year. El Salvador has already included the defender in its squad for the next round of World Cup qualifiers at the end of the month, starting with its next match against the United States in Columbus, Ohio on January 28.
Domestically, Rodríguez put together a gaudy body of work in five seasons with C.D. Águila in El Salvador, playing in the nation's top-flight Primera División. The defender made 126 appearances, 122 starts, and logged 10,671 minutes across the league's Apertura and Clausura competitions in five years before turning 24. Rodríguez averaged over five interceptions per match and boasted a dual win rate of 63% combining both league and international play. 
"Ronald is one of the top young center-backs in CONCACAF, and has shown his talent at the highest level for El Salvador in World Cup Qualifying," said head coach Michael Nsien. "Ronald has become a permanent fixture for his national team and we expect him to come into FC Tulsa and continue displaying quality performances and reaching new heights. Ronald has a very high ceiling of potential, and we look forward to helping him reach his objectives as he fights for our club."
Despite being a defensive player, Rodríguez is no stranger to contributing to the attack. He netted eight goals with Águila, three of which came in the 2018-2019 season, as the Salvadorian averaged nearly one shot on goal per 90 minutes. Rodríguez was also a playmaker with eight total assists and averaged 4.5 passes into the attacking third each match. The all-around ability of Rodríguez was key in Águila's success as the club won the Primera División's Clausura competition in the 2018-2019 season and was the runner-up in the 2020-2021 Apertura campaign.
"I can't wait to arrive at FC Tulsa and I'm grateful for them trusting in my work," said Rodríguez. "I want to give my best for the club and achieve big things. Let's achieve all of our goals and bring joy to our fans."
Rodríguez is the fifth new face in the 2022 FC Tulsa roster, joining Matheus Silva, Petar Čuić, Machuca, and Gabriel Torres.
2022 FC Tulsa Roster
Keepers: Sean Lewis, Austin Wormell
Defenders: Bradley Bourgeois, Jorge Corrales, Johnny Fenwick, Ronald Rodríguez, Matheus Silva, Gabriel Torres
Midfielders: Eric Bird, Petar Čuić, Kembo Kibato, Lebo Moloto, Ciaran Winters
Forwards: Rodrigo da Costa, Machuca, Darío Suárez