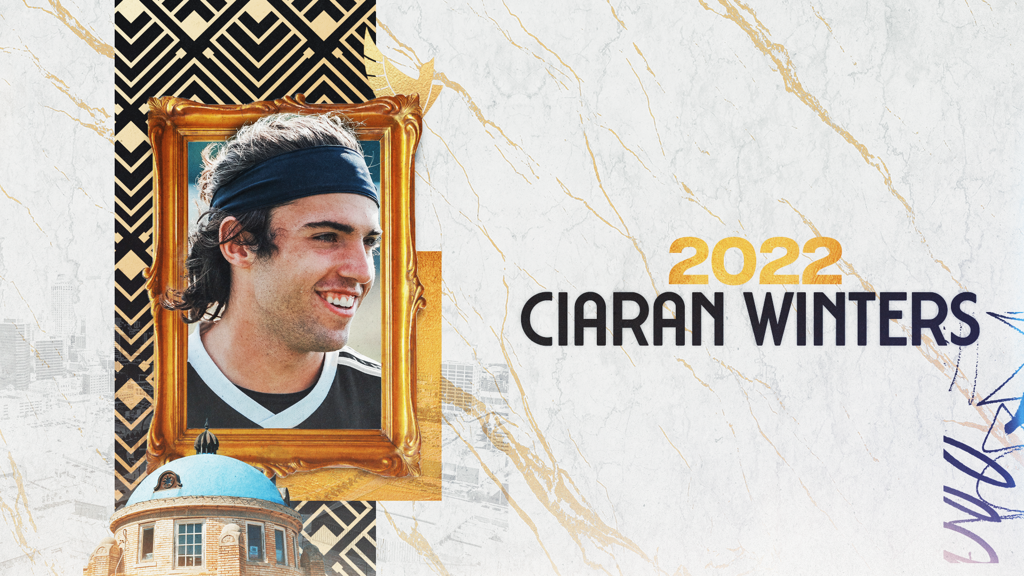 Winters Made Professional Debut in 2021 with 10 Substitute Appearances
TULSA – One of Tulsa's own is returning to FC Tulsa in 2022. The club has re-signed 20-year-old homegrown midfielder Ciaran Winters to a new contract for next season, pending league and federation approval. Last season, Winters made history by becoming the first FC Tulsa player to complete the pathway to pro – signing a professional contract after starting his Tulsa career as an Academy player.
"Ciaran took huge steps forward in his growth as a professional footballer this past year," said FC Tulsa head coach Michael Nsien. "When we were a bit banged up early in the season, Ciaran was able to step in and get valuable minutes. Unfortunately, Ciaran suffered his own injuries when the other players made their way back into the team. I know Ciaran will prepare this off-season to have an incredible upcoming year, and I believe he has all the tools to really shine this year."
After training with the first team throughout the 2020 season as an Academy player, Winters made his long-awaited FC Tulsa debut in 2021 with 10 appearances as a substitute, playing 157 minutes. FC Tulsa went 5-4-1 in those 10 matches, including wins over OKC Energy FC and Indy Eleven. Winters will look to record his first professional goal or assist in 2022.
A native of Jenks, Winters attended the Tulsa Soccer Academy locally before moving to Kansas City to play in the Sporting KC Academy system in 2018 and 2019. He was lured back to Tulsa in 2020 with the opportunity to eventually represent his hometown club as a professional, a dream he achieved as a substitute in last year's season opener.
"I'm over the moon to be playing in Tulsa for another year," said Winters. "I have a special feeling about the 2022 season, and I can't wait to make it my best one yet. I'm looking forward to getting back out in front of the fans at ONEOK Field."
Winters is the eighth player retained by FC Tulsa for the 2022 season.
2022 FC TULSA ROSTER
Keepers: Sean Lewis
Defenders: Bradley Bourgeois, Jorge Corrales
Midfielders: Eric Bird, Kembo Kibato, Lebo Moloto, Ciaran Winters
Forwards: Darío Suárez