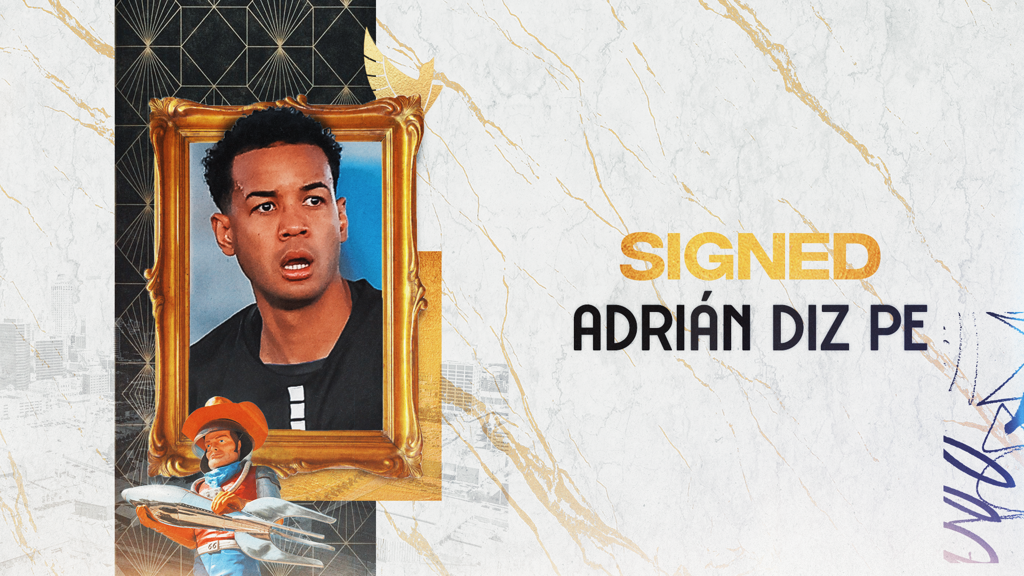 Defender Spent 2021 Season with RGV Toros FC in USL Championship
TULSA – Another physical center-back is on his way to Tulsa for the 2022 season. FC Tulsa has signed Cuban defender Adrián Diz Pe to its 2022 roster, pending league and federation approval. Diz Pe joins Ronald Rodríguez, Matheus Silva, Gabriel Torres as new signings along the backline as FC Tulsa has made its defense a priority in the 2021 offseason. 
Standing at 6'3'', Diz Pe is a former Cuban national team member with 13 caps under his belt for the senior squad and another 18 appearances between Cuba's U-17, U-20, and U-23 teams. He initially broke through with the senior team in 2012 World Cup Qualifying as Cuba went on to win the Caribbean Cup the same season. His last national team appearance for Cuba came in the 2015 CONCACAF Gold Cup where he was teammates with current FC Tulsa forward Darío Suárez.
"Adrián is a player that I've seen over the last few years that has impressed me at center-back," said head coach Michael Nsien. "Adrián is uncompromising when it comes to winning balls in the air and tackling. He also has a great range of passing and can unlock opponents from all areas of the field. His commanding presence will be another big addition to FC Tulsa and gets us closer to reaching our objectives."
Diz Pe initially kicked off his career with C.F. Ciudad de la Habana in his hometown of Havana in 2012 where he also played with Suárez. In 2018, Diz Pe made the move to the United States and signed with Portland Timbers 2 in the USL Championship.
In two seasons with Portland, Diz Pe made 36 appearances, logged three assists, and scored once as a center-back. In 2018, Diz Pe played all 90 minutes of Portland's playoff match against Phoenix Rising FC following a sixth-place regular season finish. He would move on to Colorado Springs Switchbacks FC in 2020 to appear in 12 of its 16 matches and record another assist before spending 2021 with Rio Grande Valley FC. 
He was a force on the backline for RGVFC last year with 67% duals won rate and was even better in the air with a 71.6% aerial duals won rate.
Last season with RGVFC, he tied his 2019 single-season appearance record with 21 showings and scored the second goal of his professional career, an 49′ equalizer in what ultimately was a 3-2 victory for the Toros over Atlanta United 2. Diz Pe came up with the fifth assist of his career as well, marking the fourth straight season in which the center-back recorded at least one assist.
"I'm really grateful for this opportunity," said Diz Pe. "And now it's time for me to do my best and bring the trophy home. I can't wait to feel the support of all the Tulsa fans and share in the excitement of each victory on the pitch. This is going to be a great year, let's fight together, Tulsans!"
Adrián Diz Pe is the 20th senior roster member of FC Tulsa announced to the 2022 roster. FC Tulsa players will report for preseason training camp on February 1 in Tulsa, Okla.
2022 FC Tulsa Roster
Keepers: Sean Lewis, Austin Wormell
Defenders: Bradley Bourgeois, Jorge Corrales, Adrián Diz Pe, Johnny Fenwick, Ronald Rodríguez, Matheus Silva, Gabriel Torres
Midfielders: Eric Bird, Petar Čuić, Kembo Kibato, Lebo Moloto, Abuchi Obinwa, Ciaran Winters
Forwards: Brian Brown, Rodrigo da Costa, Machuca, Joaquín Rivas, Darío Suárez