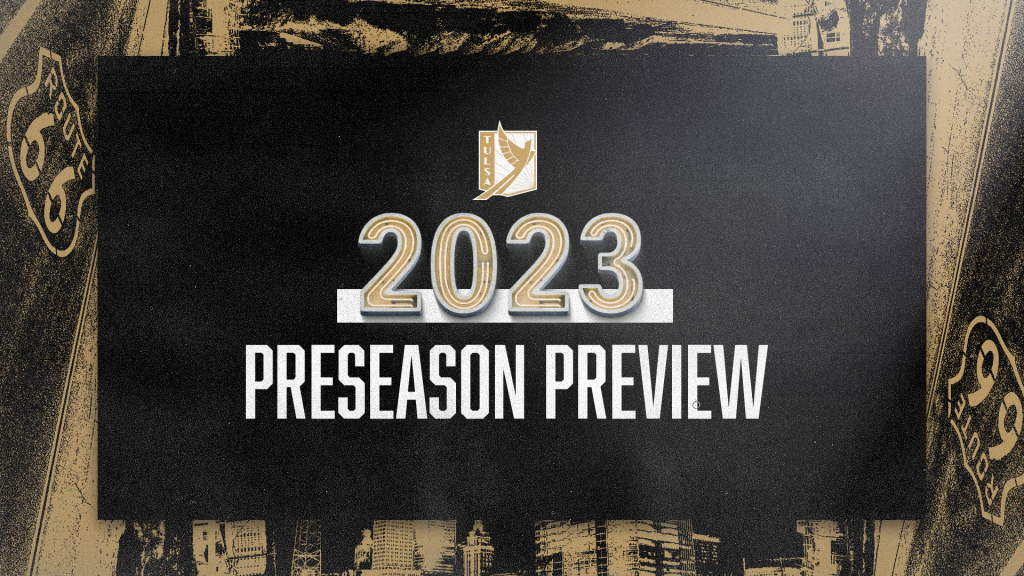 FC Tulsa Gears Up for First Preseason Match on Sunday
TULSA – After the excitement of an offseason chock-full of new player signing, new coaching hirings, and establishing a new identity, we are just about ready for the payoff – another season of professional soccer in Tulsa. Sunday marks FC Tulsa's first preseason match of 2023, tailed closely by the commencement of the regular season. As the anticipation continues to build, let's take a proper stroll down memory lane and recap the last few months so we are all on the same page as the preseason kicks off.
Although his hiring was technically announced during the 2022 season, Blair Gavin was named the next head coach of FC Tulsa and is taking the reins for the first time as the head gaffer in his coaching career. Gavin joins FC Tulsa after serving two seasons as an assistant with MLS' Columbus Crew and previous experience with the Championship's Phoenix Rising FC.
Gavin has not been shy regarding his coaching philosophy – pressure and attack.
"We want to have an attacking mindset both with and without the ball," explained Gavin. "We are hoping to be proactive in the match and play on the front foot. In attack, we want to play through pressure and if it's lost quickly, get it back to retain the ball and keep progressing towards goal. In defense, we want to be organized and collectively hunt the ball so we can force turnovers and start attacking again."
The full-back position was one of the first to undergo reconstruction as the club added Brett Levis, a member of the Canadian Premier League's Team of the Year last season, and 2022 MLS Next Pro champion Justin Malou to accompany Jorge Corrales and Angel Bernal out wide. These four are expected to frequently join the attack and add an extra dimension of danger for opposing backlines. Two midfield acquisitions saw the additions of U.S. national youth star Blaine Ferri and 2017 Tulsa Roughneck Collin Fernandez to assist in controlling the central parts of the pitch.
Four new attackers up top join Darío Suárez and Marcus Epps tasked to score goals. Lots of goals. Moses Dyer, a CPL teammate of Levis' at Valour FC with 18 goals and seven assists over the past two seasons, and the No. 2 overall pick from the 2019 MLS SuperDraft Siad Haji have arrived in Tulsa. In addition, NCAA National Champion and two-time Second Team All-American Milo Yosef was signed out of Marshall University and Watz Leazard joined from Haiti, a 19-year-old who is quickly becoming one of the nation's most promising prospects.
Although from different competitions and levels of play, the eight new players added to FC Tulsa's 2023 roster accounted for 27 goals and 13 assists last season. When adding goals and assists accounted for by returning FC Tulsa players in the USL Championship in 2022, the current Tulsa roster was good for 54 goals and 26 assists a season ago, a number that would have made FC Tulsa the seventh highest-scoring team in the league.
Now that we are caught up, onto the preseason matches themselves.
The primary purpose of the preseason is to promote match fitness for each player, so this preseason will look a bit unique. Matches will gradually increase in length from 15 minutes to 90 minutes as we inch closer to the start of the regular season and player fitness improves week by week.
All preseason matches will also feature split-squad action, meaning FC Tulsa's roster will be divided in half for every match and will play a full contest against its opponent to allow for every player to get quality minutes. For the sake of clarity, let's call the two sides Group 1 and Group 2 for the remainder of this piece.
On Sunday, the ball gets rolling with an intrasquad competition as Group 1 and Group 2 face off against one another. February 11 will mark the first two preseason matches against a different opponent as Group 1 will play a full match against Oral Roberts University, immediately followed by another full contest vs. ORU featuring Group 2. The same process repeats itself the following Saturday in the Lone Star State as Groups 1 and 2 will take on San Antonio FC in separate matches.
A round-robin style affair takes place on February 25 as Group 1 faces off against Union Omaha of USL League One and Group 2 takes on the University of Tulsa. The preseason will then close on March 4 when Group 1 hosts Sporting KC II and Group 2 matches up with TU.
While all matches will be closed to the public, your friendly neighborhood FC Tulsa social team will cover all the action on Twitter, so be sure to give @FCTulsa a follow.
Everything in February and early March leads up to March 11 when FC Tulsa travels to Miami in the 2023 season opener to take on Miami FC. The squad then has one more stop in Birmingham the following weekend before returning to ONEOK Field for its home opener on March 25 vs. Loudoun United FC.
A new standard has been set in 2023. The bar has risen.
We're gassed up. Are you?
Click here to view FC Tulsa's full 2023 roster.