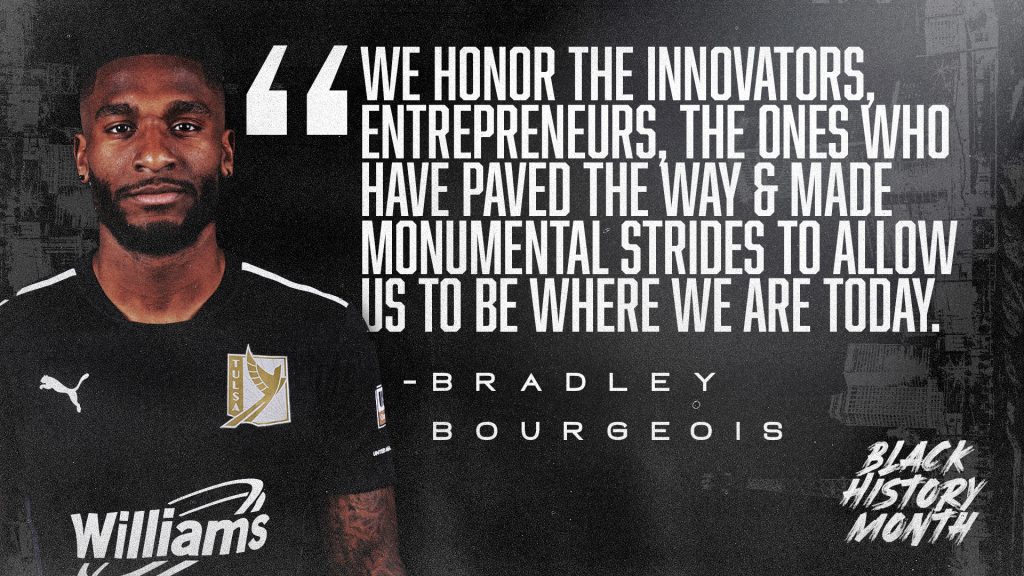 Marcus Epps, Bradley Bourgeois, Justin Malou, Milo Yosef, Matt Watson, and Alan Doyle Share Their Thoughts
Marcus Epps, Bradley Bourgeois, Justin Malou, Milo Yosef, Matt Watson, and Alan Doyle Share Their Thoughts
TULSA – February 1 marks the beginning of Black History Month, a collection of weeks dedicated to honoring the Black community and telling its stories. A dialogue was started with several black members of the FC Tulsa community including players, coaches, and fans to share their stories and shine a light on what Black History Month means to each of them.
When asked how to sum up the purpose of Black History Month, FC Tulsa captain Bradley Bourgeois replied, "We honor the innovators, entrepreneurs, the ones who have paved the way and made monumental strides to allow us to be where we are today."
"Black History Month is a very special month to me that is focused on reflection, empowerment, and conversation about certain adversities that people in my community have to go through," shared forward Marcus Epps. "Life is not always great – there are always obstacles and people that don't always want you to succeed, but God's plan and what's in your heart can't be stopped."
Similarly, FC Tulsa assistant coach Matt Watson highlighted not only the need to study the past but also the need to look ahead towards the promising future that awaits the Black community.
"We seldom take the time to reflect on our rich history as well as our bright future," shared Watson. "That's necessary, particularly because throughout history, certain powers have sought to divide us as lesser people. To come together and celebrate our race and to show we have overcome so many obstacles just to try to earn equal footing in this world is huge whilst reminding ourselves there's still work to be done."
One such obstacle discussed was that of Epps' grandmother fighting to make history in the family's hometown of Lexington, Mississippi.
"My grandmother became the first person of color to work in her courthouse back in Holmes County, and that's something that is a symbol of great pride for me and my family," remarked Epps. "To this day, she is a matriarch to that whole community. Hearing these stories growing up and hearing how many times she heard 'no' and how overqualified she had to be just to be in rooms that she should have been in already is empowering. It's important."
Just as Epps' recounting of his grandmother had local ties to Holmes County, Tulsa has its own personal ties to Black history as it relates to the Tulsa Race Massacre of 1921 as well as the efforts that the Greenwood District has made to not only rebuild, but to better itself in the present day. Bourgeois touched on what it means to represent the Black community today in Tulsa and the inseparable history that comes with personifying it.
"Black History Month is important everywhere you go, but in Tulsa with the history of Greenwood and how recent it was, it shows that there is a lot more learning we can do," said Bourgeois. "It's everyone's job to be able to learn, ask questions, grow, and accept. That's what I try to help with in the best way that I know how as an African American in Tulsa. I want to be able to extend a hand, and if anyone wants to ask questions and grow, I feel that's my responsibility as a Tulsan."
Alan Doyle initially joined 83 United, FC Tulsa's official Supporters Group, back in 2016 but has been attending matches dating back to the 1990s era Tulsa Roughnecks who operated in the USISL Indoor league. Doyle grew up in Broken Arrow and moved to Tulsa proper as a teenager. In addition to his soccer fandom, Doyle is also a hip-hop artist whose lyrics often describe growing up in Tulsa as a Black man.
"There has been a lot of good in my life, but there will always be challenges such as the way people treat you or how they see you," said Doyle. "But I believe in using my voice and my words for the power of good and to combat any negativity that is thrown in my way or Black people's way. I want to show others that we're not terrible people and if you take the time to listen to what I have to say, you will understand where I'm coming from."
Just as geography plays a key role in stories from Epps, Bourgeois, and Doyle, it heavily frames the viewpoints of newly signed FC Tulsa teammates Milo Yosef and Justin Malou. Both players are internationals with Yosef being from Germany and Malou from Senegal. Neither country celebrates Black History Month nor has adopted a dedicated period to celebrating Black history.
"Black History Month is good for the whole community to come together," said Malou. "I know in the U.S. there is Hispanic Heritage Month and others like that, so it's a great moment to educate people that do not know much about the history of Black people. It's good that there is a month dedicated to this education, even though it should be every day."
Yosef also mentioned the need for continued discussions around Black history and a deficiency in dialogue after February 28.
"I think in the U.S., Black History Month is an important thing to have, but Black history is not taken as seriously as it should be, 100%," said Yosef. "I get the idea of wanting to make Black History Month a big thing, but I don't know how I feel about having a Black History Month, then the month is over, and then everyone goes back to normal. There should be more value placed there by both the Black community and those outside of it."
Black History Month is not only an opportunity for people of color to share their stories, but also a chance for people outside of the Black community to listen, learn, and educate themselves about the subject. Through this education, the conversation surrounding Black history can continue beyond the confines of February.
"Just listen to each other," is the advice Yosef offered when asked how to best educate oneself about Black history. "People seem to be more stubborn when it comes to these kinds of things. Many people will hear, but it's in one ear and out the other. I feel like a common theme in the U.S. is to point fingers, but we need to realize that we don't all know everything and we can learn a lot from listening to each other. You don't even have to say anything. Just listen."
"Apart from the typical sharing of the celebration on social media, people should make efforts to support Black-owned businesses and have a dialogue about race, even though it can be a difficult conversation," suggested Watson. "Being in the football world so long, I've been fortunate enough to be surrounded by people of all different races and I think having open conversations and understanding someone else's experiences or culture is highly rewarding."
"I feel knowing the stories of Black people and the obstacles they have overcome is empowering to anyone who is going through their own battles in their own personal life," closed Epps. "For someone not in the Black community, it is important to educate yourself because you can learn how to succeed despite obstacles like the people in these stories. For members of the Black community, it's helpful to be educated about what has happened and is happening in your own community. There are a lot of things that aren't known, but there are also a lot of things that are known but aren't fully understood. Share those stories and share those battles because they are empowering to everyone."