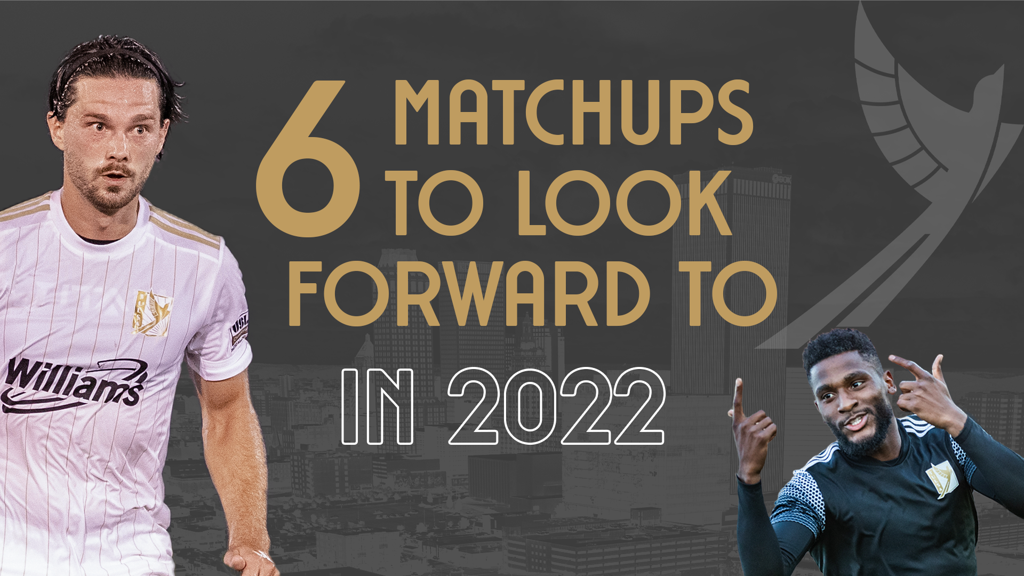 TULSA – Let's be honest, FC Tulsa's 2022 regular season schedule is awesome. Up and down, it's chock-full of juicy, high-profile matchups. Familiar foes, new matchups and a reigning champ are all on the books for 2022.
What matchups are we most excited about? Well, your friendly neighborhood mods with www.fctulsa.com polled four current players and two broadcasters to see which matchups they are most looking forward to.
ERIC BIRD – Midfielder, Feed Him
March 19th – FC Tulsa vs. Birmingham Legion FC (ONEOK Field)
It's hard to pick just one game to circle on the new schedule. But, the game I'm most looking forward to is our home opener against Birmingham on March 19th. Last year there wasn't much to separate our two teams as we went back and forth with those guys on results.
We know that they're a quality team and it seems they've reloaded again this offseason. It will be a high stakes match with lots of talent involved. And there's nothing more important than starting off the season on a positive note and showcasing our intentions for the year.
I also can't wait to get back out there in front of our fans. To hear them cheer us on and push us forward, so we can fight for this city together.
ANNA BEFFER – Broadcaster, Former Oklahoma State Big 12 Champion
June 1st – FC Tulsa vs. Tampa Bay Rowdies (ONEOK Field)
I'm most looking forward to the Tampa Bay Rowdies game June 1st at home. With FC Tulsa bringing back so many core players to the lineup, plus the addition of some key signings, I feel really good about a rematch in front of home fans.
We'll have a few games under our belt at that time and with the talent on the roster, it gives FC Tulsa an opportunity to continue to prove why we are an elite club and can compete day-in and day-out with those top tier teams. Plus, I'd love for Darío Suárez to hit another screamer like he did against Tampa last season.
BRADLEY BOURGEOIS – Captain, Defender, Fashion King
June 4th – FC Tulsa vs. Miami FC (ONEOK Field)
The longer you are in the USL Championship, the more people you get to know. On June 4th against Miami FC, I get to play against an old teammate* of mine from Nashville SC…who I look forward to beating!
Note: Bradley refused to name this teammate as he wants to ensure he gets zero recognition.
JOHNNY FENWICK –Defender, Johnny Fútbol
July 13th – FC Tulsa vs. New Mexico United (ONEOK Field)
I'm looking forward to playing New Mexico United at home this summer. Two of my former college teammates, Rashid Tetteh and Austin Yearwood currently play there, and it's always fun to match up against them.
New Mexico are always a tough team to play against, and they have a great fan base, just like us. I'm sure ONEOK field will be buzzing and packed with our brilliant fans on July 13th.
DAVE SAUNDERS –Broadcaster, Voice of FC Tulsa
August 20th – FC Tulsa vs. Indy Eleven (ONEOK Field)
There are many new teams that FC Tulsa will play this year, but I have gone for a foe from last year in the shape of Indy Eleven. Last year, FC Tulsa were victorious both home and away, with Indy Eleven able to go away with the points from ONEOK as well as play out a 1-1 draw in the four-match series.
The main reason for me to look forward to this one is to see Englishman Nicky Law again. My team from "back home," Exeter City, were brilliantly and professionally served by Nicky, a firm fans favorite who the Grecians fans still follow in his new USL Championship career. Not only is he a fantastic player, a busy, energetic midfielder, but also a great person. Exeter's loss was definitely Indy's gain.
Obviously as a passionate FC Tulsa fan, I'm hoping for a confident home win in this one on August 20th at ONEOK.
SEAN LEWIS – Goalkeeper, Clean Sheet Sean
September 24th – Detroit City FC vs. FC Tulsa (Keyworth Stadium)
One of the games that I am most excited for is Detroit City FC away. Being from Michigan, I have a lot of friends and family in the area.  I am really looking forward to playing in front of them and against DCFC – a club that many of my friends and former teammates have played for. It should be a great occasion!