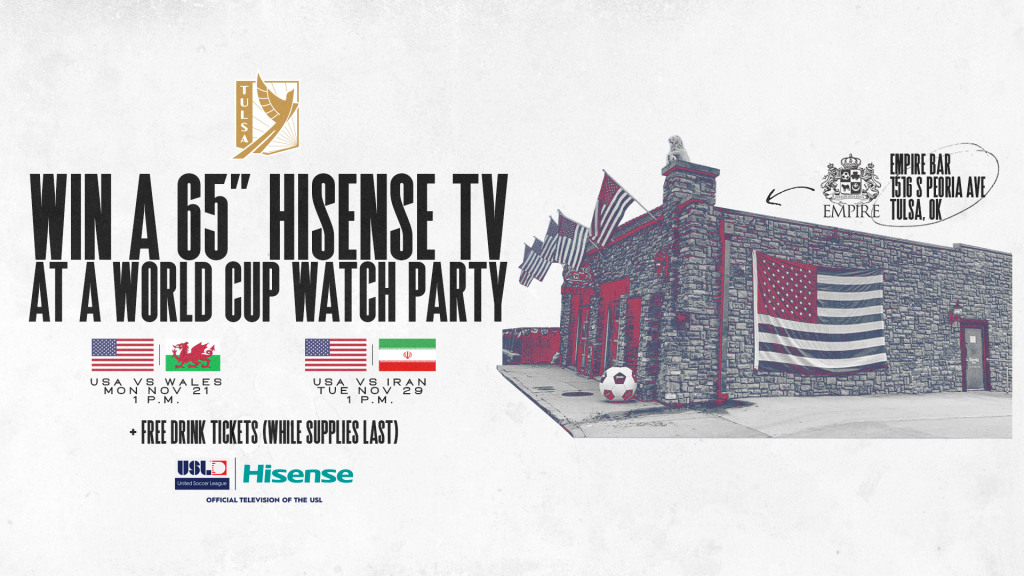 Watch Parties to be Held at Empire Bar on November 21 and 29
TULSA – The world's biggest sporting event is rapidly approaching, and to celebrate, FC Tulsa has partnered with the USL Championship and Hisense to give away a 65″ 4K Hisense TV during two USA World Cup Watch Parties at Empire Bar.
The dates and times of the two watch parties are listed below:
Monday, November 21 at 1 p.m. CT – United States vs. Wales
Tuesday, November 29 at 1 p.m. CT – Iran vs. United States
One TV will be given out at each watch party, courtesy of the USL Championship and Hisense. Fans will be able to enter to win by scanning QR codes that will be accessible at Empire Bar during both matches, and the winner will be announced following the conclusion of the match. The winner must still be present at the time of the drawing to win, otherwise a new winner will be selected.
FC Tulsa will also be providing fans with drink tickets while supplies last, so be sure to swing by Empire Bar on November 21 and 29 for some soccer, beer, and two chances to win a free TV!