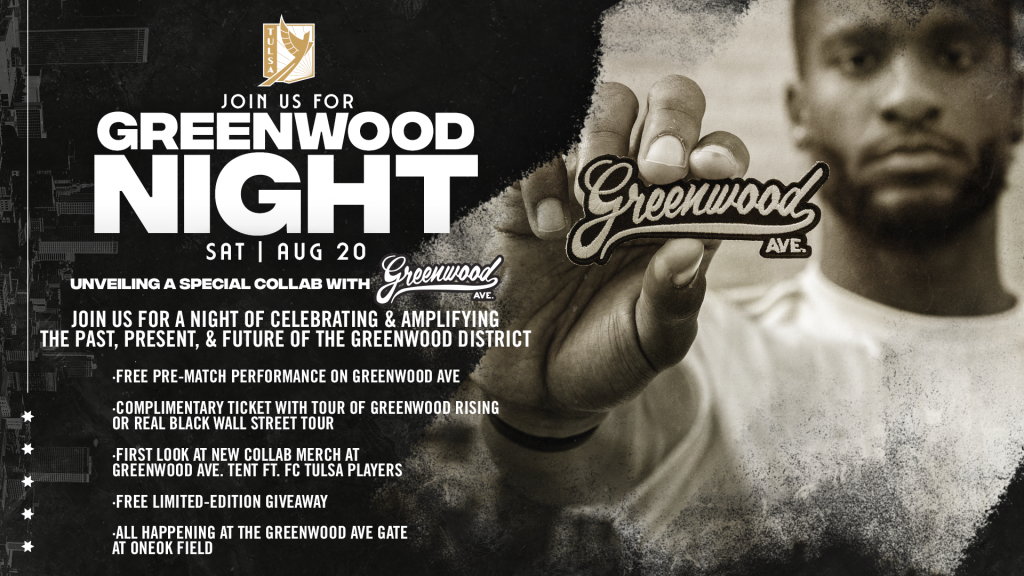 Special Merch and Giveaways at the ONEOK Field Gate Located on Greenwood Ave
TULSA – To honor the history of Greenwood as well as celebrate the black excellence that built Greenwood Avenue and continues to build it today, FC Tulsa will be hosting Greenwood Night on August 20 in collaboration with Greenwood Ave.
Players will be wearing special limited-edition Greenwood Ave. jerseys during warmups, designed in collaboration with Trey Thaxton at Greenwood Ave. Each player's jersey can be purchased by fans as part of that player's Greenwood Ave. Bundle. Each bundle includes the jersey worn by the selected player and the chance to meet him following the conclusion of the match on August 20, get the jersey signed, and take a photo with the player.
10% of all proceeds from the Greenwood Ave. Bundles will go directly to the Greenwood Cultural Center, and FC Tulsa will donate 30 match tickets for each bundle sold to local non-profit organizations in Greenwood as well.
The ONEOK Field entrance on Greenwood Avenue will also offer unique experiences for fans tailored to this special evening. A prematch concert at the Greenwood Plaza will start at 6 p.m. CT performed by Thaddeus Johnson of American Idol, and a Greenwood Ave. tent will be set up to offer a first look at all the new FC Tulsa x Greenwood Ave. collaboration merch, featuring FC Tulsa players. In addition, there will be limited-edition giveaway items handed out at the stadium entrance off Greenwood Avenue.
Anyone who takes a tour of Greenwood Rising or a Real Black Wall Street Tour leading up to August 20 will be given a voucher for a complementary FC Tulsa ticket to the match, which can only be redeemed at the box office on Elgin Ave.
Over 40 local Greenwood businesses will also have tables set up around the ONEOK concourse inside the stadium for fans to interact with and shop at.
Join FC Tulsa for a night of amplifying the past of the Greenwood District as we celebrate its present and future! Tickets to Greenwood Ave. Night are still available and can be purchased here.