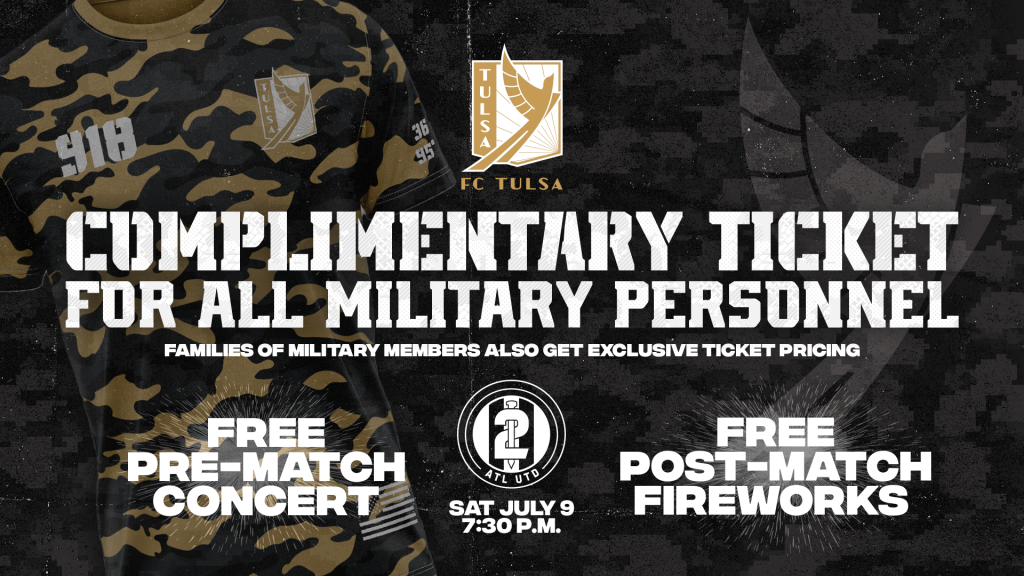 All Former and Active Duty Military Personnel to Receive Complimentary Match Ticket
TULSA – To honor all of those who have served and are actively serving in our country's military, FC Tulsa will host Military Appreciation Night at ONEOK Field on July 9, the club's first match following the 4th of July. All military personnel will receive a complimentary ticket to the match with presentation of their Military I.D. at the box office. Family members of military personnel will also receive access to discounted ticket rates.
FC Tulsa players will be wearing a unique FC Tulsa Salute to Service Jersey during warmups that each player will sign, and the jerseys will be available for purchase as part of the FC Tulsa Salute to Service Bundle. Fans can select an FC Tulsa player on a first come, first serve basis and purchase that player's bundle pack which includes the selected player's prematch-worn autographed jersey and a photo with the player. Proceeds from each FC Tulsa Salute to Service Bundle will go towards donating 30 FC Tulsa match tickets to veterans as a thank you for their courage and personal sacrifices on behalf of all of us. Get your Salute to Service Bundle here!
In addition to the Salute to Service Jerseys worn on the pitch, a limited number of Salute to Services Jerseys will be available for fans to purchase as well at the FC Tulsa Team Store.
Military vehicles will be parked outside of the ONEOK gates for fans to be able to see in person as well as take pictures with, and the night will conclude with a patriotic fireworks show following the match.
Charlie Redd and Luna Voodoo will kick off Saturday night at 6 p.m. CT with some funky-soul fusion as part of the FC Tulsa Summer Concert Series before the club's match against Atlanta United 2 kicks off at 7:30 p.m. CT. You can get your tickets to the match here!
If military personnel would like to receive their complementary ticket in advance, please contact an FC Tulsa ticket representative by calling 918-297-6808 or emailing at tickets@fctulsa.com.