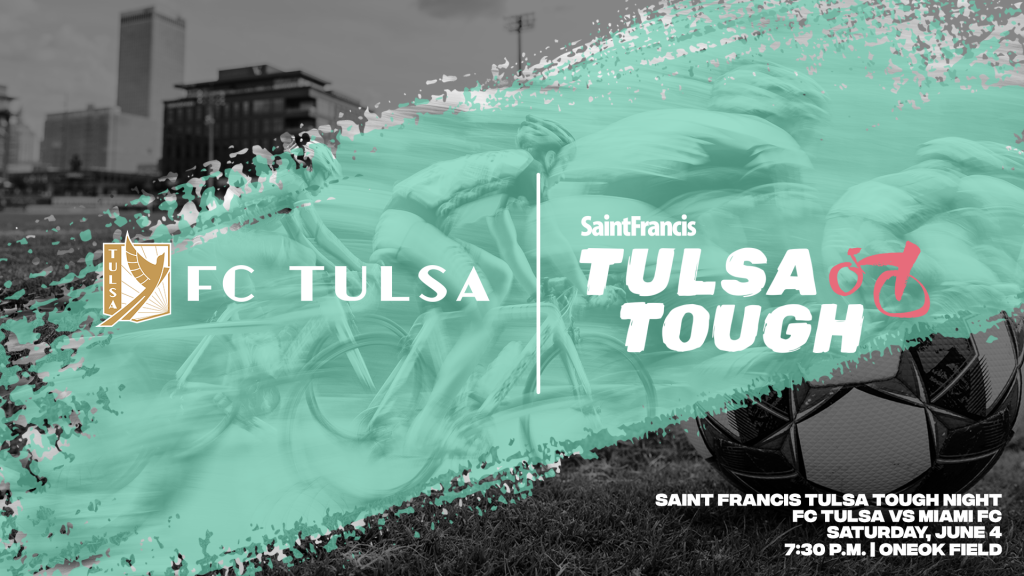 FC Tulsa will serve as the Presenting Sponsor of the Tulsa Arts District Criterium Race and Host "Saint Francis Tulsa Tough Night" at ONEOK Field
TULSA – FC Tulsa will once again team up with one of Tulsa's biggest annual sporting events, Saint Francis Tulsa Tough. Tulsa's pro soccer team will serve as the Presenting Sponsor for the Tulsa Arts District Criterium, the Saturday race on June 11. With on-course branding and custom FC Tulsa jerseys presented to both the men's and women's podium finishers in the premier pro races on Saturday night, fans at Saint Francis Tulsa Tough will see plenty of FC Tulsa.
Race week will officially kick off at FC Tulsa's home match against Miami FC on Saturday, June 4 with "Saint Francis Tulsa Tough Night" at ONEOK Field. All riders and volunteers will receive a special ticket offer to FC Tulsa's match that night and are invited to bike to the match. The club will have designated racks to set up inside the ONEOK Field gates for riders to lock their bikes during the match.
There will also be a Saint Francis Tulsa Tough table set up on the concourse for fans to snag a free T-shirt while supplies last and learn more about one of Tulsa's most exciting sporting events.
Fans of Saint Francis Tulsa Tough that would normally come to "Crybaby Hill" will find a similar atmosphere at ONEOK Field on June 4 in 83 United's "Supporters Section." Instruments, chants and cheers emanate from the Supporters Section while plenty of beverages are consumed throughout FC Tulsa's match.
FC Tulsa's match will also feature a free prematch show by Pilgrim as a part of the club's Summer Concert Series, presented by Bill Knight Ford, just outside the gates at ONEOK Field. The show will go from 6-7 p.m. with kickoff of the match at 7:30 p.m. FC Tulsa will also provide all fans with a postmatch Fireworks Show, immediately following the conclusion of the match.