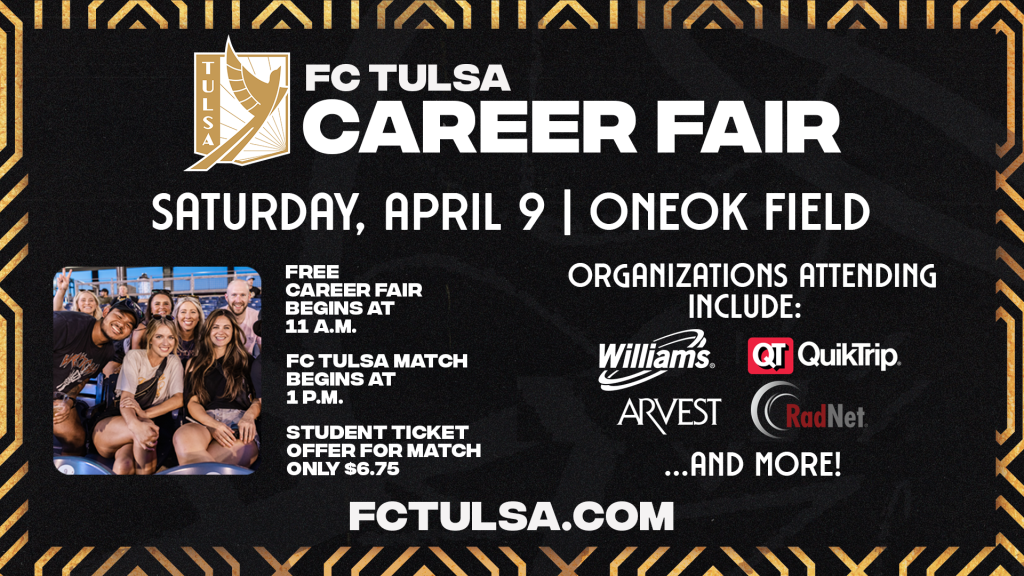 Visit with Prospective Employers Ahead of FC Tulsa's Match on April 9 Starting at 11 a.m. CT.
TULSA – FC Tulsa is aiming to provide a boost to the Tulsa job market on Saturday afternoon by hosting Career Fair Day at its match against Pittsburgh Riverhounds SC at ONEOK Field. Starting at 11:00 a.m., nearly a dozen businesses will be set up around the concourse at ONEOK looking for prospective employees.
Williams, Arvest Bank, QuickTrip, PepsiCo, Allstate and several more local businesses will have tables staffed with hiring managers set up from 11 a.m. through the final whistle of the match to meet and prospect for job openings.
"With some of the largest employers in Tulsa in attendance on Saturday, we are hoping to give those looking for work great options in the job market," said Michael Schetzel, Chief Business Officer of FC Tulsa. "Our goal is to make this Career Fair an annual tradition to help connect local businesses to Tulsans."
To be a part of the Career Fair, fans must have a ticket to FC Tulsa's match, which will kick off against Pittsburgh at 1 p.m. CT on Saturday. FC Tulsa tickets are affordable for those looking to attend, with tickets starting at just $12 if purchased in advance. Ticket options for Saturday can be found here.
FC Tulsa is currently undefeated at home in 2022 with wins in all four of its home matches. Dating back to October of 2021, FC Tulsa has won six consecutive matches, the longest home winning streak in club history.