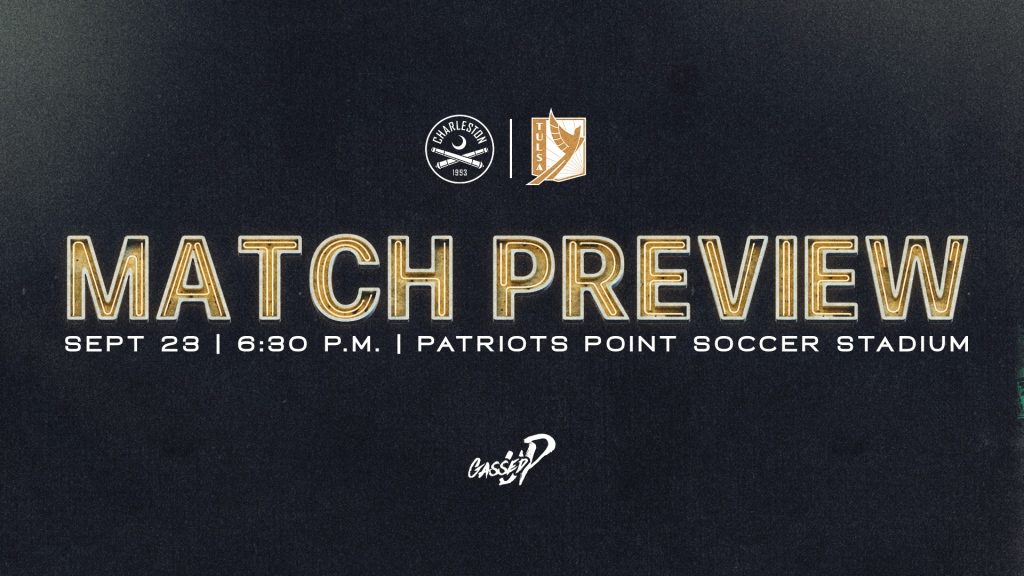 Kickoff is Set for 6:30 p.m. CT
Kickoff is Set for 6:30 p.m. CT
CHARLESTON, SC. – The last three matches have been a turning point for FC Tulsa, earning seven points to boost them up a spot in the Eastern Conference. After defeating Oakland Roots SC 1-0 last weekend in a hard-fought battle to the final whistle, Tulsa head to Charleston Battery recovered and ready to go against one of the best teams in the league.
The players know how important it is to get an early lead in all games, but especially when playing against strong sides with a lot of talent. Blair Gavin expressed following the Oakland matchup last weekend that there is a big emphasis on starting fast and maintaining a high level throughout the 90 minutes.
"I think for us, getting on that front foot changes the game. We've got some players in transition that can hurt you as well. So that first goal is massive for us," Gavin explained after Phillip Goodrum set the pace in the 10th minute in Oakland.
Since adding fresh bodies mid-season, the chemistry has grown massively. The team have been able to work together nicely and understand each other's game. Goal scorer Phillip Goodrum spoke on his overall thoughts of the team performance and highlighted how they have progressed, "This team showed our resilience tonight… Everyone played a role tonight and that team mentality is what we feel can get us into the playoffs for this final stretch."
It will be crucial for Tulsa to keep Tristian Trager out of the game and find another clean sheet for Michael Nelson, since he recorded the joint-fastest goal in the USL Championship this season vs Loudoun United last Saturday (0:21).
Considering Charleston have scored seven more goals than FC Tulsa over the course of the 2023 season, Tulsa has a higher shooting accuracy percentage, with 42.80%.
Charleston Battery se­cured their playoff spot for the first time since 2020 after defeating San Diego 2-0 on September 9th. Tulsa is still in the race for a place in the playoffs, which adds more pressure to gather crucial points out of the upcoming games. There is still a lot of work to do, especially with players out with suspension this weekend.
Phillip Goodrum and Milo Yosef are out on one game suspensions due to reaching their yellow card allowance, while Marcus Epps is out for one game due to receiving a red card last week.
FC Tulsa have managed to put three goals past Charleston in their three-game history, with great potential to add to that tally. Tulsa has not scored an away goal in Charleston, but there is no better time to take the first than Saturday night.
Kickoff from Patriots Point Stadium is set for 6:30 p.m. CT on My41 Tulsa and ESPN+.
SCOUTING CHARLESTON BATTERY
Charleston Battery, currently stand­ing proud at 3rd in the Eastern Conference, host FC Tulsa this weekend after coming off a disap­pointing 2-2 draw with Loudoun United in match week 28. Tristan Trager scored after just 0:21, which is the joint-fastest goal in the USL Championship this season. This earned him a spot on the team of the week, alongside teammate Derek Dodson. Comparing to FC Tulsa, who excel from leading the game from the start, Charleston Battery have won 16 points from losing positions in the USL Cham­pionship this season, no team has recovered more.
Goalkeeper Trey Muse has been a standout performer for Charles­ton, boasting an impressive tally of 11 clean sheets this season, a stat that positions him as the second-best goalkeeper in terms of shutouts in the league. In the midfield, Fidel Barajas has been a creative dynamo, contributing sig­nificantly with 8 assists, a remark­able achievement that places him second in the league for assists.
STAT OF THE MATCH
The ability that FC Tulsa have to play the ball around their opposing team has set them apart from the rest of the league. Currently, Tulsa is third in the USL Championship for passes made at 13,961. This exemplifies the chemistry within the team, and their awareness of each other on the pitch.
WATCH PARTY
The Official Watch Party of FC Tulsa will be held at the Tulsan Athletic Club on Saturday night. The TAC is offering free pickleball from 4pm – 8pm, 918 Cerveza priced at $4, and $10 domestic pitchers.
HOW TO WATCH
The match will be broadcasted locally on My41 Tulsa and streamed nationally on ESPN+.
STAY UP TO DATE
For highlights, polls, updates and more throughout matchday, be sure to follow @FCTulsa on Twitter, Facebook, and Instagram.