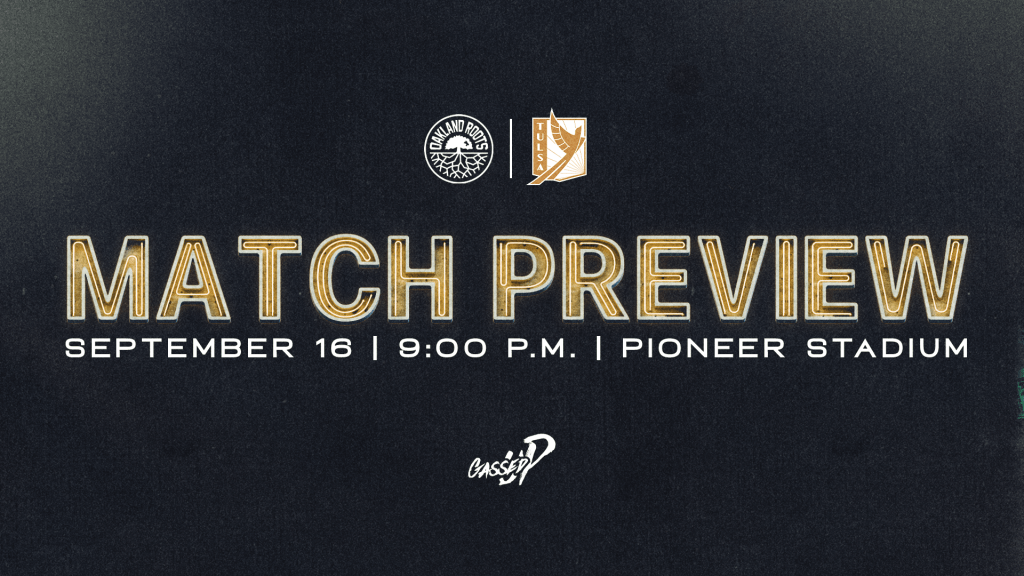 Match Kicks off at 9 p.m. CT
Match Kicks off at 9 p.m. CT
OAKLAND, Calif. – After defeating the defending league champions, San Antonio FC, followed by a draw against Phoenix Rising FC last Saturday, a confident Tulsa squad has their sights set on a third consecutive unbeaten outing as they head to The Golden State to take on Oakland Roots SC.
Speaking on the most recent performances, head coach Blair Gavin is extremely satisfied with the commitment his squad has to taking key opposition players out of the game, especially when the style of play is demanding.
"The guys were really bought into both games and were able to find ways to be effective. I hope that gives them a lot of confidence moving forward…" Gavin expressed following Tulsa's most recent matchup against Phoenix.
FC Tulsa have a run of road matches ahead. Gavin highlighted the momentum of the team perfectly, "We are going to be road warriors, collect as many points as we can, and go from there." The squad is searching for extra points to secure post-season business; with defenders such as Keegan Hughes and Rashid Tetteh in fantastic form, goalkeeper Michael Nelson is at ease. Tulsa accepts the challenge ahead this weekend, as they attempt to keep Anuar Pelaez, league leader for most shots on target per 90, quiet.
Oakland Roots SC have missed out on a lot of goals this season, forfeiting a staggering 41 key scoring opportunities, which has led to seven goalless games. Tulsa is looking to take advantage of that, and cause havoc for the opposing backline.
The only previous match between the two sides was during preseason of 2022, The Desert Showcase in Tucson, Arizona, on February 20. Oakland took the crown with a 3-2 win, but they have not had a clean sheet in their last five games, which could encounter a problem versus Tulsa's offence who have grabbed five goals in their last five games.
Kickoff from Pioneer Stadium is set for 9 p.m. CT on My41 Tulsa and ESPN+.
SCOUTING OAKLAND ROOTS SC
With just six games remaining in their regular season, Oakland Roots SC currently occupies the 6th position in the Western Conference of the USL Championship. Following a challenging defeat last week against Las Vegas Lights FC, who are out of playoff contention, Oakland is determined to reverse their fortunes and secure postseason matchups for the third consecutive season. Notably, they have missed 41 significant scoring opportunities this season, which could prove to be a pivotal factor as they sit tight with the playoff zone. Oakland boasts a strong defensive unit, led by their outstanding goalkeeper with the most saves per 90 minutes played. Additionally, their center back, Tarek Morad, tops the league in accurate passes per 90 at 62.9, contributing to their solid defensive record, including being third in clean sheets.
As they prepare for their upcoming matches, Oakland has a point to prove. Their home record for this season stands at 4 wins, 4 losses, and 5 draws, adding to the pressure as they host FC Tulsa, a team that recently ended their winless streak by holding off formidable opponents such as Phoenix Rising and San Antonio.
STAT OF THE MATCH
FC Tulsa has been excellent taking the ball wide this year, breezing through defenders with skill, and sending balls high into the opposing penalty area. Ranking tied fourth in chances created (49) Milo Yosef is proving his class when setting up the likes of top goal scorers Goodrum and Epps in front of the net.
WATCH PARTY
The Official Watch Party of FC Tulsa will be held at the Tulsan Athletic Club on Saturday night. The TAC is offering free pickleball from 8 p.m.,-12 a.m., 918 Cerveza priced at $4, and $10 domestic pitchers.
HOW TO WATCH
The match will be broadcasted locally on My41 Tulsa and streamed nationally on ESPN+.
STAY UP TO DATE
For highlights, polls, updates and more throughout matchday, be sure to follow @FCTulsa on Twitter, Facebook, and Instagram.