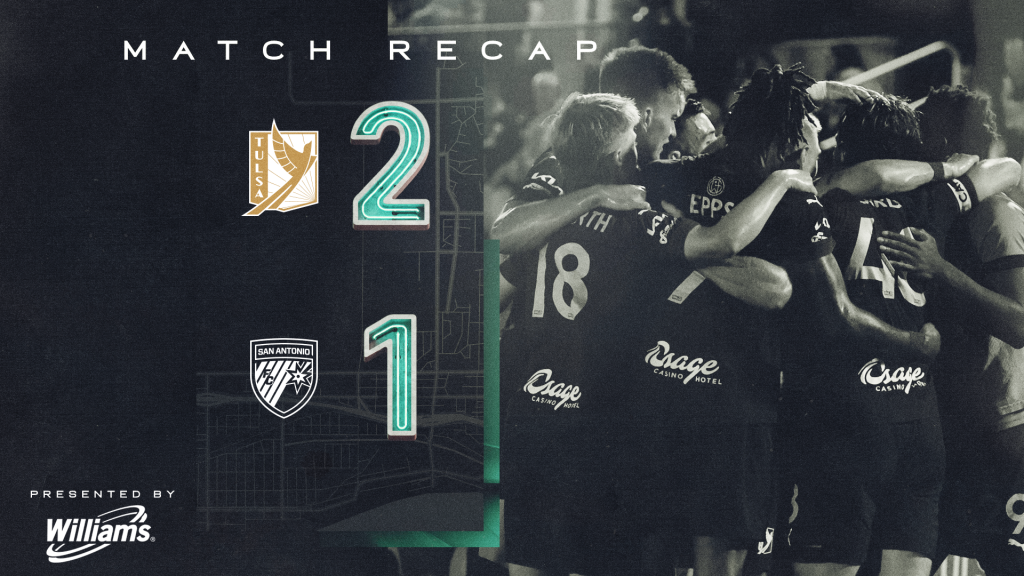 FC Tulsa Moves Back into Playoff Position with the Win
FC Tulsa Moves Back into Playoff Position with the Win
TULSA – A seemingly difficult matchup with the defending league champions, San Antonio FC, awaited FC Tulsa at the University of Tulsa on Sunday night, but two sparkling goals involving Eric Bird and Marcus Epps paved the way for a critical 2-1 victory with the playoffs looming in just over a month.
The great link-up play between Bird and Epps resulted in the first goal of the affair just 14 minutes into the match. Epps led Bird on a cheeky run into the box, and Bird ripped a shot with enough force that the San Antonio keeper could not corral the attempt. The rebound leaked into the goal for a 1-0 FC Tulsa advantage.
The goal constituted Bird's third score of the campaign, marking the first season in which the captain has scored three times since 2017 as a member of Rio Grande Valley FC Toros. Epps collected his fourth assist on the play, tying Moses Dyer for the club lead.
San Antonio looked to respond in the second half with two subs at the break, but FC Tulsa elected to lower its block to stifle the visitors' scoring chances.
Epps and Bird combined once again for FC Tulsa in the 68′ minute, but this time it was Epps who garnered the glory. Tulsa initiated the counter to perfection with Bird slotting in the pass in from the wing, finding Epps in front of goal who lifted his shot into the upper corner for his eighth goal of the season.
With the goal, Epps now trails Phillip Goodrum's top Tulsa tally of nine by only one score.
San Antonio cut the deficit in half 12 minutes later by way of a Rida Zouhir goal, but Blair Gavin's defense remained sturdy the rest of the way to close out the 2-1 victory over the "Mentality Monsters" from San Antonio.
FC Tulsa moved back into possession of eighth place in the Eastern Conference with the win, good for the final playoff spot with only six matches remaining in the season.
UP NEXT
Only two home matches remain in the 2023 regular season for FC Tulsa, including next Saturday's contest vs. Phoenix Rising FC. The match will take place at ONEOK Field and kick off at 7:30 p.m. CT.
GOALS
14′ TUL – Eric Bird (assist: Marcus Epps)
68′ TUL – Marcus Epps (assist: Eric Bird)
80′ SA – Rida Zouhir (assist: Jorge Hernández)
LINEUPS
FC Tulsa: Nelson, Ruxi, Tetteh, Hughes, Seagrist, Worth, Bird, Yosef, Ferri, Epps, Goodrum (Subs used: Fernandez, Malou, McCabe)
San Antonio FC: Farr, Taintor, Garcia, Manley, Jome, PC, Herndánez, Boni, Gómez, Patiño, Oluwaseyi (Subs used: Hayes, Zouhir, Bailone, Azócar, Maloney)
Eric Bird – 14′ Minute
Eric Bird – 14′ Minute
Marcus Epps – 68′ Minute
Marcus Epps – 68′ Minute