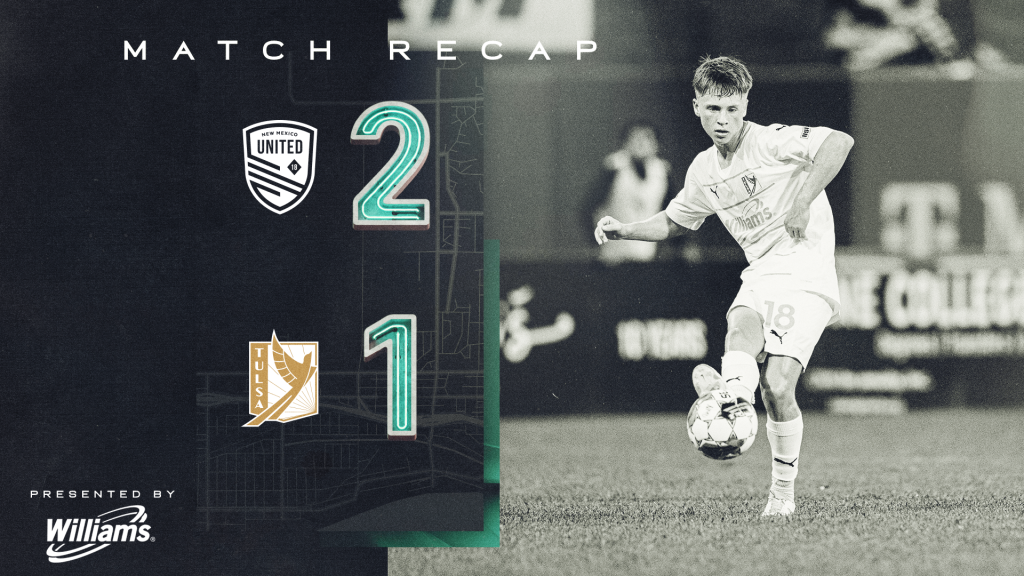 FC Tulsa's Winless Streak Extends to Six
FC Tulsa's Winless Streak Extends to Six
ALBUQUERQUE, N.M. – Both FC Tulsa and New Mexico United entered Saturday night's match looking to snap a five-match winless streak. Unfortunately for FC Tulsa fans, it was New Mexico who terminated its winless skid while FC Tulsa's increased to six after coming up short on the road despite an immaculate second-half goal from Marcus Epps.
The contest instantly turned from a soccer match into a track meet in Albuquerque as New Mexico netted the first goal of the match after just 94 seconds of play, courtesy of Harry Swartz. A second was added by New Mexico just seconds before the match broke for halftime, doubling the home side's lead heading into the break.
FC Tulsa failed to log a shot on target in the first half despite controlling over 50% of the ball and several positive chances created by Marcus Epps and Milo Yosef.
Epps' strong night continued in the 78′ minute when the winger unleashed a potential Goal of the Week caliber jaw-dropper from 17-yards-out that curled across goal and nestled into the upper corner of the New Mexico goal. It was the third goal from a similar spot of the season for Epps and his seventh total of the season.
Epps now trails Phillip Goodrum by only two scores for the club lead.
That would be the final goal of the evening as things from New Mexico concluded with three points going to the black and yellow on home soil.

UP NEXT
FC Tulsa returns to Oklahoma next Sunday, September 3 to host the reigning USL Championship title winners San Antonio FC at the University of Tulsa's Hurricane Soccer Stadium. The match marks the first regular season USL-C match that FC Tulsa has played at the University of Tulsa in the history of the franchise. Kickoff is set for 8 p.m. CT.
GOALS
2′ NM – Harry Swartz (assist: Zico Bailey)
45+2′ NM – Sergio Rivas (assist: Jacobo Reyes)
78′ TUL – Marcus Epps (assist: Eric Bird)
LINEUPS
FC Tulsa: Nelson, Ruxi, Hughes, Tetteh, Seagrist, Worth, Bird, Bernal, Epps, Yosef, Goodrum (Subs used: Ferri, Haji, Weah)
New Mexico United: Tambakis, Ryden, Hamilton, Bailey, Yearwood, Moar, Rivas, Portillo, Swartz, Reyes, Borgelin (Subs used: Moreno, Suggs, Serymore, Hernandez, Hurst)
Marcus Epps – 78′ Minute
Marcus Epps – 78′ Minute