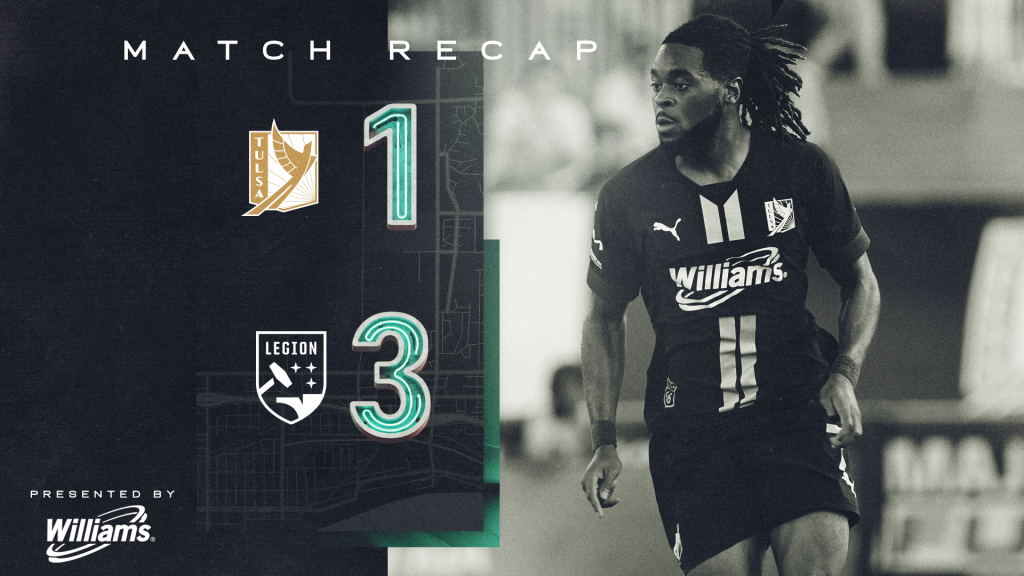 First-Half Hat Trick Proves Too Much to Overcome for FC Tulsa
First-Half Hat Trick Proves Too Much to Overcome for FC Tulsa
TULSA – Another Phillip Goodrum goal jumpstarted things early on Wednesday night at ONEOK Field, but a prompt retaliation in the form of a 33-minute hat trick by Birmingham Legion FC proved too much to overcome as FC Tulsa dropped all three points to the visitors, 3-1.
A blistering start to the match saw four total goals inside the first 33 minutes of play, one credited to FC Tulsa and the other three to the Legion.
Phillip Goodrum opened the scoring with his club-leading ninth goal of the season in the 14′ minute. The forward was patiently found by Milo Yosef from the right side who gave his teammates plenty of time to join in the attack. Goodrum whipped his shot through three Birmingham bodies and across the frame of goal, beating the Legion's keeper and putting his side up 1-0.
A first-half hat trick then commenced for Birmingham's Neco Brett who scored for his side from the penalty spot in the 19′ minute, then twice more from the run of play in the 21′ and 33′ minutes.
Just as FC Tulsa controlled 71% of the possession in the first half, it once again dominated 68% of the ball in the second period. Unfortunately, dictating the second half failed to result in goals. Additionally, FC Tulsa outshot Birmingham 13-11 in the match and led in final third entries, 80-47.
The score went final at 3-1 in favor of the visitors as FC Tulsa's winless streak extended to five on the bounce.
Notably for FC Tulsa, Nate Worth and Siad Haji both notched their first FC Tulsa start of the 2023 campaign in the effort, and Phillip Goodrum moved up to 8th place in the Tulsa scoring record book, tied alongside three others. 
UP NEXT
FC Tulsa hits the road with a quick turnaround on Saturday, August 26 when it takes on New Mexico United. The match will kick off at 8 p.m. CT.
GOALS
14′ TUL – Phillip Goodrum (assist: Milo Yosef)
19′ BHM – Neco Brett (PK)
21′ BHM – Neco Brett (assist: Enzo Martínez)
33′ BHM – Neco Brett (assist: Diba Nwegbo)
LINEUPS
FC Tulsa: Nelson, Seagrist, Ruxi, Tetteh, Bird, Ferri, Worth, Haji, Epps, Yosef, Goodrum (Subs used: Bernal, Weah)
Birmingham Legion FC: Van Oekel, Mensah, Kavita, Smith, Rufe, Corcoran, Martínez, Nwegbo, Agudelo, Kasim, Brett (Subs used: Lopez, Preston, Freeman, Alves, Dupont)