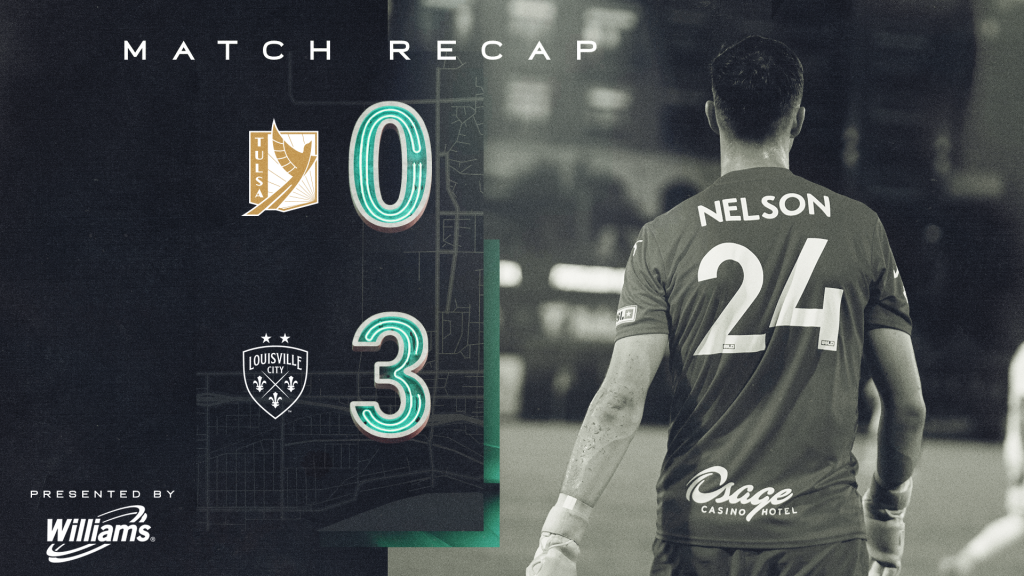 Marks Second Consecutive 3-0 Loss for Tulsa
Marks Second Consecutive 3-0 Loss for Tulsa
TULSA – FC Tulsa will want to quickly put Friday night in the rearview mirror following a 3-0 defeat at the hands of Louisville City FC, a result that split the season series with the reigning Eastern Conference champions with one win each.
FC Tulsa commanded the attention of LouCity early by creating three quality chances inside the first eight minutes. Moses Dyer threatened twice with two early efforts, and Phillip Goodrum was pulled down inside the box with plenty of contact. Despite the appeals from a grounded Goodrum and his teammates, the referee insisted that play resume.
Despite FC Tulsa looking the more dangerous side, the visitors found the back of the net first in the 31′ minute. Back-to-back tackle attempts put in by FC Tulsa unluckily resulted in bounces directly to Louisville feet, and a final desperation pass by Cameron Lancaster into a sea of bodies miraculously found Sean Totsch at the back post for the opener.
Both clubs finished the first half even with seven shots apiece, FC Tulsa with 58% of the possession, but Louisville City leading the scoreline 1-0.
After a quiet first 13 minutes to begin the second half of play, Cameron Lancaster doubled Louisville's lead in the 58′ minute following an FC Tulsa turnover deep within its own half.
As FC Tulsa threw numbers forward and implemented substitutions to bolster the attack, LouCity managed to counter in the 80′ minute with Wilson Harris going the distance and accounting for his side's third of the evening.
Tulsa's loss ended the club's four-match win streak at ONEOK Field while also serving as the club's second consecutive 3-0 loss after stringing together five straight wins previously.
UP NEXT
The USL Summer Showcase featuring FC Tulsa and Colorado Springs Switchbacks FC is on deck for FC Tulsa from the Centennial State. The match will air live on ESPN2 next Wednesday, August 9 at 8 p.m. CT.
GOALS
31′ LOU – Sean Totsch (assist: Cameron Lancaster)
58′ LOU – Cameron Lancaster
80′ LOU – Wilson Harris (assist: Amadou Dia)
LINEUPS
FC Tulsa: Nelson, Ruxi, Tetteh, Malou, Seagrist, Yosef, McCabe, Bird, Epps, Dyer, Goodrum (Subs used: Hughes, Haji, Worth, Fernandez. Pearson)
Louisville City FC: Semmle, Adams, Charpie, Dia, Totsch, Jiménez, Wynder, Thellufsen, Gibson, Ownby, Lancaster (Subs used: McCabe, Mares, Harris, Perez, Serrano)