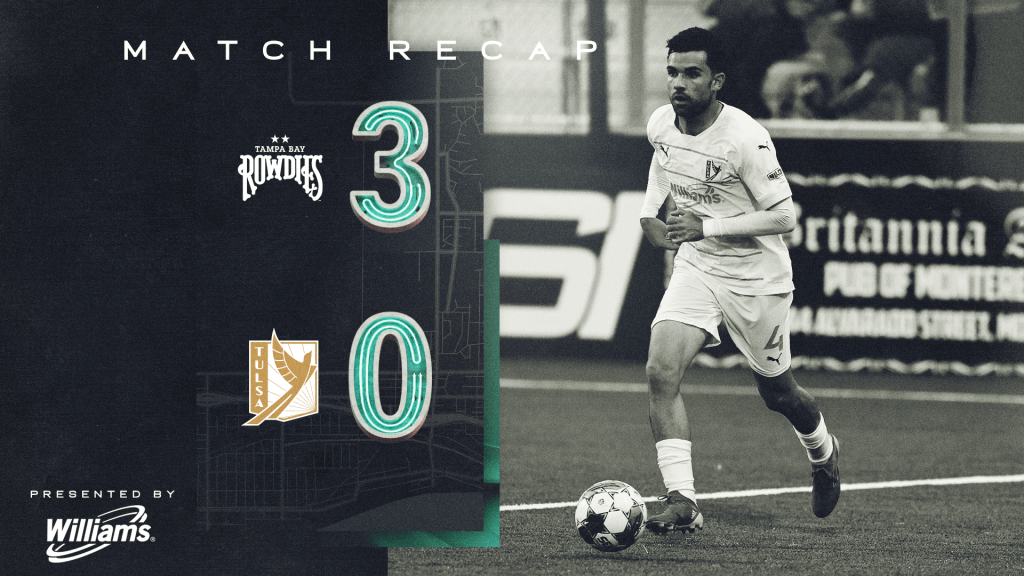 FC Tulsa's Streak of Five Wins Came to a Close on Saturday
FC Tulsa's Streak of Five Wins Came to a Close on Saturday
ST. PETERSBURG, Fla. – FC Tulsa's streak of five consecutive wins on the bounce came to an end on Saturday night at Tampa Bay Rowdies after a strong first half for Tulsa and several early scoring chances teased another victory, but three second-half concessions culminated in a 3-0 defeat.
Tulsa nearly came up with the first goal of the evening after only 87 seconds of play when the club's trio of forwards consisting of Marcus Epps, Moses Dyer, and Phillip Goodrum broke for a three-on-two chance, but Epps steered his shot just inches wide of the far post.
Dyer continued to ask serious questions of the Rowdies' backline over the first 15 minutes of the contest, but the forward from New Zealand lacked a clean final touch on two occasions. That would not deter FC Tulsa from feeding Dyer down the right flank as the knocks on the home side's door grew louder and louder.
For the remaining 30 minutes of the half, the Rowdies dominated 70% of the ball, but textbook defending by FC Tulsa limited any high-quality looks for Tampa while explosive counter attacking yielded Tulsa an advantage in expected goals, 0.96 to 0.60.
The one area in which FC Tulsa struggled in the first half had been defending the 6'5″ Rowdies center-back Forrest Lasso on set pieces. Tampa Bay found the giant on three corner kicks in the first half, but the fourth time proved the charm for Lasso who got on the end of a perfect delivery in the 52′ minute to put the Rowdies up, 1-0.
In the 63′ minute, Milo Yosef went down inside the Tampa Bay penalty area, but the head official gestured for Yosef to get to his feet as the Rowdies broke on the counter. The play resulted in a great initial save from keeper Michael Nelson, but the rebound fell to Charlie Dennis who doubled Tampa Bay's lead.
Tampa Bay would find its third and final goal of the night in the 82′ minute when former FC Tulsa forward JJ Williams connected on a header five minutes after coming on as a substitute.
FC Tulsa's next shot to rekindle its winning ways comes next Friday night when Louisville City FC comes to town.
UP NEXT
FC Tulsa is back at ONEOK Field on Friday, August 4 to host Louisville City FC on $1 Beer Night. The last meeting between FC Tulsa and Louisville resulted in Phillip Goodrum's 89′ minute winner in his FC Tulsa debut at Lynn Family Stadium. Kickoff is set for 8 p.m. CT.
GOALS
52′ TBR – Forrest Lasso (assist: Charlie Dennis)
64′ TBR – Charlie Dennis
82′ TBR – JJ Williams (assist: Jordan Doherty)
LINEUPS
FC Tulsa: Nelson, Corrales, Ruxi, Tetteh, Malou, Yosef, McCabe, Bird, Epps, Dyer, Goodrum (Subs used: Ferri, Bernal, Haji, Fernandez, Pearson)
Tampa Bay Rowdies: Sparrow, Guillén, Lasso, Antley, Areman, Ekra, Doherty, Dennis, Harris, Jennings, LaCava (Subs used: Williams, Kleemann, Schröter, Martínez, Caputo)