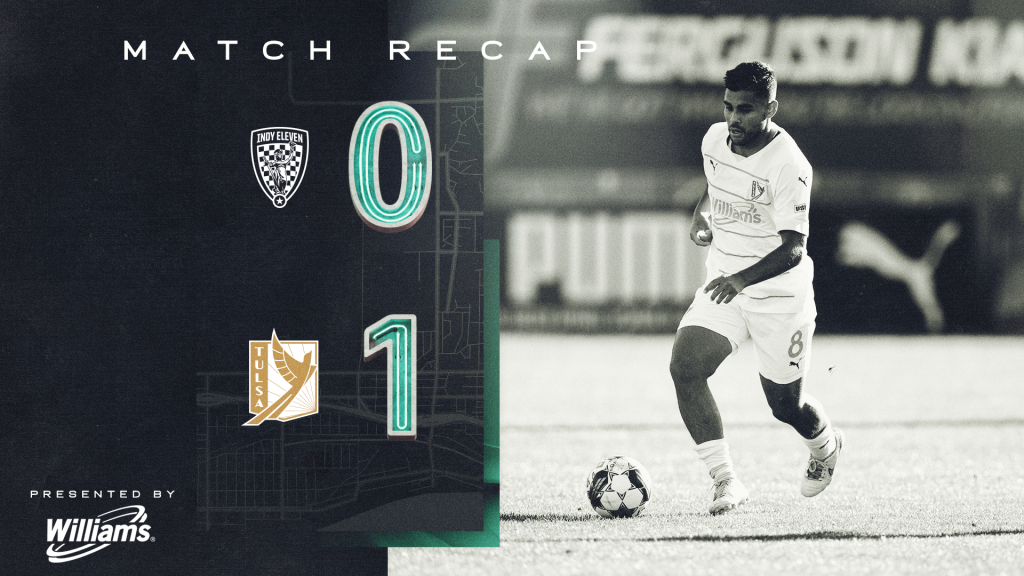 Dyer's Goal in the 5′ Minute was Enough for FC Tulsa to Swipe All Three Points
Dyer's Goal in the 5′ Minute was Enough for FC Tulsa to Swipe All Three Points
INDIANAPOLIS, Ind. – A defensive masterclass was put in by FC Tulsa on Saturday night in Indianapolis to constitute the club's second-consecutive victory and its fourth clean sheet of the season. Moses Dyer's 5′ minute goal and Michael Nelson's five-save performance highlighted a complete team effort as Tulsa continues to climb up the Eastern Conference ranks.
Much to the delight of FC Tulsa fans, it took less than five minutes for FC Tulsa to open the scoring. Moses Dyer found space in Indy's box and gently directed his shot between the legs of the Indy goalkeeper who came out to meet the New Zealander. Dyer's third goal of the season marked the second-quickest score of 2023 for FC Tulsa as the club's attention shifted to protecting its slight advantage.
Indy earned its first big chance in the 27′ minute when Sebastián Guenzatti nearly pulled off an impossible no-look shot as his body suspended in mid-air, but his shot clanged off the post and FC Tulsa avoided conceding the set piece goal.
Blair Gavin's crew spent the remainder of the first half and much of the match sitting in a low block, offering 67% of the possession to Indy but limiting any high-percentage looks. Michael Nelson was sensational throughout the evening, totaling four saves in the first half and he would add another in the second.
As the half drew to a close, a rivalry between Phillip Goodrum and former FC Tulsa defender Adrián Diz Pe began to brew with plenty of contact and words exchanged. The overall physicality of the contest continued into the second half, culminating in 36 fouls called in total between both sides combined.
Very little offensive action was created by either club in the final 45 minutes, but the defensive showcase continued for FC Tulsa. Indy was held to only one shot on target in the half despite trailing on the scoreboard and dominating the ball.
Tulsa tallied 26 clearances, led by Ruxi with eight, and won 67% of its attempted tackles by the time the final whistle sounded. Throughout the entirety of the match, the defense sacrificed its bodies with reckless abandon, tallying five blocks.
The work put in by Nelson and his backline buttressed Dyer's early goal as FC Tulsa moved to 5W-1L-1D all-time against Indy Eleven with a three-match homestand commencing on Wednesday.
UP NEXT
FC Tulsa returns home to ONEOK Field for its first of three consecutive home matches spanning 10 days next Wednesday, July 12. The club will host Miami FC on Indigenous Peoples' Night and will debut its 2023 third kit, the Indigenous Peoples' kit. Tickets to the match are available for purchase here.
GOALS
5′ TUL – Moses Dyer
LINEUPS
FC Tulsa: Nelson, Ruxi, Tetteh, Malou, Yosef, Fernandez, McCabe, Ferri, Bird, Dyer, Goodrum (Subs used: Epps, Armour, Worth, Bernal)
Indy Eleven: Oettl, King, Diz Pe, Jérôme, Quinn, Lindley, Blake, Boudadi, Robledo, Guenzatti, Martínez (Subs used: Pinho, Dambrot, Asante, Velásquez, Molina)
Moses Dyer – 5′ Minute
Moses Dyer – 5′ Minute