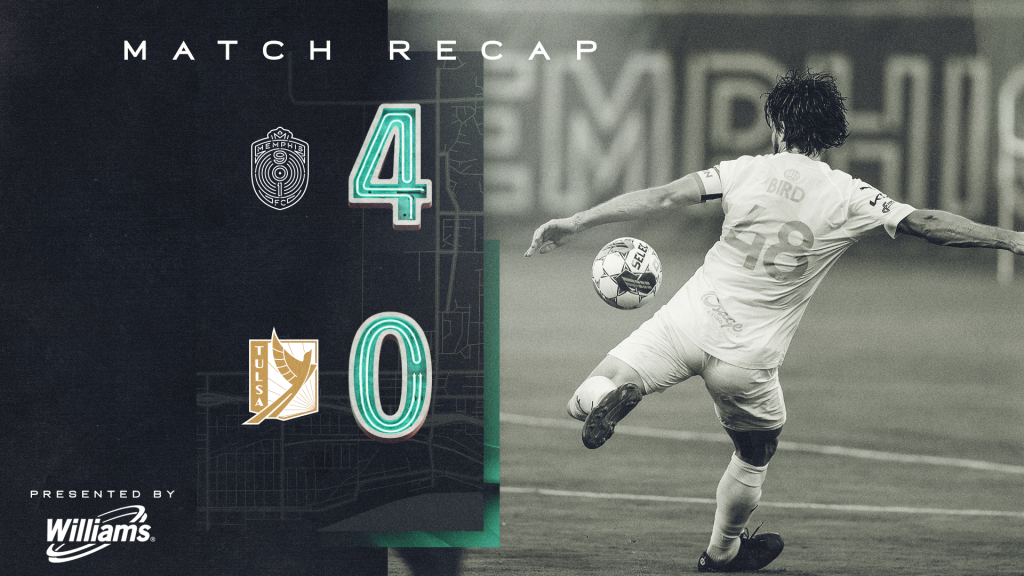 FC Tulsa Loses Third Consecutive Match
FC Tulsa Loses Third Consecutive Match
MEMPHIS, Tenn. – A forgettable outing away from home on Wednesday night saw FC Tulsa drop its third consecutive match by way of a 4-0 defeat to Memphis 901 FC. 
The contest got off to a slow start as fans waited until the 17′ minute for the first shot of the match, an event that favored Memphis 901 FC. Two minutes later, the second shot of the match resulted in Memphis finding the scoreboard. A cross whipped in by Rashawn Dally from the right side had eyes for FC Tulsa's all-time leader in virtually every offensive statistic, Rodrigo da Costa. The goal was officially ruled an own goal against Justin Malou.
The home side doubled its lead in the 25′ minute following a free kick surrendered by FC Tulsa around midfield. Memphis slowly worked its way up the left flank and da Costa ultimately found Dally in the box to make it 2-0.
FC Tulsa battled back in the shots column before the half concluded, topping Memphis 9-5, but the two-goal deficit loomed large as the clubs headed into the locker rooms.
The scoring momentum continued for Memphis into the second half when it bagged its third of the match when its initial shot was blocked by Tulsa, but the rebound spilled to Emerson Hyndman 25 yards out. Hyndman's first touch was a blistering shot into the bottom left corner. A Memphis hand could have been involved in the play, but no whistle sounded and the 901 FC lead increased to three.
A fourth for Memphis came in the 68′ minute when a free kick found Jenali Peters at the back post who headed his attempt past Michael Nelson in net.
Tulsa managed only three shots in the second half, one of which were on target, as the offense sputtered along with the club's backline.
When all was said and done, FC Tulsa moved to 2W-7L-7D while Memphis 901 FC improved to 7W-4L-2D.
GOALS
20′ MEM – Justin Malou (OG)
25′ MEM – Rashawn Dally (assist: Rodrigo da Costa)
48′ MEM – Emerson Hyndman
68′ MEM – Jelani Peters (assist: Aaron Molloy)
LINEUPS
FC Tulsa: Nelson, Bromstedt, Ruxi, McCabe, Malou, Yosef, Bird, Ferri, Epps, Dyer, Goodrum (Subs Used: Armour, Pearson, Worth, Fernandez, Bernal)
Memphis 901 FC: Romig, Ward, Peters, Smith, Buckmaster, Molloy, Kelly, Hyndman, Kissiedou, Dally, da Costa (Subs Used: Pickering, Lapa, Turci, Borczak, Harrison)
UP NEXT
FC Tulsa gets a needed nine days of rest before its next match at ONEOK Field vs. Darío Suárez and Detroit City FC. Tickets to the match are available for purchase here. In addition, the match will be broadcasted locally on Channel 6 as well as streamed nationally on ESPN+.