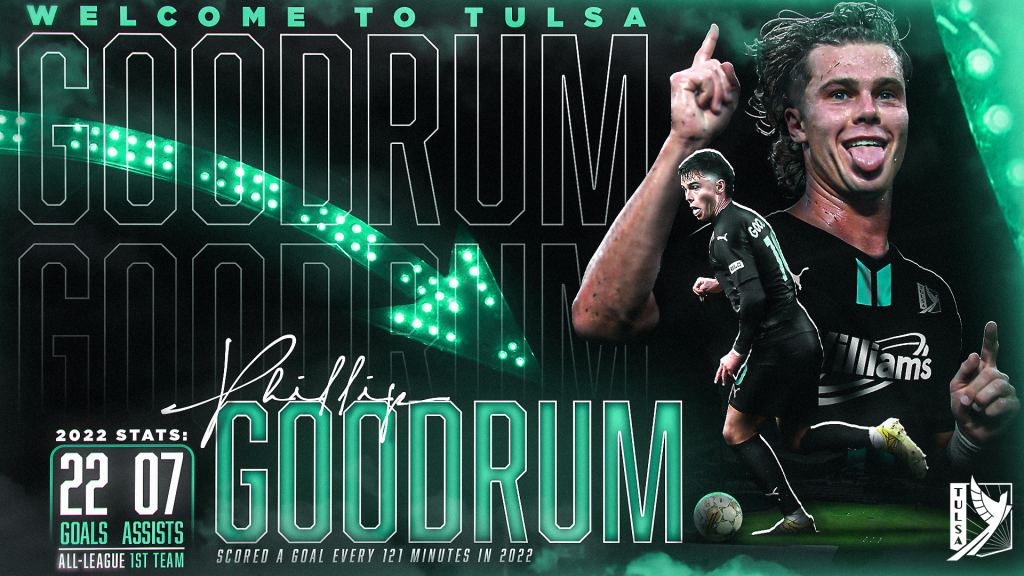 Memphis Receives Rodrigo da Costa in Corresponding Move
Memphis Receives Rodrigo da Costa in Corresponding Move
TULSA – On Monday, FC Tulsa announced the acquisition of 2022 All-League First Team forward and USL Championship Golden Boot runner-up Phillip Goodrum from Memphis 901 FC via transfer. In a corresponding transaction, the Tennessee side has received midfielder Rodrigo da Costa. Both moves are pending league and federation approval.
Goodrum became one of the most feared names in the USL Championship last season, scoring 22 goals and registering seven assists between regular season and postseason play. The Nashville native set Memphis 901 FC's single-season scoring record, averaging a goal every 121 minutes, and finished just one score shy of the USL Championship regular season lead.
Led by Goodrum's goalscoring prowess, Memphis recorded its best record in franchise history a season ago and finished second place in the Eastern Conference.
"Phil is someone who exemplifies our game model," said FC Tulsa head coach Blair Gavin. "Defensively, he sets the tone with his relentless work rate, and offensively, his movement and finishing qualities will give us a big lift. Along with these skills, his leadership and drive to win will be an excellent addition for our team."
Goodrum's USL Championship career began in 2020 after being selected with the 75th overall pick in the 2020 MLS SuperDraft by Atlanta United. The forward signed with Atlanta United 2 shortly thereafter where he made 33 appearances across the 2020 and 2021 seasons with six goals and six assists.
"I am very excited to start this next chapter in Tulsa," said Goodrum. "Joining an ambitious club that has similar aspirations to myself is something that every player desires. I'm looking forward to getting on the field with the players and staff right away in search of three points."
In a corresponding move, Memphis 901 FC has acquired Rodrigo da Costa from FC Tulsa. Da Costa's time in Tulsa concludes with 10,482 minutes played, 36 goals scored, and 25 assists logged since joining Tulsa in 2019.
"Rodrigo is someone that has brought joy and inspiration into the Tulsa community," said Gavin. "His skill on the field has provided amazing memories and his kindness to those around him has created a special connection with many. His impact will forever last in Tulsa and we wish him nothing but the best moving forward."
Goodrum will be available for selection to Blair Gavin ahead of FC Tulsa's midweek clash with Louisville City FC away from home on Wednesday night. Kickoff is scheduled for 6:30 p.m. CT.