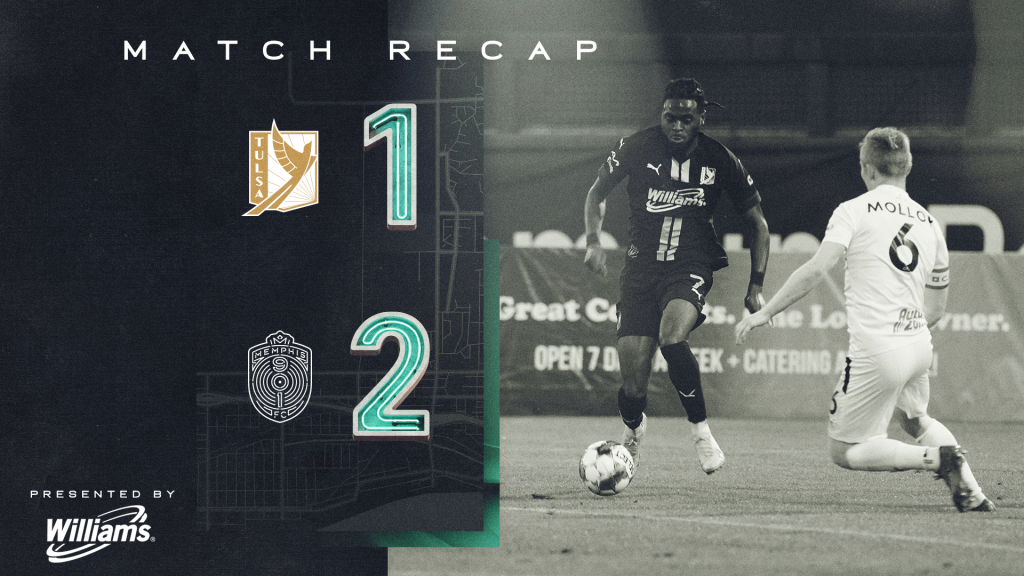 Darío Suárez Scored his Second of the Season in the Defeat
Darío Suárez Scored his Second of the Season in the Defeat
TULSA – A dreary afternoon in Northeast Oklahoma transpired into a dreary result for FC Tulsa as the club dropped Friday night's match to Memphis 901 FC, 2-1. A goal from Darío Suárez lit a fire under the ONEOK crowd in the 83′ minute to bring his club within one score, but before Tulsa could respond with its second of the match, the fire was painfully snuffed out by the sound of the final whistle.
It was Memphis who threatened aggressively through the first 10 minutes of the contest. The away side's forward tandem of Phillip Goodrum, last season's Golden Boot runner-up, and Laurent Kissiedou both combined for decent enough looks, but neither put their attempt on frame.
The following 15 minutes were all FC Tulsa with its best scoring look coming in the 23′ minute when Milo Yosef whipped in a ball seeking Moses Dyer in front of goal, but a quality save from Memphis' Bill Hamid kept Tulsa off the board. The stop marked the first of six saves from the former USMNT goalkeeper on the evening.
901 FC nearly accounted for the opening goal in the 44′ minute when Aaron Molloy blasted a shot just inches off target and into the crossbar, sending both clubs into the locker room at halftime right where they started.
Memphis would, however, score the match opener in the 54′ minute when the side's initial shot was stopped miraculously by a full-stretch Michal Nelson. Unfortunately for Tulsa, the rebound was collected by 901 FC's Nighte Pickering who converted the second-chance opportunity.
The Tennessee side found the back of the net again in the 65′ minute when another shot from distance by Molloy took a deflection off a Tulsa player in the box, re-routing the shot to the left that was bound for the right. Nelson's momentum was already taking him to his right side and he was unable to adjust to the shift in trajectory.
Tulsa found life near the end of the match when Darío Suárez was able to get on the end of a free kick whipped in the 83′ minute. Marcus Epps got his foot to the ball, but his shot was saved. Suárez was the first to the rebound and hammered home his second goal of the season.
The goal marked the 29th of Suárez's Tulsa career, the second-most in club history behind Rodrigo da Costa's 36.
That 2-1 scoreline held final as FC Tulsa moved to 1W-4L-6D on the season and Memphis advanced to 4W-2L-3D.
UP NEXT
A short turnaround is in store for FC Tulsa next week as the club hits the road to take on Louisville City FC on Wednesday, May 24. The match will be aired locally on My41 Tulsa and streamed nationally on ESPN+.
---
Darío Suárez – 83′ Minute
Darío Suárez – 83′ Minute