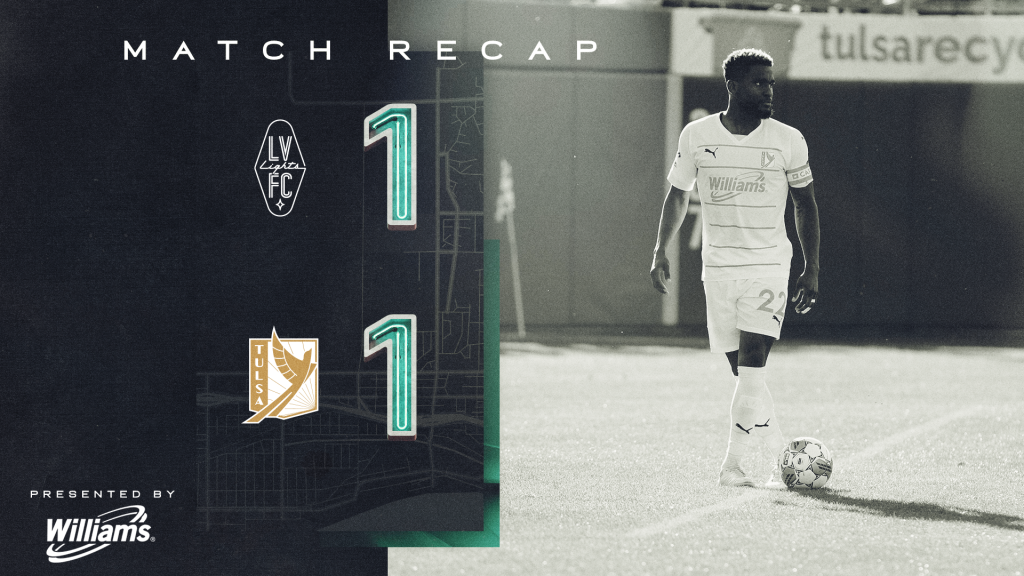 Eric Bird Scores First Goal of the Season in 1-1 Contest
Eric Bird Scores First Goal of the Season in 1-1 Contest
LAS VEGAS, Nev. – As the sun began to nestle itself behind the picturesque Nevada mountains on Saturday night, the controversy surrounding FC Tulsa's 1-1 draw with Las Vegas Lights FC vehemently ascended to the top of the headlines. A dubious penalty kick awarded to Lights FC late in the match left FC Tulsa in disbelief and ultimately resulted in split points between the sides.
The first half was a fairly uneventful 45 minutes for both clubs. Las Vegas led FC Tulsa in total shots attempted, 8-3, but neither club managed to steer an attempt on frame. Eric Bird, Rodrigo da Costa, and Moses Dyer accounted for all three of Tulsa's shots.
The best scoring chance of the period belonged to the home side's Erick Torres who collected the ball inside Tulsa's penalty box with his back to the ball, spun, and ripped a shot in the direction of goalkeeper Michael Nelson. A sublime diving stop by the Eric on the other side of the ball, Eric Bird, was required to thwart Lights FC from opening the scoring, and the veteran threw his body in front of the shooting effort to keep things level heading into the break.
It was Eric Bird once again inserting himself into the match in the 61′ minute as the midfielder found the opening goal of the contest. Great build-up play beginning with the substitute Milo Yosef in the center of the pitch concluded with a brilliant pass from Marcus Epps into Bird and the Virginia native's first goal of the season. The goal was Bird's fourth in an FC Tulsa shirt and the 18th of his USL Championship career, including Playoffs.
Seven minutes later, the defining play of the match occurred when a Las Vegas player took a shot that appeared to bounce off Ruxi's face and rebounded out of play. The head official disagreed, deeming the ball made contact with Ruxi's hand rather than his face. Every player in white pleaded their case to no avail. A questionable penalty kick ensued and the score drew level at 1-1.
A frantic final 20 minutes followed with both clubs sending numbers forward and players desperately clawing for a go-ahead goal that would never materialize.
UP NEXT
FC Tulsa is back at ONEOK Field next Friday, May 19 to host Memphis 901 FC on Military Appreciation Night. It will also be $1 Beer Night where fans with a $12 Midfield Terrace match ticket get access to $1 beers all night long. $1 Beer tickets are available here.