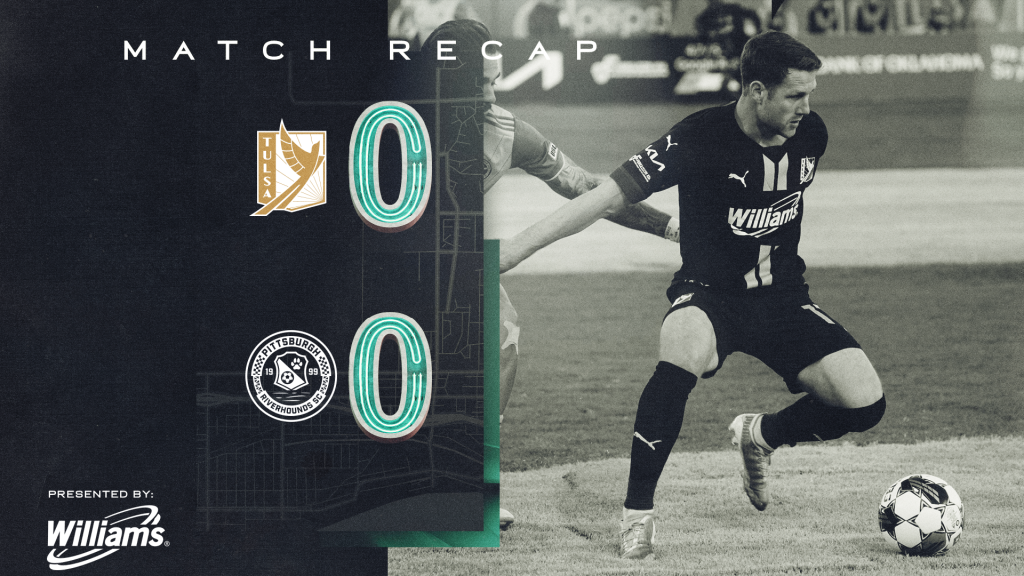 Tulsa Earns its Second Consecutive Clean Sheet in Tight Affair
Tulsa Earns its Second Consecutive Clean Sheet in Tight Affair
TULSA – On a tight three-day turnaround, FC Tulsa matched up with Pittsburgh Riverhounds SC on Tuesday night in a suffocating match that saw only five total shots on target, FC Tulsa own 70% of the ball, and zero total goals. However, FC Tulsa was able to keep its second consecutive clean sheet that netted the club a valuable point against one of the league's top defensive units.
A slow, horizontal 20 minutes greeted fans to begin play with FC Tulsa dominating 75% of the possession. Things took a nasty turn for Tulsa, however, in the 21′ minute when goalkeeper Michael Nelson had to be removed from the match in the 21′ minute following a frightening collision with Pittsburgh's Albert Dikwa who was booked on the play. Homegrown product and 2021 FC Tulsa MVP Austin Wormell took his stead and was greeted with applause before the 24-year-old went on to blank his opponent.
It took until the 45′ minute for the best scoring chance for either side to evolve when Blaine Ferri, who was named to the USL Championship's Week 3 Team of the Week only hours earlier, lifted a difficult shot just over the crossbar. Moments later into the seven minutes of first-half stoppage, Darío Suárez ripped a shot from 15 yards out that warranted a splendid diving save from the visitor's keeper.
FC Tulsa continued to threaten in stoppage time with a Rodrigo da Costa attempt that wound up just a tad high. The half concluded with FC Tulsa out-possessing the Hounds 74% to 36%, registering 362 total passes compared to Pittsburgh's 125, and completing 81.8% of its passes.
The second half played much like the first for both sides. A few key stops from Wormell and a crucial block from Bradley Bourgeois in the 60′ minute kept things level as both sides looked to gain an advantage.
It appeared as if FC Tulsa had broken through in the 66′ minute when Moses Dyer hit the back of the net, but the assistant referee deemed the New Zealand substitute offsides. Five minutes later, Bradley Bourgeois came inches away from the opening goal, but a goal line clearance from a Riverhounds center-back kept the deadlock in place.
Unfortunately, another scary moment occurred when Pittsburgh's Junior Etou took a hard fall after going up for a ball in the 90+6′ minute and was taken off the field.
The final ball evaded both clubs in stubborn fashion until the final whistle sounded, concluding the contest at 0-0.