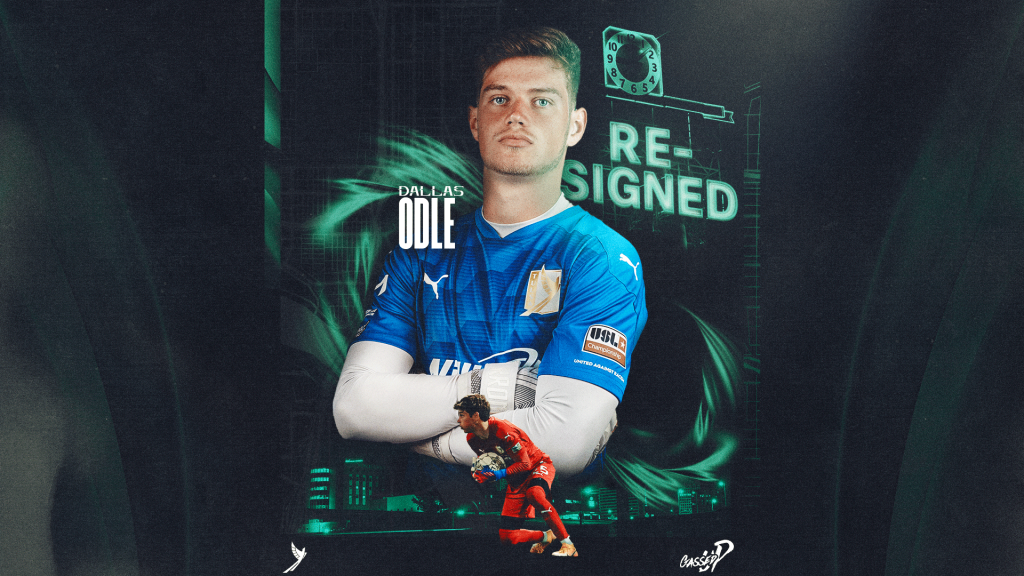 21-Year-Old Compiled Six Saves in Pro Debut to Close Out 2022 Season
21-Year-Old Compiled Six Saves in Pro Debut to Close Out 2022 Season
TULSA – After making his professional debut in the final match of the 2022 regular season, goalkeeper Dallas Odle has re-signed with FC Tulsa for the upcoming campaign, pending league and federation approval. The contract marks the first pro deal signed by Odle who was inked to an academy deal a year ago.
The 21-year-old began the 2022 season as one of three goalkeepers on FC Tulsa's roster and was elevated to the club's No. 2 option following the midseason departure of Sean Lewis. Odle earned the starting nod from interim head coach Donovan Ricketts on October 15 vs. Memphis 901 FC, marking the first pro appearance from the Manhattan, Kansas native who totaled six saves against the high-powered Memphis attacking unit.
"Dallas is young, but he's very confident," said FC Tulsa head coach Blair Gavin. "He was put in a difficult situation in his first game at home where there are a lot of emotions that come into it. But you saw that he is very calm and composed on the ball and he made some key stops, especially after giving up a goal which shows he has the mental resilience to play the position."
Odle kicked off his career at the Real Salt Lake Academy in 2015 where he started 56 matches for the club's U15-U18 Elite teams through 2017. He then moved further west to California where he linked up with the San Jose Earthquakes' U16/17 and U18/19 academy squads between his sophomore, junior, and senior years of high school.
Following an interrupted freshman season at Cal State University – Bakersfield due to COVID-19, Odle signed with CD Almuñécar City of Spain's Primera Andaluza league. In 14 appearances, Odle posted an 8W-4L-2D record with seven clean sheets before signing with FC Tulsa in 2022 after a successful preseason trial stint with the club.
"I cannot wait to return to the town that has quickly become my home, giving it my all for this club and its fans," said Odle. "Debuting at the end of last season has left me with a hunger to be back in goal. Now that the season is upon us, I'm ready."
Odle accompanies Austin Wormell as the two goalkeepers named to FC Tulsa's 2023 roster to date.
FC Tulsa 2023 Roster:
Goalkeepers: Dallas Odle, Austin Wormell
Defenders: Angel Bernal, Bradley Bourgeois, Jorge Corrales, Adrián Diz Pe, Brett Levis, Justin Malou
Midfielders: Eric Bird, Rodrigo da Costa, Collin Fernandez, Blaine Ferri, Christopher Pearson, Luca Sowinski
Forwards: Moses Dyer, Marcus Epps, Watz Leazard, Darío Suárez, Milo Yosef
---