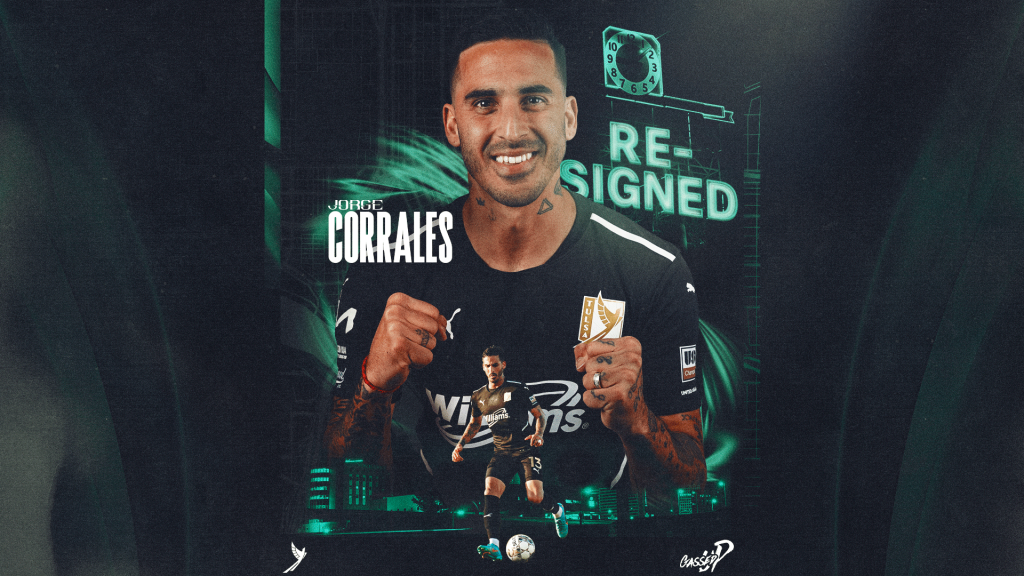 Defender Ranks Top-8 in Tulsa History in Appearances and Minutes
TULSA – A veteran presence and familiar face will return to FC Tulsa's backline in 2023 as left-back Jorge Corrales has re-signed with the club, pending league and federation approval. The upcoming campaign will prove the fourth for Corrales with FC Tulsa.
Coming off a 2022 season besmirched by an ACL tear suffered in late June by the defender, Corrales was hindered to only eight appearances for the club before being forced to the sideline for the remainder of the club's 17 matches. The Cuban is expected to be fully healthy and return to the squad early in the 2023 season.
"Jorge has shown incredible leadership on this team and is a great example for our players to look up to," said FC Tulsa head coach Blair Gavin. "He's someone who has made the jump to MLS and he has done so by being successful at this club. He's shown his value to his teammates, the fans, and the community and that is something that all of our young players can strive to be."
Corrales is one of the most prolific defenders in franchise history, amassing the eighth-most appearances of any Tulsa player (65) and the sixth-highest minute total (5,233). Among defenders, he ranks third in both categories.
"I'm really happy and excited for what's coming," said Corrales. "I expect this team to grow and build some momentum, and we feel we should be on top of the league. It's what this city deserves. I'm looking forward to working with Blair, a group of great players, and new coaches with dynamic energy and experience. I will give my best on the field, help the younger ones, and most importantly – win."
The soccer journey for Corrales commenced in his home country of Cuba where he played at FC Pinar del Rio and FC Sancti Spiritus. In 2015, he made the move to the United States and trained with Jayzinho's J10 Futbol Academy before joining current teammates Darío Suárez and Adrián Diz Pe at Fortuna SC. Corrales remained in Florida the following year with Miami FC and the Fort Lauderdale Strikers of the NASL before signing with Tulsa in 2017.
A standout 2017 season with Tulsa presented Corrales with the opportunity to play in the MLS with the Chicago Fire. Corrales appeared 37 times for the club from the Windy City between the 2018 and 2019 seasons before joining CF Montréal near the end of 2019 where he hoisted the Canadian Cup and remained through 2020. He then returned to Tulsa for the 2021 season where he has competed ever since.
Internationally, Corrales has capped 42 times for Cuba with one goal and two assists. Most recently, he started all four of Cuba's matches during CONCACAF Nations League play this past June. Cuba proved victorious in three of the four matches and Corrales contributed to two clean sheets.
FC Tulsa 2023 Roster:
Goalkeepers: Austin Wormell
Defenders: Bradley Bourgeois, Jorge Corrales, Adrián Diz Pe, Brett Levis, Justin Malou
Midfielders: Eric Bird, Collin Fernandez, Blaine Ferri, Luca Sowinski
Forwards: Marcus Epps, Darío Suárez
---