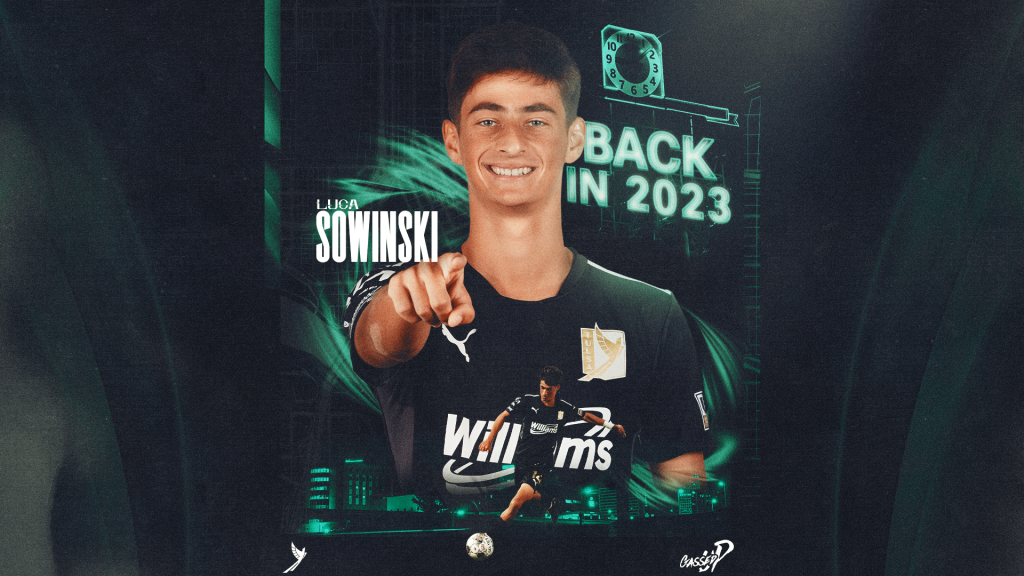 Sowinski Scored the Second Hat Trick in Franchise History Last Season
TULSA – On July 4, 2022, Luca Sowinski became the youngest player in FC Tulsa history to ink a pro deal with the club at the time. After three goals in 265 minutes logged last season, there is plenty of buzz surrounding the 18-year-old as he returns to FC Tulsa's squad in 2023.
Sowinski's name bellowed throughout the USL Championship after just his second professional appearance when the central midfielder stunned Indy Eleven with a hat trick, etching his name into the Tulsa history books in the process. His three-goal feat marked only the second in FC Tulsa history as Sowinski joined Jesus Ferreira as the only two players to triumph in such a way.
"In Luca's last run of games, you saw that he is brave, that he wants the ball, and that he likes to play between the lines which is very challenging because the space is limited," said FC Tulsa head coach Blair Gavin. "When we brought him here to the USL Championship, it was all about him getting better and integrating with the group, and Luca did that incredibly well."
The technical ability of the California-born prospect caught the eye of Gavin and FC Tulsa during his time with the Barca Residency Academy in Casa Grande, Arizona. During the 2021-2022 NLS Next season with Barca, Sowinski shined with a squad-high 15 goals and five assists before capping off the season with a Southwest Division Championship title.
"The backing of this great club and the incredible support from the fans made for a very special introduction to the league," said Sowinski. "I'm motivated and ready to give it everything as I enter my first full season in 2023. I can't wait for another memorable year and to be a part of this club's exciting future."
Sowinski becomes the sixth player announced to FC Tulsa's 2023 roster and the second midfielder alongside Collin Fernandez.
FC Tulsa 2023 Roster:
Goalkeepers:
Defenders: Bradley Bourgeois, Brett Levis
Midfielders: Collin Fernandez, Luca Sowinski
Forwards: Marcus Epps, Darío Suárez