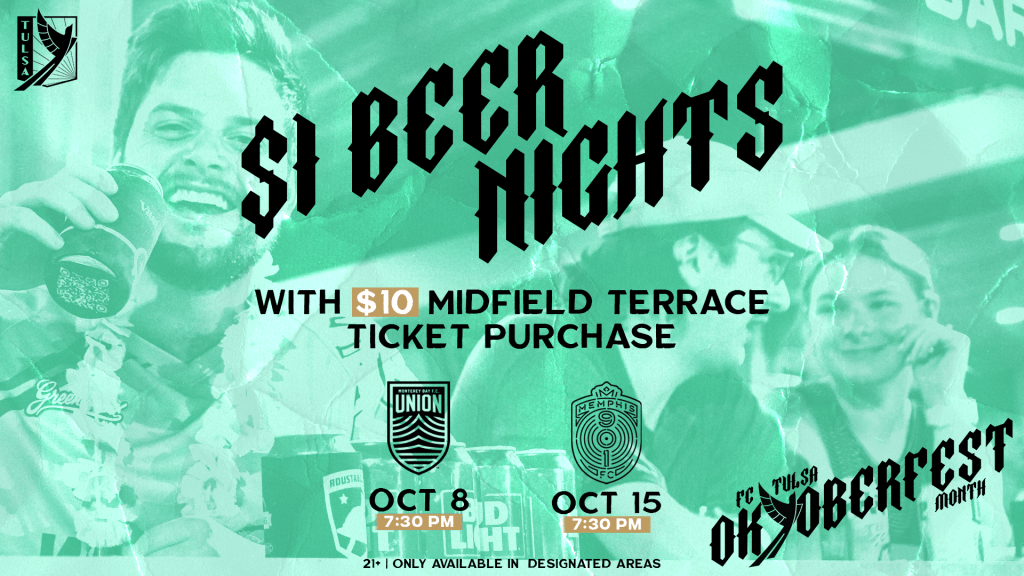 Only 400 Tickets are Available on a First Come, First Serve Basis
TULSA – After three consecutive sellouts in August, $1 Beer Nights will be making their return to ONEOK Field for FC Tulsa's final two home matches of the season on October 8 and October 15.
A $10 ticket to the Midfield Terrace section behind the FC Tulsa bench gives fans 21+ access to beers for just a buck starting when gates open at 6:30 p.m. CT. The Midfield Terrace section offers general admission seating and fans will be asked to present their ticket as well as a valid I.D. to enter. Anyone who fails to do so will not be granted admittance to the section.
A DJ will also be present to provide music and some added atmosphere to the Midfield Terrace before the match and at halftime as well.
Previously, only 300 tickets were made available for $1 Beer Night. However, following sellouts in all three matches as well as increased demand, 400 tickets will be made available to matches on October 8 and October 15 on a first come, first serve basis.
Fans will also be able to buy wristbands at the match for $10 from the FC Tulsa merch stand behind section 108 that will grant them access to the Midfield Terrace.
Tickets to the Midfield Terrace can be purchased here to take part in $1 Beer Night.