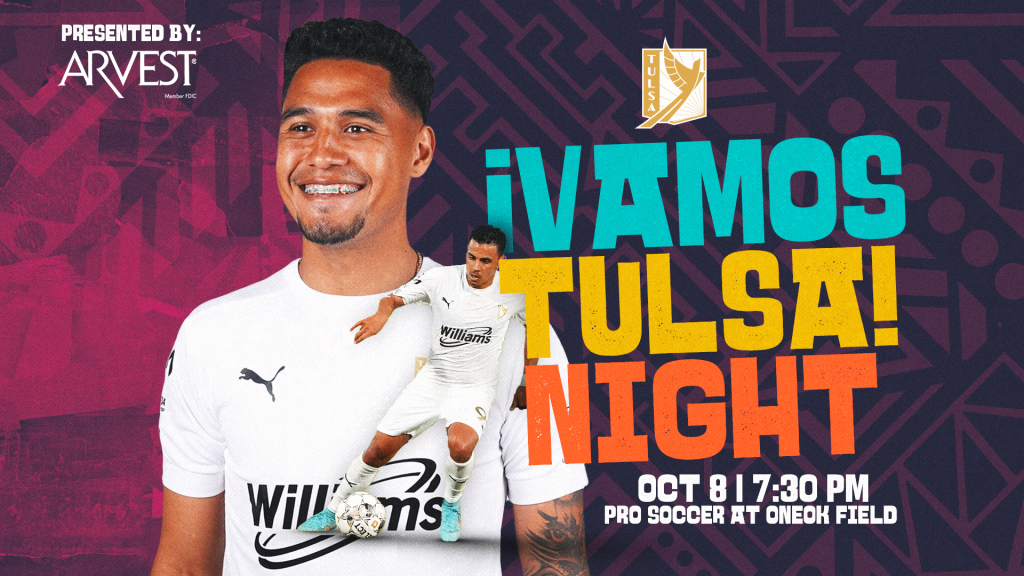 A Night Dedicated to Celebrating Hispanic/Latinx Culture Kicks off at 3 p.m. CT
TULSA – FC Tulsa is partnering with Que Buena Tulsa to host Vamos Tulsa Night at ONEOK Field on Saturday, October 8 during its match against Monterey Bay F.C. The evening, presented by Arvest Bank, will mark the third annual celebration of Hispanic/Latinx culture hosted by FC Tulsa featuring live music, food trucks, vendors, and an Independencia La LIGA match following FC Tulsa's contest on the ONEOK pitch.
"We are thrilled to debut Vamos Tulsa Night as we continue to embrace the thriving Hispanic and Latinx communities here in Tulsa," said FC Tulsa senior director of community engagement Keith Richardson. "We will continue to work to foster a space for diversity, inclusion, connection, and growth via the beautiful game in the place we call home."
Vamos Tulsa Night will kick off at 3 p.m. CT with food trucks, beer, local vendors showcasing their creations, and music outside of ONEOK Field on N Elgin Ave. The headlining musical acts of the night include Tremendos Junior who will take the big stage around 4:45 p.m., as well as the extravagant 12-piece act Banda la Pegajosa at 6 p.m.
Once the ONEOK Field gates open at 6:30 p.m., fans will be able to shop from a number of additional vendors set up inside the stadium throughout the rest of the night, and Rocio Medina from the musical group Eleganza Musical will be performing the National Anthem ahead of FC Tulsa's match.
Following FC Tulsa's clash with first-year USL Championship side Monterey Bay F.C. and a postmatch fireworks show, an Independencia La LIGA match will be played at ONEOK Field. All fans with tickets to FC Tulsa's match are invited to stay for the adult Hispanic league competition and support local soccer!
Tickets to Vamos Tulsa Night can be purchased here, and fans can take advantage of early ticket pricing when purchasing before matchday.