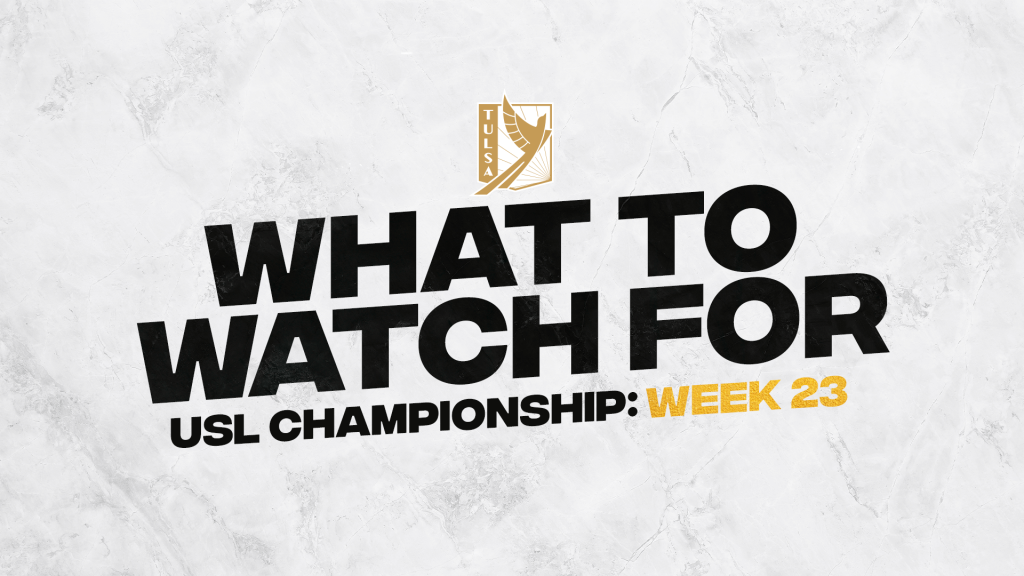 Here's What All FC Tulsa Fans Should be Looking Out for This Weekend
TULSA – Now that we are in mid-August and FC Tulsa is back in the thick of the Eastern Conference playoff race, it's about time to start keeping up with other results within the conference. Welcome to the first edition of "What to Watch For – USL Championship, Week __" of the 2022 season!
Following its monumental win over Miami FC on Wednesday night that raised its playoff chances by 11% according to FiveThirtyEight, FC Tulsa is off this weekend, meaning Tulsa fans can kick back and watch a few USL Championship matches that could directly affect FC Tulsa in the standings. While of course there are a handful of clubs beneath Tulsa in the East, we are going to be focusing on the clubs that the black and gold are trying to catch and how their results play pivotal roles in relation to FC Tulsa.
While catching up to Birmingham Legion FC (the current holders of fifth place and 13 points ahead of FC Tulsa) is not out of the question, FC Tulsa first needs to focus on the clubs occupying the sixth and seventh playoff positions – Detroit City FC and Miami FC.
Only six points separate Miami FC and Tulsa, and Miami is in action on Saturday for its third match in an eight-day span. The club's weary legs hit the road and travel to Atlanta United 2 for a 6:30 p.m. CT kickoff. The two sides have yet to face off this season, but Miami comes in as the heavy favorites against an Atlanta squad with the worst goal differential in the league (-37). In addition, Miami has yet to lose a match this season to an Eastern Conference opponent currently below it in the standings – except to FC Tulsa, of course.
A road victory for Miami would recreate the nine-point gap that FC Tulsa worked so hard to cut into this week, but Tulsa would still have a match in hand to make up the points that Miami would have hypothetically earned tomorrow night. However, a Miami loss would set up FC Tulsa to pick up points and possibly even overtake the Florida side by the end of August with upcoming home matches against Indy Eleven, Hartford Athletic, and Loudoun United FC.
While the majority of the attention in Tulsa has been on Miami as of late due to Wednesday's contest, Detroit City FC is directly in the sights of FC Tulsa as well. Detroit is only one point ahead of Miami in the East, seven ahead of FC Tulsa, and has the most difficult schedule remaining between the three mentioned clubs.
When using remaining opponents' win pct. to calculate each club's strength of schedule to finish the season (in which the lower numbers reflect an easier schedule), Tulsa has the easiest path to finish the current campaign (.336% opp. win pct.). Miami comes in second (.358%), and Detroit clocks in with a grueling .396% opponent win pct. Upcoming matches for Detroit City FC include Louisville City FC twice, Birmingham Legion FC, Colorado Springs Switchbacks FC, Tampa Bay Rowdies, and naturally a match against both Miami FC and FC Tulsa.
Like Miami, Detroit City FC is in action tomorrow night and hosting Oakland Roots SC. Detroit is also favored to come out on top across nearly every betting site, but a draw is certainly not out of the question – Oakland leads all USL Championship clubs with 11 split-point affairs this season while Detroit is tied for the second-most with eight. This match also kicks off at 6:30 p.m. CT.
Although FC Tulsa cannot move up in the Eastern Conference standings this weekend, it will gain a match in hand over Miami FC while Detroit's advantage of being above of FC Tulsa in the table with a two fewer matches played will dwindle down to just one to go along with the toughest schedule ahead of it out of these three clubs.
Bottom line – we root against Miami FC and Detroit City this weekend, the week after that, then the week after that, etc. Not to mention if FC Tulsa takes care of business over its next four matches against Indy, Hartford, Loudoun, and Atlanta United 2, it's going to be a very fun conclusion to the 2022 season.
To view the current USL Championship standings, click here.