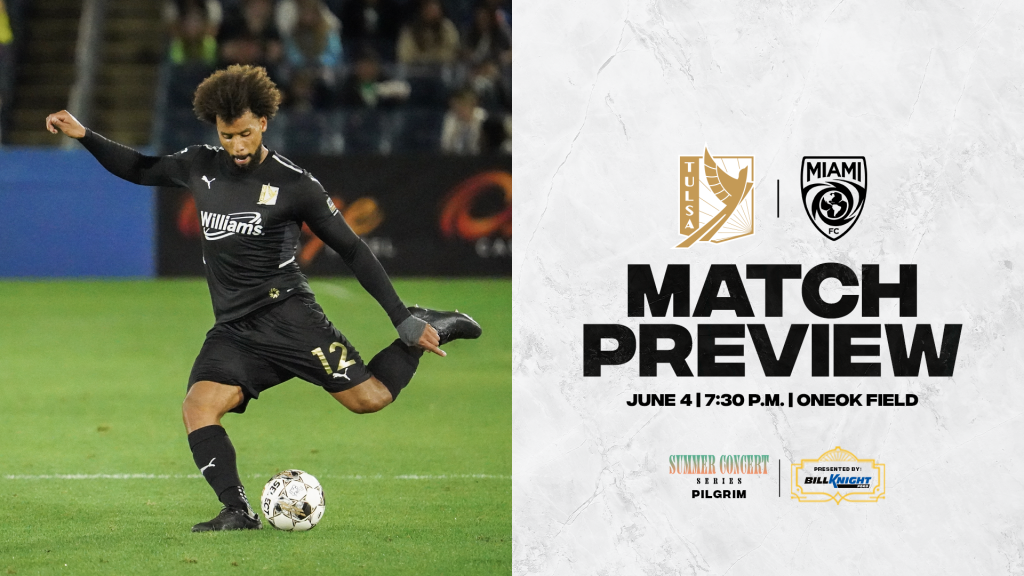 FC Tulsa Shoots for its Fifth Win at Home of the Season
TULSA – Coming off one of the most needed results of the season, a come-from-behind 1-1 draw to Tampa Bay Rowdies at home on Wednesday night, FC Tulsa will aim to continue to build on that momentum. While a draw is still worth just a single point in the table, the grit and determination from an undermanned Tulsa side was evident in securing the result. Following that up with three points on Saturday night against Miami FC will now be the goal heading into a welcome bye week.
There might be no better atmosphere to win in as FC Tulsa debuts its Summer Concert Series on Saturday night prior to kickoff of the match. Folk rock band Pilgrim will grace the stage just outside the ONEOK Field gates at 6 p.m. for a one-hour prematch set that is free of charge for anyone wanting to experience some live music in downtown Tulsa.
Just 30 minutes after the concert ends, the second act begins as FC Tulsa plays host to Miami FC, for the first time in club history, at 7:30 p.m. Miami is a team Tulsa is trying to catch in the early playoff hunt as the Miami side sits just above the line in 6th place, just 6 points ahead of Tulsa. That margin would be cut in half with a FC Tulsa victory on Saturday night.
After the match ends, fans are invited to stay for a free postmatch Fireworks Show after the match.
SCOUTING MIAMI FC
Miami FC entered the 2022 season with high expectations after a 16-win campaign the previous year. However, under first-year head coach Anthony Pulis, the offense has struggled for Miami through its first 13 matches. The club has scored just 16 times, four of which came in a single shutout victory over the Charleston Battery on May 21. Despite several major offseason signings, including forward Kyle Murphy from Memphis 901 FC who was one of only four players in the league to score at least 20 goals a season ago, the offense has yet to click for Miami in 2022. However, Miami has mustered six goals over its past two matches, resulting in its 4-0 over the Charleston Battery and a 2-2 draw with Pittsburgh Riverhounds SC.
Defensively, its backline and goalkeeper Connor Sparrow have been outstanding – Miami has only conceded 12 goals all season and its six clean sheets are the second-most in the USL Championship.
THREE THINGS TO KNOW

1) Rodrigo Remains Red Hot
Even after a 10-day break away from the team battling health and safety protocols, and after spending the first 76 minutes of Wednesday's match on bench, Rodrigo da Costa still found a way to make his mark on the match. In a rare substitute appearance, just his second-ever as a member of Tulsa, da Costa scored the equalizer, nearly scored the winner and showed why he is the most productive player in FC Tulsa history. Da Costa is now tied for the team lead in goals this season (5) and has one assist for good measure.
2) The Wormell Show
Called into starting duty at the last minute on Wednesday night, Austin Wormell was unphased in his 2022 league debut, making 7 saves, the second-most in a match in his career, en route to helping FC Tulsa secure the draw. Buoyed by confidence after 90 minutes of stellar play, Wormell will now head into the match on Saturday looking to secure his first clean sheet of 2022 and the fourth of his career.
3) Late Goal Magic
FC Tulsa's eight goals after the 76' minute are tied for the league lead in the USL Championship with Rio Grande Valley FC. Late match drama has been a calling card for the club throughout its FC Tulsa-era and the 2022 season has been no exception. Six different players have scored goals past the 76' minute this season with both Da Costa and JJ Williams having a pair of such strikes. Six of the eight have been at ONEOK Field, so fans might just see those goal fireworks go off again late in the match on Saturday.
HOW TO WATCH
If you can't make it down to ONEOK Field for the match on Saturday night, all of the action will be broadcasted locally on My41 and will be streamed across the country on ESPN+. Be sure to follow @FCTulsa on Twitter, Facebook, and Instagram for updates, highlights, goals, and all things FC Tulsa throughout the match.