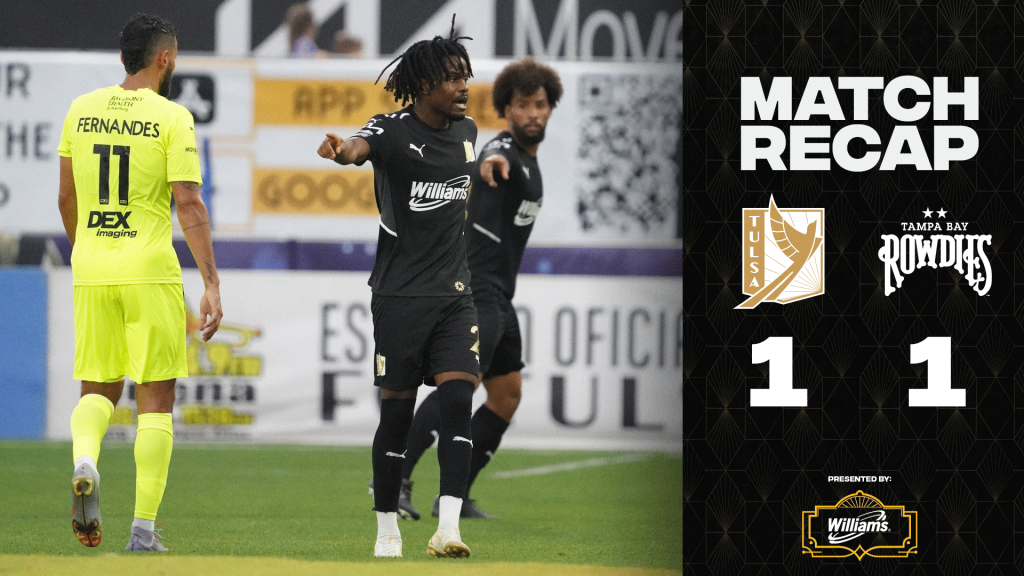 FC Tulsa Earns a Massive Point Against One of the Best on Wednesday Night
TULSA – Playing with heavy hearts for its community just hours after a mass shooting rocked the city of Tulsa, FC Tulsa took on the Tampa Bay Rowdies at ONEOK Field. While the scoreline was 1-1, the result of tonight's match is insignificant compared to the lives lost in the shooting and the families devastated by this unspeakable tragedy.
The recap of the match continues below, but the players, coaches and front office staff at FC Tulsa are keeping all of those affected at the forefront of our minds.
—
A thin FC Tulsa squad, affected by international duty absences and several players under health and safety protocols, took the pitch on Wednesday night. Underlying the lack of depth was a single keeper in the club's 18-man roster as Austin Wormell made his first USL Championship appearance between the posts. To fill out the roster, Michael Nsien placed three Academy players into the 18, midfielder Aimar Membrila and defenders Jesus Hernandez and Josue Flores, none of whom have made their pro debuts in league play.
Tampa Bay Rowdies started the match on the front foot and the pressure paid off quickly with a fortunate bounce off the post. A cross from Rowdies forward Leo Fernandes found its way through everyone and ricocheted off the inside of Austin Wormell's post right back out to the box. Laurence Wyke met the carom and easily slotted in the opener.
Wormell kept his net clean through the rest of the opening 45 minutes, making three saves, including two point-blank stops.
The second-year keeper continued his good play in the second half as he made three more saves to keep it a one-goal match before FC Tulsa struck late with an equalizer.
In an unfamiliar role, second half substitute Rodrigo da Costa was the difference-maker for Tulsa in the 83′ minute. A ball sent into the box by Matheus Silva was controlled by Machuca who looked for da Costa. After a slight deflection from a Rowdies defender, da Costa found the ball and slotted home his 5th goal of the season, tying him for the team lead.
The result wasn't without late drama as captain Bradley Bourgeois rescued the point for FC Tulsa when he cleared Rowdies forward Lucky Mkosana's shot off the line in stoppage time.
It's the first draw of the season for FC Tulsa in its 13th league match. Here are three quick takeaways.
1) WORMELL MAKES FIRST START
With its two other goalkeepers, Sean Lewis and Dallas Odle, in health and safety protocols, FC Tulsa turned to Austin Wormell to make his first league start of 2022 as the only available keeper. Wormell made 7 saves on 8 shots on target over the 90 minutes. In his rookie season in 2021, Wormell earned 16 starts, keeping three clean sheets.
2) BOURGEOIS HITS 10,000 MINUTES
FC Tulsa captain Bradley Bourgeois, now in his seventh season of USL Championship play, hit the 10,000 minute mark in USL Championship regular season play in the 30′ minute of tonight's match. 6,872 of those minutes have come in a Tulsa kit, as Bourgeois ranks third in the club's history of minutes played behind teammates Rodrigo da Costa and Joaquín Rivas.
3) RODRIGO TO THE RESCUE
After missing last weekend's match in Louisville, Rodrigo da Costa played the role of super sub for FC Tulsa, scoring his fifth goal of the season. It's the first time da Costa has entered an FC Tulsa match as a substitute since September 3, 2020 when FC Tulsa beat Rio Grande Valley Toros 2-1 and da Costa came on at halftime. He started all 32 matches for FC Tulsa last season.
UP NEXT
FC Tulsa will remain at home on Saturday night as it plays host to Miami FC in the sides' first-ever meeting. There will be a free prematch concert by Pilgrim starting at 6 p.m. just outside the front gates of ONEOK on Elgin Ave. It will be Saint Francis Tulsa Tough Night at the match, and kickoff is at 7:30 p.m. CT.