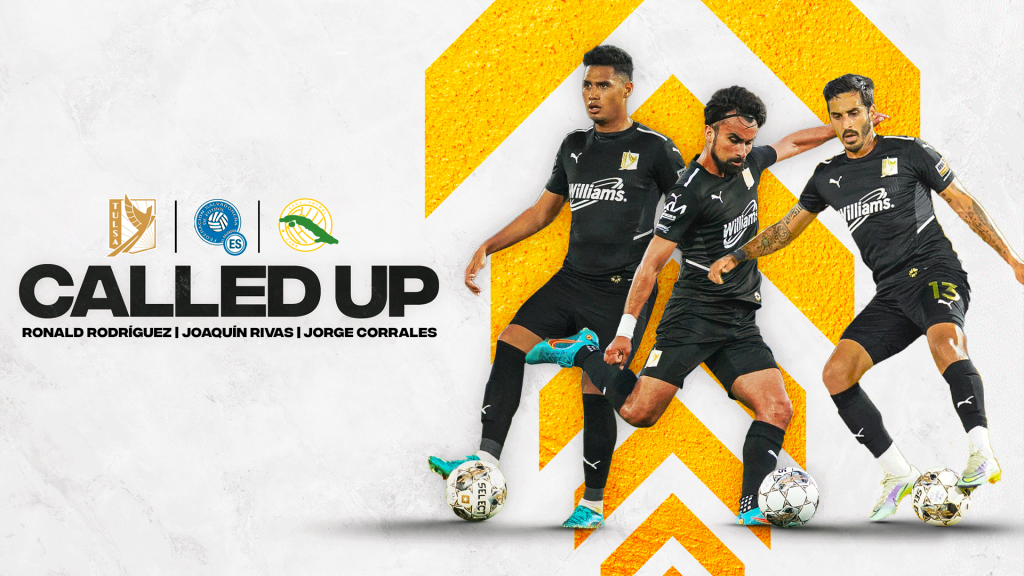 The Trio have 90 Combined International Appearances in Their Careers
TULSA – With the 2022-23 CONCACAF Nations League kicking off on Thursday, FC Tulsa again will be well represented on the international stage with three players called up by their countries this week. Forward Joaquín Rivas and defender Ronald Rodriguez have been called in to play for El Salvador, whose first match is on Saturday, while defender Jorge Corrales has been called in by Cuba, who kicks off Nations League play on Thursday.
The trio of Rivas, Rodriguez and Corrales have been regular participants for their countries over the last calendar year with all three competing in FIFA World Cup Qualifying in 2021 and 2022.
Just the second competition cycle of the relatively new "Nations League," the tournament serves as a qualifier for the 2023 CONCACAF Gold Cup. There are three leagues, League A, League B and League C, and the competition includes promotion and relegation between the three.
The confederations powerhouses reside the League A and as the 7th ranked team in CONCACAF, El Salvador is firmly entrenched as a League A participant. "La Selecta" will compete in a three-team Group with the Nations League defending champions, United States, and Grenada, who was just promoted to League A. El Salvador will play the U.S. and Grenada both home and away with the top team in the Group promoted to the Nations League Final and subsequent Gold Cup and the second-place team also earning qualification to the Gold Cup.
Unfortunately for Cuba, the side was relegated to League B, and will be spending this Nations League cycle looking to get back to League A. Winning their Group will do just that and also send them to the 2023 Gold Cup as Cuba competes in a four-country Group with Guadeloupe, Antigua and Barbuda, and Barbados. Cuba is the heavy favorite in the Group and will play all three of their Group opponents during this window.
All matches can be streamed via Paramount+ as the Nations League kicks off tomorrow. Corrales and Cuba will kick off at 7 p.m. CT on Thursday on the road in Guadeloupe, while Rivas, Rodriguez and El Salvador will host Grenada on Saturday at 9 p.m. CT. A full schedule of both Cuba and El Salvador's matches during this window can be found below.
CUBA – CONCACAF Nations League Schedule
Matchday 1: at Guadeloupe – Thursday, June 2, 7 p.m. CT
Matchday 2: vs. Barbados – Sunday, June 5, 3 p.m. CT
Matchday 3: at Antigua and Barbuda – Thursday, June 9, 6 p.m. CT
EL SALVADOR – CONCACAF Nations League Schedule
Matchday 1: vs. Granada – Saturday, June 4, 9 p.m. CT
Matchday 2: at Granada – Tuesday, June 7, 6 p.m. CT
Mathcday 3: vs. USA – Tuesday, June 14, 9 p.m. CT