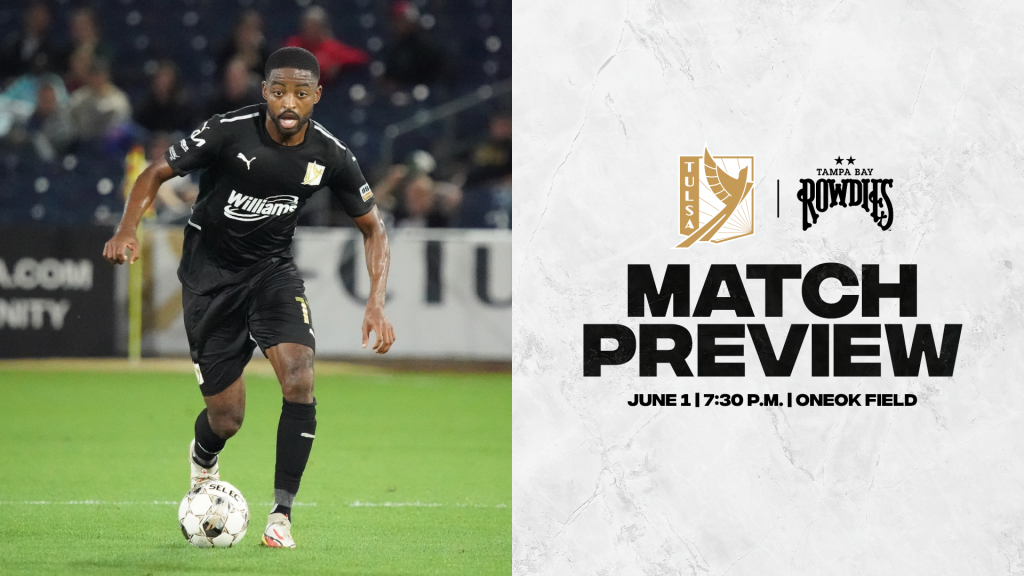 Midweek Action from ONEOK Kicks Off at 7:30 p.m. CT
TULSA – With one third of FC Tulsa's 2022 season officially in the books, the Black and Gold will host a Tampa Bay Rowdies side that authored Tulsa's final chapter a season ago as well as the first meeting between the sides in 2022 back on April 16. FC Tulsa has yet to beat the Rowdies through two meetings, but that could all change as tomorrow night's matchup marks the first to be played in the friendly confines of ONEOK Field.
Despite struggling on the road this season, FC Tulsa has been explosive in front of the home crowd. With a 4W-2L-0D record at ONEOK through its first six home matches, Tulsa has bagged 13 goals and scored at least three times in four of those matches. Wins at home have come against prospective playoff clubs such as San Diego Loyal SC and Detroit City FC, each of whom currently occupy third place in the Western and Eastern Conferences of the USL Championship, respectively.
Not only could the night prove massive for the club, but it could potentially be significant for captain Bradley Bourgeois as well. The native Texan needs to log 30 minutes on Wednesday to reach the 10,000-minute milestone over his standout six-year career in the USL Championship.
After two straight matches on the road and dropping six of its last seven, a home match is just what the doctor prescribed for FC Tulsa. Another home contest against Miami FC on Saturday follows suit, poising an excellent opportunity for FC Tulsa to regain some momentum and reclaim a top-7 spot in the Eastern Conference standings.
Kickoff from the center circle is set for 7:30 p.m. CT.
SCOUTING TAMPA BAY
Tampa Bay's rollercoaster of a season continues into June with the Rowdies in 6th place in the Eastern Conference. The defense has been stout as ever for Tampa, a perennial top-two defensive club in the USL Championship year after year, conceding just 1.1 goals per 90 minutes played in 2022. To bolster an already impressive unit, the Rowdies added center-back Thomas Vancaeyezeele from Birmingham Legion FC last week to fill the hole Robert Castellanos left when he was injured in the opening match of the season.
On the other hand, the Rowdies' offense took some time to get going, scoring just 14 times through its first 10 matches. However, the club has hit its stride in its two previous outings against Phoenix and Pittsburgh, outscoring the respective third-and-fourth place clubs 8-2 and earning six points. Forward Jake LaCava is on a hot streak and has scored in each of Tampa's last three matches – his six goals in 2022 ties him for the fourth-highest total in the league.
THREE THINGS TO KNOW

1) Brown Finding Form
Brian Brown's Tulsa career got off to a bit of a slow start with four appearances in the Starting XI through FC Tulsa's first four matches and nothing on the scoresheet to show for it. However, the Jamaican appears to have found his form and has scored in back-to-back matches for FC Tulsa, his goal being the only Tulsa tally in each contest. With FC Tulsa experimenting with a 3-4-3 formation last time out against Louisville, Brown cracked the Starting XI alongside fellow forward and club leader in goals, JJ Williams, for the first time this season. The two have combined for seven goals and three assists in 2022.
2) Lewis Leads the Pack
In Tulsa's match on Saturday vs Louisville City, Sean Lewis recorded his 40th save of the season, the highest save total by a goalkeeper this season in the USL Championship. Lewis has kept 59% of opposing shots out of the net in 2022 and has made 24 saves in his last five outings.
3) Memorial Day Sale
There's still time to take advantage of FC Tulsa's Memorial Day Merch Sale! Until the end of the day on Wednesday, all fans get 15% off all merch at the team shop, at the match, or online using the code "MEMORIALDAY15"! Season Ticket Members have a special 20% off code in their email inbox that can be used through Wednesday night as well.
HOW TO WATCH
Wednesday night's action will be broadcasted locally on My41 and streamed for anyone across the county on ESPN+. Be sure to follow @FCTulsa on  Twitter, Facebook and Instagram for in-match updates, highlights, and more!