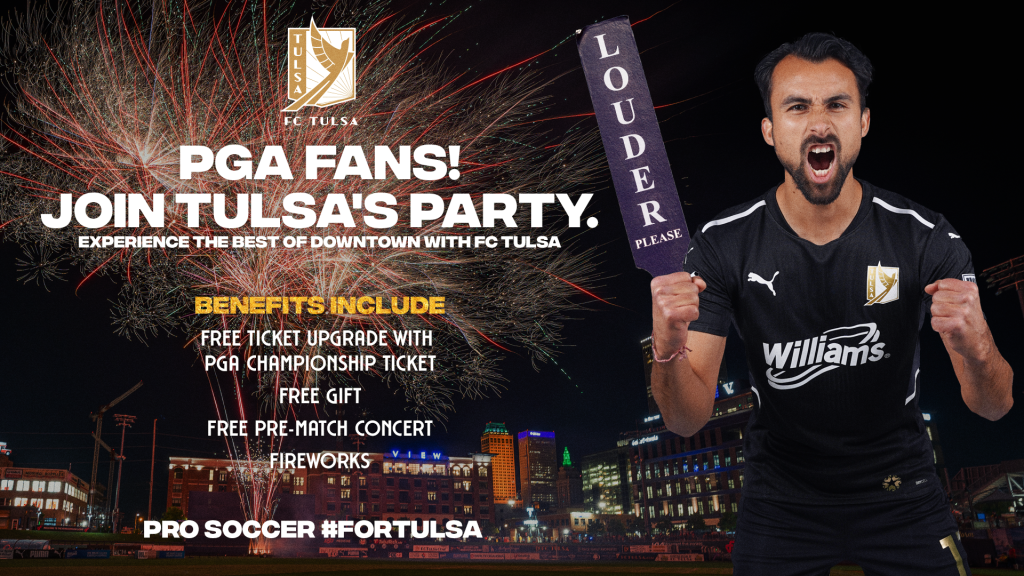 Must be Redeemed at ONEOK Field Box Office on Saturday
TULSA – Golf fans in Tulsa for the 2022 PGA Championship can make their sports weekend even better with FC Tulsa's newest ticket offer, aimed at those with tickets to next week's major championship at Southern Hills. By showing a PGA Championship ticket when purchasing an FC Tulsa match ticket at the ONEOK Field box office on Saturday, May 21, fans will receive a free ticket upgrade and free gift, courtesy of FC Tulsa.
The ticket upgrade can be used on any matchday box office ticket purchase outside of premium seating, based on availability. That means a Lawn Ticket would be upgraded to a Corner Seat or Endline would be upgraded to Sideline. All fans will need to do is show any digital 2022 PGA Championship ticket to the ticket staffer at the box office on matchday.
Next Saturday's FC Tulsa match will be one of the biggest yet, with the club planning to host its first prematch concert in its Summer Concert Series, presented by Bill Knight Ford. King Cabbage Brass Band will play a free show right outside ONEOK Field, starting at 6 p.m., then at 7:30 p.m., FC Tulsa's pro soccer match will kick off against Hartford Athletic. After the match, all fans are invited to stay for a free Fireworks Show.
FC Tulsa is currently 4-2-0 at home in 2022 and is tied for the second-most home victories and the third-most home points earned of any team in the USL Championship's Eastern Conference. The club's 13 home goals are the most in the East, three better than the next best team.