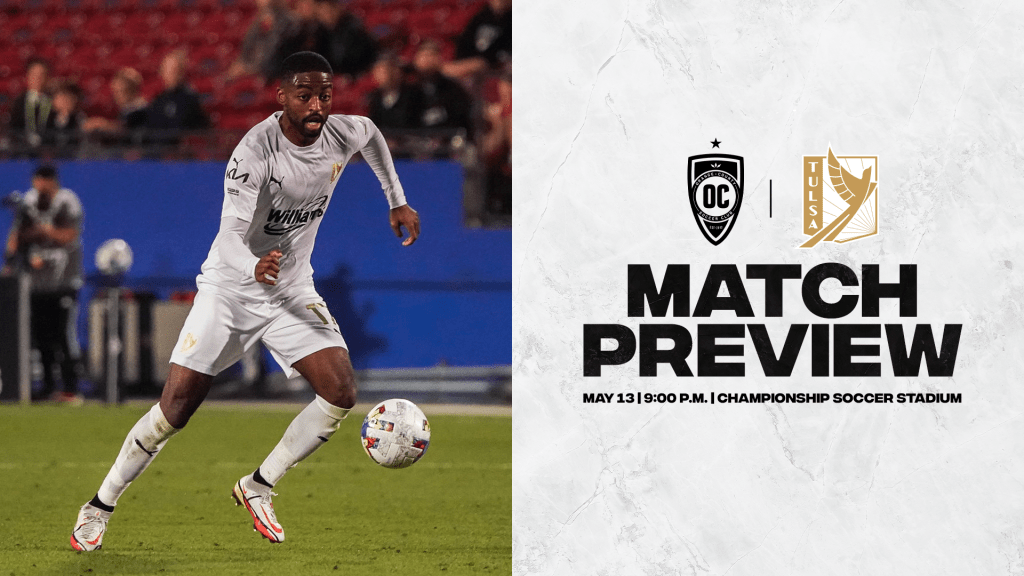 FC Tulsa to Take on the Reigning USL Championship Title Holders After Dark
TULSA – Road results are critical for success in a league with as much parity as the USL Championship, and so far FC Tulsa is 0-fer when it comes to stealing points away from home. Maybe some southern Cali vibes can change that. For the first time since 2019, FC Tulsa will make the trip to Irvine, Calif. to take on Orange County SC for some "Friday Night Lights" action.
While it will be the fifth trip to Championship Soccer Stadium in Tulsa's eight-year history, it will be the first playing against Orange County as the reigning league champion. With a title banner now hanging from the pressbox, Orange County sports a coveted star above its crest for 2022 and beyond after beating Tampa Bay Rowdies 3-1 in the 2021 title match.
One would have to go all the way back to FC Tulsa's inaugural league season in 2015 to see the last time Tulsa has played a reigning league champ. Tulsa did so twice in '15, playing the 2014 winners Sacramento Republic FC both at home and on the road, matches that ended in defeat for Tulsa.
If a road result is in the cards for Tulsa, head coach Michael Nsien will need to look no further than last Saturday's match for a recipe to earn three points. FC Tulsa broke it's four-match losing streak emphatically when it beat Detroit City FC 3-1 at ONEOK Field. Two early goals, a halftime lead and a late clinching strike from Joaquín Rivas sent the fans home happy. To turn the win into a winning streak, Tulsa will aim to translate that success to the road where it is 0-4-0 through four matches.
SCOUTING ORANGE COUNTY
It has been a disappointing start for last season's USL Championship title winners to begin 2022. With only nine points through its first eight matches, the Orange County SC offense has yet to find its form through the first quarter of the season. OCSC has found the back of the net only 10 times, averaging just 1.25 goals per 90 minutes played, and finds itself with the seventh-fewest shots taken per 90 minutes as well (9.62 per 90).
Forward Ronaldo Damus' offseason departure from Orange County to Sweden's first division has left a crater in the Orange County attack that has still yet to be filled, as Damus bagged 14 of the clubs' goals last season, one-third of Orange County's 42 total goals in 2021. Midfielder Erick Torres and Forward Sean Okoli lead the squad with three goals each on the year, and former Bundesliga keeper, Patrick Rakovsky, has conceded 12 times through eight matches, half as many goals as he conceded in 24 appearances last season.
THREE THINGS TO WATCH
1) Sean Lends a Helping Foot
FC Tulsa keeper Sean Lewis was credited with an assist on Joaquín Rivas' first goal last Saturday night, the first assist of his six-year USL Championship career, and became the 18th goalkeeper to record an assist in the USL Championship since 2014. Lewis is the second goalkeeper to nab an assist in 2022 as keeper Kyle Morton assisted a Brain Ownby goal for Louisville City FC earlier in the season.
2) Rivas Honored Twice
Following his brace against Detroit City FC, Joaquín Rivas was named to the USL Championship's Team of the Week for Week 9, his second Team of the Week honor of 2022 – he was also named to the Team of the Week back in Week 2 along with Gabi Torres. In addition to his Team of the Week award, Rivas' first goal was also nominated for the league's Goal of the Week. The brace was the fifth of his career – his first came with the Tulsa Roughnecks, two came last season with FC Tulsa and the fifth came internationally with El Salvador in the 2021 CONCACAF Gold Cup against Qatar.
3) Parallel Between 2021 & 2022?
While no team would want four match losing streaks in back-to-back seasons, it's worth noting how FC Tulsa performed coming off those losing streaks. After a bad run of form midway through the 2021 season, Tulsa reeled off five wins in six matches, including two key road victories, to cement its status as a playoff team. FC Tulsa broke another four-match losing streak last Saturday with a 3-1 victory over Detroit City FC. If 2021 serves as a road map, that win could serve as a catalyst for an extended run of success.
HOW TO WATCH
Drink your coffee and soda, because it's going to be a late night for FC Tulsa fans on Friday night. Kickoff is at 9 p.m. CT, FC Tulsa's latest start time of any match in 2022. Like all regular season USL Championship matches, the contest will be broadcast on My41 locally and streamed on ESPN+ nationally.
Head to @FCTulsa on Twitter, Instagram, and Facebook during the match for in-game updates and highlights as we all enjoy a little #USLAfterDark.