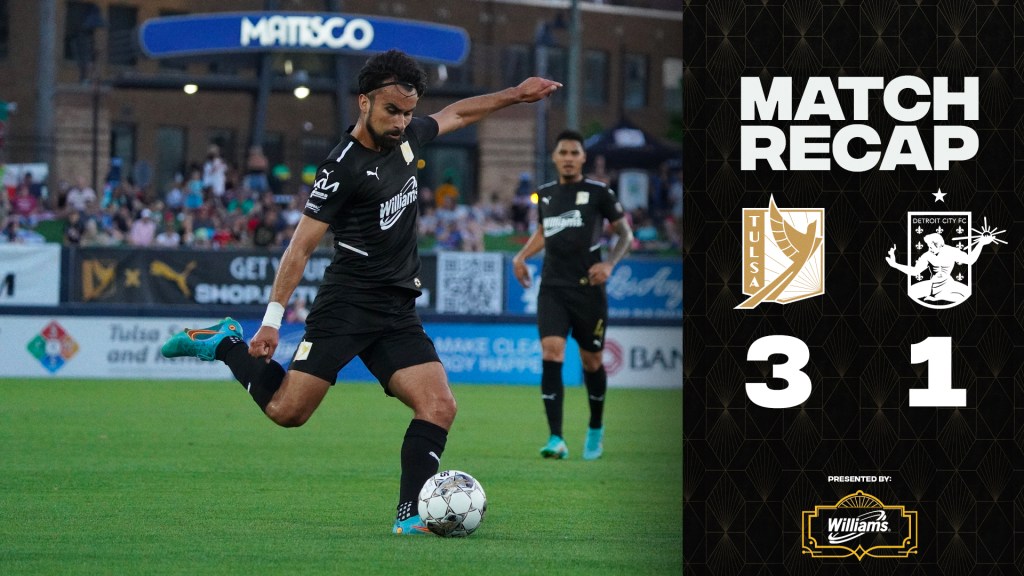 Joaquín Rivas Leads the Charge with a Brace in FC Tulsa's Win
TULSA – That's one way to break a losing streak. A goalkeeper assist, a brace and a big crowd in Tulsa all contributed to a memorable 3-1 FC Tulsa victory over Detroit City FC on Saturday night at ONEOK Field. Joaquín Rivas' two goals sandwiched around a Rodrigo da Costa strike was plenty as FC Tulsa put three past a DCFC side who had only allowed four total goals in eight matches to start the season.
FC Tulsa needed a hot start and got one with two goals in the opening 21 minutes. First, it was winger Joaquín Rivas in the 17′ minute who broke a personal five-match scoring drought after finishing off a long ball sent over the top by keeper Sean Lewis, who was credited with his first career assist.
Only four minutes later, Rodrigo da Costa made it a two-goal lead when JJ Williams found the Brazilian in space on the left side of the box. Da Costa made no mistake on his first-time finish as he scored his fourth goal of the season and 28th of his Tulsa career.
While Detroit pulled one back off a corner kick in the 36′ minute, FC Tulsa went into the locker room with a deserving halftime lead. Now 3-0-0 when leading at the break, Tulsa aimed to lock down the match over the final 45 minutes.
It did just that as Lewis kept the net clean, and Rivas added a clincher in the 78′ minute. A ball off a Detroit head fell perfectly to Rivas, who volleyed home the third Tulsa goal of the night to start the celebrations.
FC Tulsa made one final highlight reel play when defender Ronald Rodriguez cleared a Detroit City shot off the line in stoppage time to preserve the final scoreline.
With the Mayfest party happening outside the ONEOK Field gates, it was only fitting that one happened inside the stadium as well for the crowd of over 4,300.
Here are three quick takeaways from the match.
1) SLUMP BUSTED
There have been more meaningful regular season wins over the FC Tulsa era at ONEOK Field, but there haven't been many more necessary than tonight's victory. Riding a four-match losing streak in league play, FC Tulsa desperately needed all three points in front of the home fans, and the team delivered. Two first half goals with a clincher late in the second half was a perfect recipe for success at ONEOK Field. While more success is needed to climb up the table, tonight provided plenty of reasons for optimism moving forward.
2) RIVAS BAGS THE BRACE
Joaquín Rivas' two goals tonight was more than any other USL Championship team had scored against Detroit City FC in a match this season. It also gave the Salvadoran striker his third brace for FC Tulsa since the start of the 2021 season and fourth in a Tulsa uniform. Rivas now stands at 27 goals scored in his Tulsa career, the second most in franchise history and just one behind teammate Rodrigo da Costa, who also scored on Saturday. The friendly scoring rivalry between Rivas and da Costa will be a fun storyline to keep an eye on throughout 2022.
3) A TRUE MICHIGAN MAN
Sean Lewis had never before played a team from his home state of Michigan as a professional, but he made sure the first one counted. With a save, an assist and a big win, Lewis showed his versatility in net throughout the night. According to Football Reference and the man himself, Lewis' assist tonight was his first as a professional keeper.
UP NEXT
FC Tulsa will head back on the road next weekend for Friday night football against defending USL Championship title holders, Orange County SC. It will already be Tulsa's fifth match against a Western Conference team in the club's first 11 matches of the season. All five teams currently sit in the top 8 of the Western Conference standings. Local kickoff time will be 9 p.m. CT.