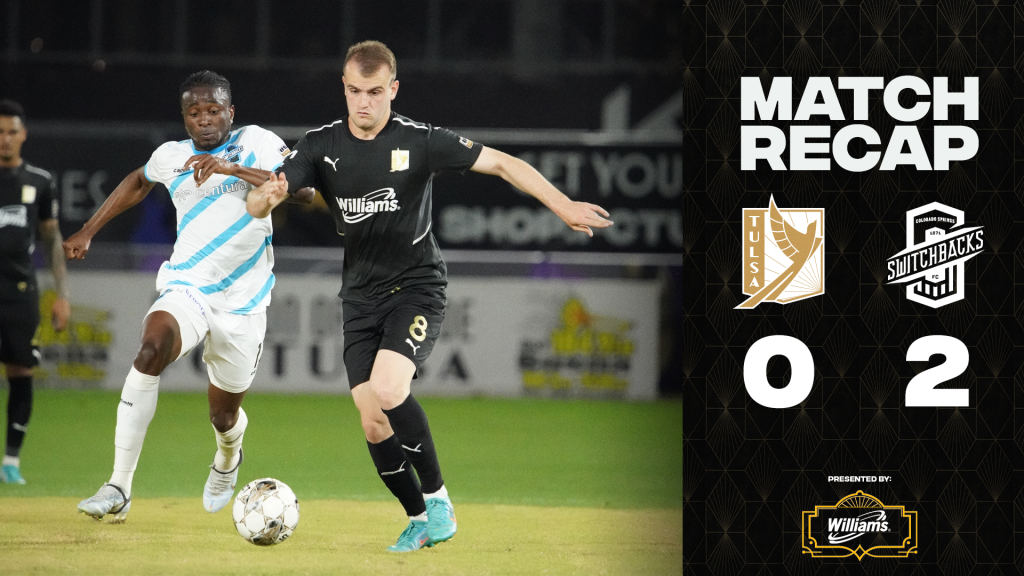 Another Early Concession by FC Tulsa Proved Too Much to Overcome
TULSA – In a matchup between one of the league's best offenses and a defense struggling to find its form, offense dominated. Behind its potent attack and suffocating defense, Colorado Springs Switchbacks FC blanked FC Tulsa 2-0 at ONEOK Field on Saturday night. Its the third consecutive league loss for FC Tulsa, who heads into a bye week looking for answers after a disappointing 3-5-0 start to the 2022 season.
Plagued by early goals allowed during the losing streak, FC Tulsa's defense couldn't hold the fort for long against the Switchbacks' high-powered attack. In the 12′ minute, Colorado Springs had an odd-man rush and Hadji Barry, the league's goalscoring leader in 2021, found acres of space. With tons of room in front, Barry ran all the way to the edge of the 6-yard box and blasted his shot over the head of Sean Lewis and into the net.
Colorado Springs doubled its lead late in the opening half when winger Isaiah Foster scored his first professional goal after a ball squeezed past the FC Tulsa backline. In alone on goal, Foster made no mistake, scoring his first professional goal.
The 2-0 lead stuck until halftime as FC Tulsa headed into the locker room in need of a spark.
It appeared FC Tulsa had struck back and snagged the momentum in the opening moments of the second half when left back Gabi Torres beat Switchbacks FC keeper Jeff Caldwell with a far post shot. Torres' ball struck the inside of the post and looped along the goalline, but no one was able to tap it in and the deficit stayed at two.
Ultimately, that chance from Torres was the best one of the night for FC Tulsa, as the team managed to accrue just 0.60 xG (expected goals). Lewis kept FC Tulsa in the match during the second half as the fourth-year Tulsa keeper made five saves, matching a season high. His efforts weren't enough to pick up the offense however, as FC Tulsa was shut out for the first time since a season-opening loss at Charleston.
Now, FC Tulsa heads into a bye week needing to find answers to get back on a winning trajectory.
Here are three takeaways from the loss.
1) DEFENSIVE STRUGGLES CONTINUE
FC Tulsa's 2022 is starting to look eerily similar to its 2021 campaign. In 2021, FC Tulsa won its first three matches, allowing just one goal in total, before giving up 17 goals over its next five league matches. This season, FC Tulsa gave up two goals over its first three matches and has since given up 13 over its next five. In each those last five league losses, FC Tulsa has conceded multiple goals with five of those goals coming in the opening 20 minutes of the match.
2) NEEDED BYE WEEK
Next week will provide a necessary bye week for FC Tulsa. With 10 matches through the seasons first six weeks, FC Tulsa hasn't had much time to rest early in the 2022 campaign. Now the team gets that break to physically and mentally hit the reset button. Head coach Michael Nsien will have a chance to evaluate his roster to find the right combinations of players on both sides of the ball.
3) IT'S STILL APRIL
The USL Championship season is a long one, and there is plenty of time for FC Tulsa to right the ship with 26 matches remaining in the 2022 schedule. FC Tulsa has shown in past seasons that it can get hot, with several long winning and unbeaten streaks since the start of the new era in 2020. One solid month can change the fortunes of any team, and that rings true for FC Tulsa as well.
UP NEXT
FC Tulsa will have 11 days off before a road trip to El Paso on Wednesday, May 4 to play Locomotive FC. It will be the longest break yet between matches, and much needed for a beleaguered FC Tulsa squad.