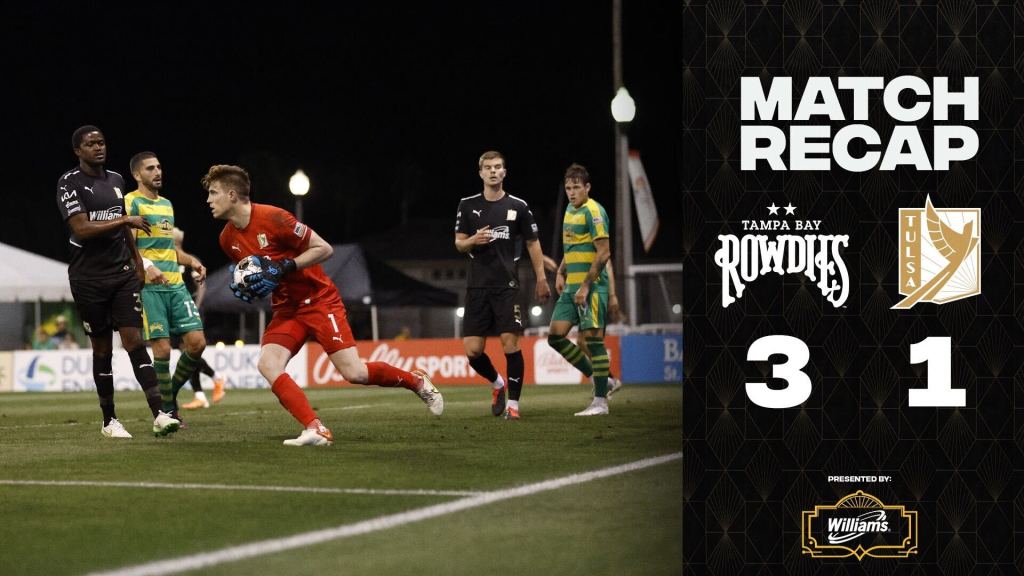 JJ Williams Bags his Fourth Goal in his Last Three Matches, but FC Tulsa Falls to the Rowdies
ST. PETERSBURG, Fla. – Al Lang Stadium is a house of horrors for FC Tulsa. The beautiful home by the Bay for the Tampa Bay Rowdies has been anything but picturesque for Tulsa, as the visitors fell 3-1 to the Rowdies on Saturday night. It's the second loss in two tries for FC Tulsa at Lang as the Golden Boys have now been outscored 9-3 over two matchups at the Rowdies' stadium, including last season's 6-2 Playoffs defeat.
It was an inauspicious start for FC Tulsa at Al Lang as Tampa Bay opened the scoring on its first chance of the match, less than three minutes after the starting whistle. A cross by the Rowdies was punched out by Tulsa keeper Sean Lewis directly to the feet of Lewis Hilton, waiting at the top of the box. With Lewis out of position, Hilton buried his shot, immediately putting FC Tulsa on the wrong end of a 1-0 scoreline.
FC Tulsa caught a break midway through the first half when Tampa Bay was awarded a penalty in the 25′ minute. The normally lethal Rowdies forward Sebastian Guenzatti fooled Lewis but sent the penalty kick wide off the post to keep the Tulsa deficit to one.
Tampa did get their second in the 37′ minute when a Jake LaCava cross met a sliding Kyle Grieg, who slotted past Lewis. The goal marked the fourth consecutive league match FC Tulsa has allowed multiple goals after allowing one or fewer in each of the teams' first three matches.
Despite playing on the back foot for much of the second half, FC Tulsa got a goal back through excellent passing between its two strikers. Starter JJ Williams and second half substitute Brian Brown played a one-two passing combination on the counter attack in the 85′ minute, which left JJ Williams in front of an open net. The striker made no mistake, bagging his fourth goal in three starts for FC Tulsa.
The comeback attempt was quickly snuffed out when Tampa Bay scored the capper only two minutes later. A pair of Rowdies substitutes, winger Leo Fernandes and winger Dayonn Harris combined for the final goal when Fernandes danced around the Tulsa backline and served up Harris to finish far post.
Here are three quick takeaways from the defeat.
1) ROAD WOES
FC Tulsa has three losses in three road matches this season in USL Championship play and hasn't won a road match since September 3, 2021, a span of eight consecutive matches including regular season and playoffs without a victory. In those eight matches, FC Tulsa has allowed 18 total goals. Tulsa's next chance at a road victory in USL Championship play will come on May 4 against El Paso Locomotive FC.
2) WILLIAMS A BRIGHT SPOT
JJ Williams continues to drive the FC Tulsa offense, scoring the lone goal against Tampa Bay. It's the third consecutive start for the American striker, and the third straight match in which he has scored. Williams now leads FC Tulsa with four goals through seven league matches and is the first player in franchise history to score in each of his first three starts for the club. Fellow striker Brian Brown received the assist after putting Williams in a spot to finish, marking Brown's first time on the scoresheet in a league match while with FC Tulsa.
3) LOPSIDED "EXPECTED GOALS"
While starts don't always tell the full story, the difference in the two sides' xG or "expected goals" showed the gap on Saturday night. FC Tulsa was fortunate Tampa Bay didn't score more than three as the Rowdies racked up 4.76 xG on 20 shots. Comparatively, FC Tulsa managed just 0.68 xG on its seven shots, scoring on one of its four attempts on target. With the goal on Saturday, FC Tulsa has scored at least once in seven consecutive USL Championship matches, not being shut out since the season opener against Charleston Battery on March 12.
UP NEXT
FC Tulsa will travel directly from Tampa to Dallas for its Third Round U.S. Open Cup match against MLS foe FC Dallas. It will be just the second all-time competitive match against an MLS opponent for FC Tulsa, the only other time coming in the Fourth Round of the Open Cup in 2017, a 2-1 loss to FC Dallas. Kickoff is at 7:30 p.m. on Tuesday night from Toyota Stadium in Frisco, Texas.