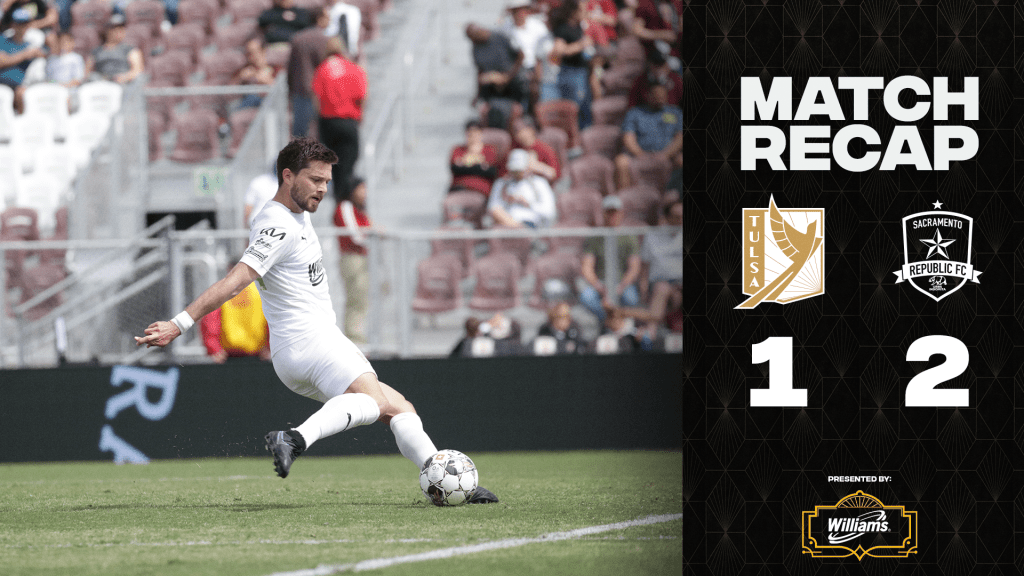 FC Tulsa Unable to Capitalize on Chances in Northern California
TULSA – Just three days after scoring a late goal to take all three points, FC Tulsa gave up a late goal to miss out on any points in a 2-1 road loss to Sacramento Republic FC on Sunday afternoon. Despite an opening goal by Rodrigo da Costa, FC Tulsa couldn't hold the lead, giving up a goal in each half to lose its second road match of the 2022 season.
It was a deserved lead for Tulsa through da Costa in the 29′ minute when the clinical Brazilian got his head to a deep cross from midfielder Petar Čuić. It was da Costa's 25th goal all-time for FC Tulsa, making him the leader in the club's all-time ranks, and his second of his career against Sacramento.
Unfortunately, FC Tulsa gave that lead away only two minutes later when center-back Adrián Diz Pe was called for a foul inside the penalty box. It appeared to be a call that could have gone either way, but Tulsa paid the price when Republic FC striker Douglas Martinez converted the PK just outside the outstretched hand of Sean Lewis.
The teams went into the locker room at 1-1 and more goals seemed likely.
Indeed, chances came aplenty in the second half for both sides as FC Tulsa had two shots go just wide of the left post. The first off the boot of substitute Machuca and the second from Darío Suárez. On the other side, Sacramento rang a rifled shot off the post, nearly taking a lead of their own.
Ultimately, it was Sacramento that found the breakthrough in the 86′ minute when substitute Duke LaCroix weaved through the Tulsa backline on the left side of the box. La Croix fired his shot unimpeded and beat Lewis, taking all three points for Sacramento.
It was always a tough ask for FC Tulsa to go into Sacramento and find a result against one of the league's best teams on the road. As the third match in eight days including a long road-trip to California, Tulsa nearly earned three results and seven points until LaCroix's winner. While a fantastic week was within reach, the club will have to settle for a good week instead, earning huge home victories over Birmingham Legion FC and San Diego Loyal SC.
Here are three quick takeaways following the loss.
1) RODRIGO VS. SACRAMENTO
FC Tulsa has played Sacramento Republic FC twice during the new era of the franchise, with both matches coming in northern California more than two years apart. Showing his goal-scoring prowess over multiple seasons, Rodrigo da Costa found the net. His latest goal, the opener on Sunday, places Rodrigo da Costa solely in first place in the club's all-time scoring ranks with 26 goals in his time in Tulsa.
2) NEW LOOK XI
Two new faces entered FC Tulsa's Starting XI on Sunday with Eric Bird and Kembo Kibato providing some rotation at the end of a three matches in seven days stretch. In addition to Bird and Kibato's starts, full-back Jorge Corrales made his much-anticipated return to the pitch after missing the season's first three matches due to a preseason injury.
3) HOME SUCCESS, ROAD WOES
Four matches into the season, FC Tulsa has been nearly untouchable in its two home contests, scoring four goals while only conceding once on its way to six points. The road hasn't been nearly as kind with two losses, no points and only one goal scored. Three of the next five league matches are at ONEOK Field, including each of the next two. More momentum built at home over the next two weeks will be needed before FC Tulsa road-trips to Memphis and Tampa Bay in April.
UP NEXT
FC Tulsa will have almost a full week between matches before another set of three over the course of a week – all at ONEOK Field. Tulsa will sandwich Saturday home USL Championship matches around a Tuesday night U.S. Open Cup match. On April 2, FC Tulsa will welcome New York Red Bulls II in USL Championship action with the Open Cup match on Tuesday, April 5 against NPSL side Tulsa Athletic. Then next Saturday, April 9, FC Tulsa will host Pittsburgh Riverhounds SC. (edited)