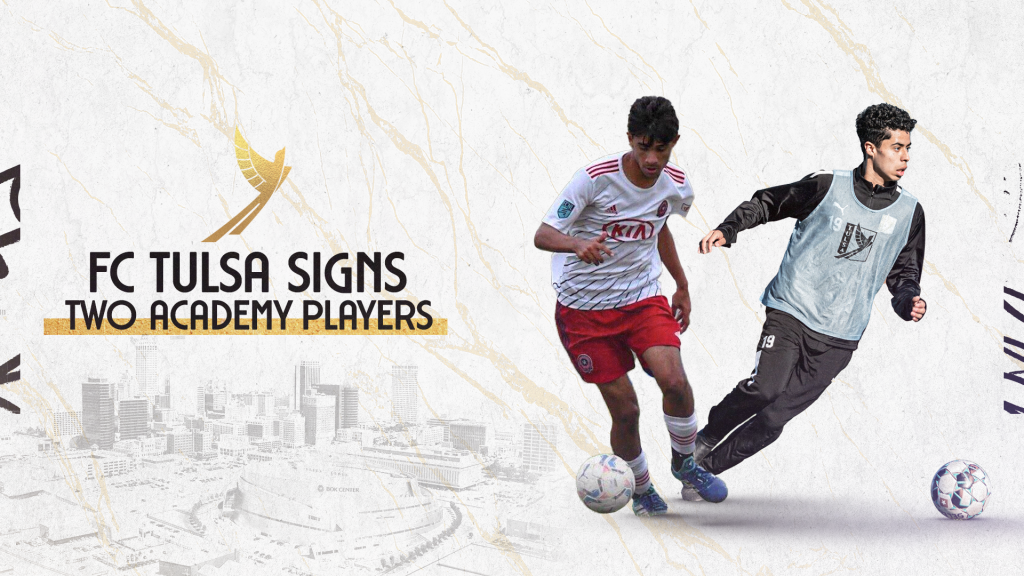 Aimar Membrila and Josue Flores Will Travel with Team to Tucson for Preseason Matches
TULSA – FC Tulsa has added two more local youth talents to strengthen the depth of the 2022 roster. Midfielder Aimar Membrila and defender Josue Flores will join FC Tulsa's squad for this season as Academy contracted players, preserving their collegiate eligibility. FC Tulsa has now signed five local youth players to Academy contracts in 2022 as the club continues to build a local pipeline for the brightest youth players in Tulsa.
"Both Aimar and Josue have impressed with how quickly they have adapted to the team," said head coach Michael Nsien. "Aimar has shown a lot of maturity with the way he's consistently performed each training. Josue is competing daily against some of the best attackers in the USL and is certainly holding his own. Our hope is that they continue to grow and realize their potential."
Growing up in Tulsa, Membrila, now 18, got his start with Metro Tulsa Soccer Club before moving to TSC in 2011. While he has spent the bulk of his youth career moving up the TSC ladder (2011-2018, 2021-2022), he did play for North Carolina Fusion from 2018-2021. Membrila also had a chance to train with FC Dallas' Academy in 2016 and was a part of the team's Disney Memorial Day Tournament championship. In 2018, Membrila was invited to participate in a U.S. National Team Regional ID camp in Tulsa.
His FC Tulsa career is already off to a good start as Membrila recorded an assist in the club's intrasquad scrimmage last Saturday.
"I am extremely blessed and thankful to be given the opportunity to represent my hometown team at the professional level," said Membrila.
Flores, a 17-year-old center-back, is also a native Tulsan and like Membrila, comes to FC Tulsa from Tulsa SC where he has played since 2014. Prior to joining Tulsa SC, Flores played for Blitz Academy FC. Both Membrila and Flores will travel with the team to Tucson on Wednesday to continue preseason camp and participate in the club's first two preseason matches against a pair of USL Championship foes.
"Signing with FC Tulsa means my future is moving in the right direction, and I can't wait to see what I learn and accomplish with this team," said Flores. "I couldn't have done it without the amazing mentors and coaches I have previously had."
FC Tulsa will take the pitch in Casa Grande on Thursday at 5 p.m. CT to play Colorado Springs Switchbacks FC before a second preseason match on Sunday morning at 11:30 a.m. CT in Tucson against Oakland Roots SC.