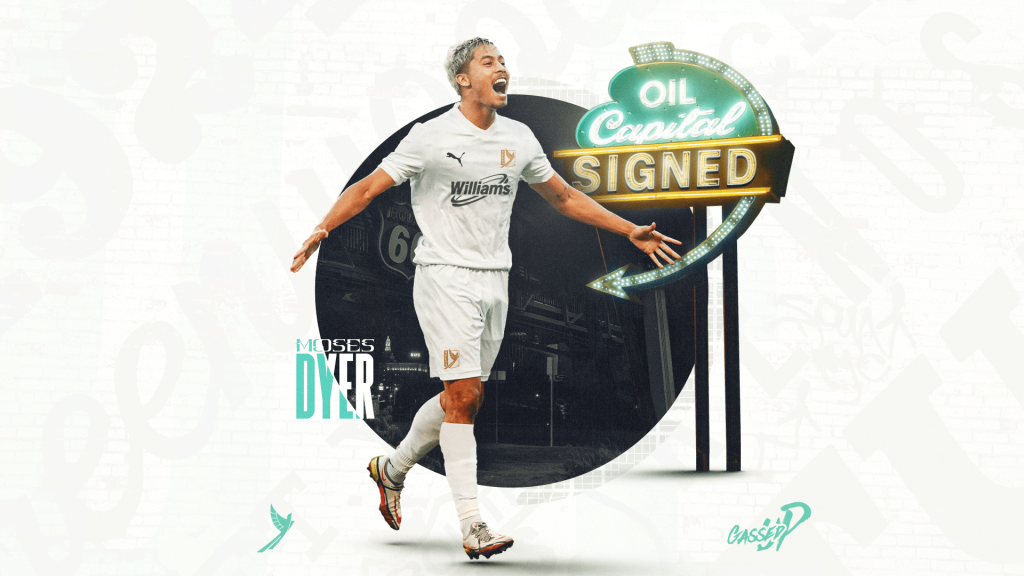 Dyer Proved the Second Highest CPL Scorer Over the Past Two Seasons
TULSA – FC Tulsa has bolstered its attack with some new firepower in the form of the Canadian Premier League's second-leading scorer over the past two seasons. The club has signed 25-year-old striker Moses Dyer to its 2023 roster, pending league and federation approval.
A native of New Zealand, Dyer joins FC Tulsa on the heels of back-to-back nine goal seasons with Valour FC in which he provided six assists to pair with his 18 goals. Dyer initially signed with Valour in 2020 and played all three seasons alongside full-back Brett Levis whom FC Tulsa previously added this offseason. He departs Valour FC as the club's all-time leading scorer.
"What sets Moses apart is his ability to link up," said FC Tulsa head coach Blair Gavin. "He's someone who is very comfortable picking up the ball between the lines and has the vision to play the final pass. He's someone we will be able to play into and force the center-backs to make a decision, and during that time, we're hoping to have the solution much faster than they are, whether it's an assist through the last line to a winger or Moses turning and scoring."
On the international stage, Dyer has capped 11 times and scored for New Zealand's senior squad across World Cup Qualifying and Intercontinental Cup play in addition to International Friendlies. At the youth level, Dyer appeared four times for New Zealand's U-23 side and 15 times for its U-20 side, including four starts in the U-20 World Cup in 2017 where he captained the squad twice. Dyer has three international goals to his credit at the youth level.
"There's so many unknowns coming into a new team and new country, so I'm looking forward to meeting the boys and getting started," said Dyer. "I can't wait to give the fans something enjoyable to watch by winning games and scoring goals."
Dyer kicked off his career in 2014 as a 17-year-old with his hometown club Wanderers SC in Auckland, New Zealand. He then signed with Eastern Suburbs AFC in 2016 where he spent two seasons before moving to Norway to play for Florö SK. With Florö, Dyer netted nine goals across all competitions in 27 appearances.
Dyer becomes the third forward announced by FC Tulsa to its 2023 front thus far alongside goalscorers Marcus Epps and Darío Suárez.
FC Tulsa 2023 Roster:
Goalkeepers: Austin Wormell
Defenders: Bradley Bourgeois, Jorge Corrales, Adrián Diz Pe, Brett Levis, Justin Malou
Midfielders: Eric Bird, Rodrigo da Costa, Collin Fernandez, Blaine Ferri, Luca Sowinski
Forwards: Moses Dyer, Marcus Epps, Darío Suárez