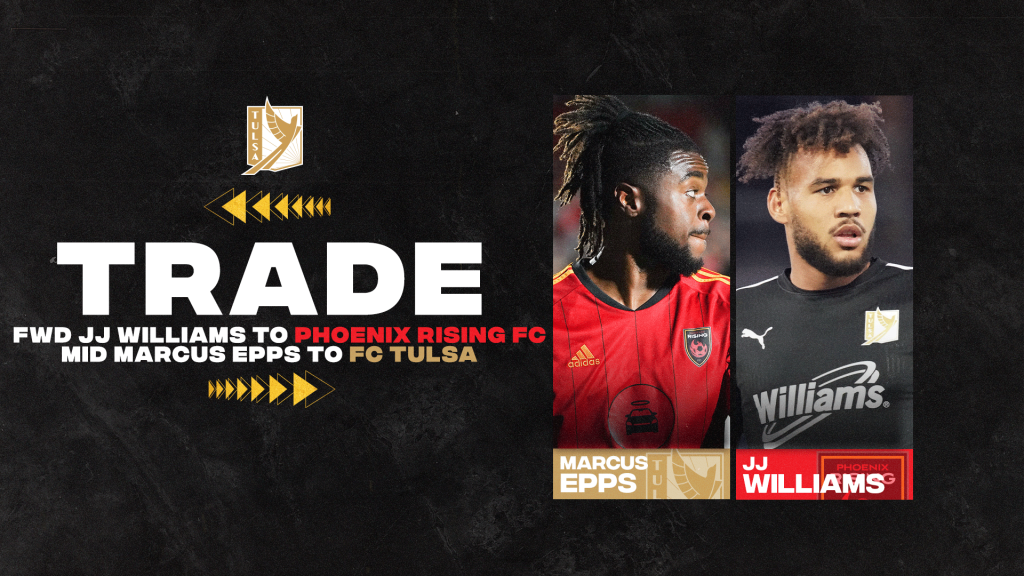 JJ Williams Traded to Phoenix in Return
TULSA – As FC Tulsa continues to revamp its roster in an effort to make a late run at a playoff spot, another new face is making the midseason move to Oklahoma. The club has acquired former MLS midfielder/forward and first-round pick Marcus Epps from Phoenix Rising FC in exchange for forward JJ Williams, marking FC Tulsa's third trade of the 2022 season, pending league and federation approval.
Epps, the 25th overall 2017 MLS SuperDraft pick, has three years of MLS experience under his belt to go along with a standout USL Championship resume spanning six total seasons, highlighted by 20 goals and 16 assists across regular season and postseason play.
Epps is just a season removed from his 2021 stint with San Antonio FC that saw the attacker set career highs with six goals and five assists en route to appearing in every match for San Antonio. He led the club in appearances (32), starts (30), and minutes played (2,633) and would add another goal in the playoffs as San Antonio reached the Western Conference Finals before losing to the eventual USL Championship title winners, Orange County SC.
"I'm very excited to be joining the group," said Epps. "I know it's a crucial time in the year and I'm eager to give my all to help the club."
Initially selected in the First Round by the Philadelphia Union back in 2017, Epps spent time with the MLS side and its USL Championship affiliate, the Bethlehem Steel, in both the 2017 and 2018 seasons. Overall, Epps made 15 starts in 32 appearances for the Union at the MLS level with three goals. For Bethlehem, the Mississippi native accrued 24 appearances, all starts, as he found the back of the net three times and notched three assists as well.
In late 2018, the New York Red Bulls traded a Second-Round pick in the 2019 MLS SuperDraft to the San Jose Earthquakes in exchange for the First Overall Pick of the 2018 MLS Waiver Draft, a pick New York used to select Marcus Epps. Epps would appear three times for Red Bulls at the MLS level in 2019 before being loaned to its USL Championship side, New York Red Bulls II, and later to Memphis 901 FC in the same season. Between his time with Red Bulls II and Memphis, Epps hit the pitch 33 times, pairing five goals with five assists.
Epps moved on from the New York system in 2020, signing with Portland Timbers 2 ahead of the shortened season. He would go on to join San Antonio FC in 2021 before signing with Phoenix Rising ahead of the 2022 season. Over the past three seasons, Epps has racked up 11 goals and eight assists over 63 matches between the three clubs.
"It's not often a player of Marcus' ability becomes available to acquire, not only for the remainder of this season, but for next season as well," said FC Tulsa president Sam Doerr. "He is a big piece of our present and future, and we are excited for our fans to see the quality of player and person that Marcus is."
In exchange for Marcus Epps, FC Tulsa has traded JJ Williams to Phoenix Rising FC in a player-for-player swap, the fourth such move in franchise history and the third of FC Tulsa's season. Williams appeared in every match for Tulsa in his first year with the club, leading the way with nine goals and 49 shots.
"I have immense respect for JJ Williams – the person, first and foremost. He and his family embodied what it means to be part of FC Tulsa and the Tulsa community," said Doerr. "We are excited for the opportunity JJ has in Phoenix and thank him for his contributions to the club this season."