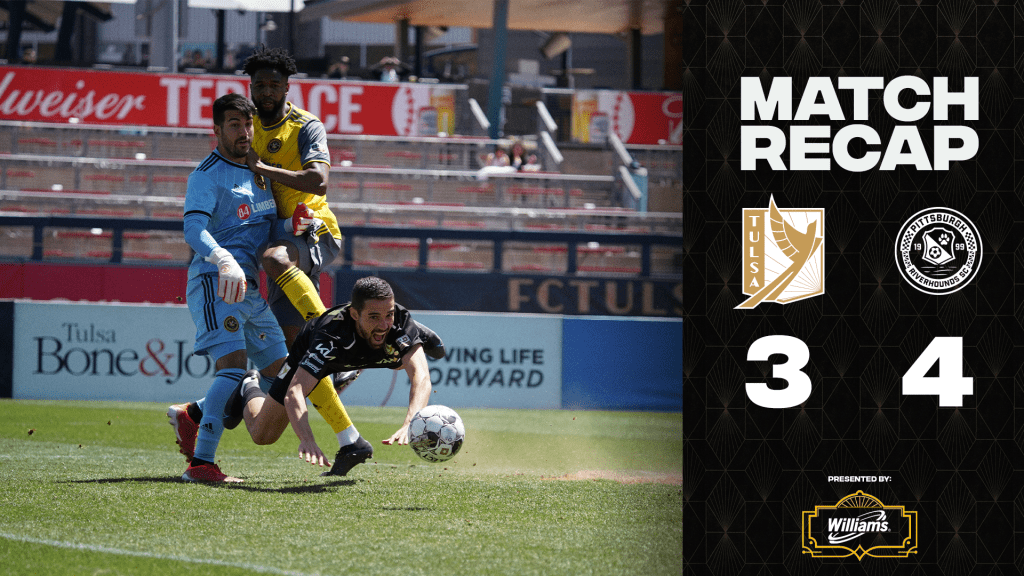 Two Tulsa Tallies in the Final 10 Minutes Was Not Enough to Overcome the Deficit
TULSA – On a beautiful Saturday afternoon in downtown Tulsa, FC Tulsa's defense was anything but, allowing four goals at home for the first time in the new era of the franchise in a 4-3 defeat to Pittsburgh Riverhounds on Saturday afternoon. After falling behind 4-1, FC Tulsa showed its perseverance, scoring twice in the final 10 minutes to make it a one-goal margin. It ultimately was too little, too late as the Riverhounds kept their unbeaten start to the season intact, while FC Tulsa falls to 3-3-0.
The scoring started quickly for the visitors at ONEOK Field as Pittsburgh scored three goals in the opening 20 minutes – two for themselves and one for FC Tulsa. While Tulsa had the better chances offensively to start the match, an open header by JJ Williams and a cross that found the leg of Rodrigo da Costa, both chances went wasted, and it was Pittsburgh who built a 2-0 lead.
Two defensive lapses by Tulsa allowed the 'Hounds to find the net twice in the opening 15 minutes. Six minutes in, it was Albert Dikwa who beat Bradley Bourgeois to a cross inside the six-yard box and snuck the shot just inside the far post. Less than 10 minutes later, it was Dikwa involved again, this time on the assisting end as he picked out Alex Dixon who dribbled around several FC Tulsa defenders and slotted his attempt in the same spot past Sean Lewis.
FC Tulsa caught a massive break to get back into the match when in the 19′ minute, Pittsburgh suffered friendly fire. A long ball from Bourgeois fell to the feet of 'Hounds midfielder Dani Rovira who attempted to clear it. Rovira instead fired a ball directly at his own keeper, Kevin Silva. Surprised at the turn of events, Silva allowed the ball to roll between his legs and into the net for an own goal.
Pittsburgh started even quicker in the second half when USL Championship career goals leader Dane Kelly netted his 103rd career league goal on a breakaway in the 47′ minute. The goal came from a through-ball which evaded the FC Tulsa backline and perfectly fell into Kelly's path. Given a chance like that, Kelly made no mistake, easily regaining the two-goal lead.
In the 60′ minute, Pittsburgh added a fourth from the boot of Dikwa. A grounded cross by Nate Dossantos somehow slipped by the Tulsa backline to the far post where Dikwa was waiting to tap in to the empty net.
Just after the Riverhounds' fourth goal, FC Tulsa head coach Michael Nsien made five substitutions to change the direction of the match and shake up the squad.The subs sparked a rally as Tulsa scored twice in the final 10 minutes. First, it was Williams who scored his third goal in two league matches when he took a feed from da Costa and beat Silva far post in the 81′ minute. The American striker has now scored in each of his two starts for Tulsa after bagging a brace last weekend against New York Red Bulls II.
Four minutes later, it was da Costa who scored his third of the year to pull Tulsa within one when a pinpoint long ball over the top by Ronald Rodriguez landed perfectly at an on-rushing da Costa who scored easily. It was the seventh match in his illustrious career that Da Costa has scored both a goal and had an assist.The rally eventually ended up just short as FC Tulsa couldn't find the equalizer however, and the club's six-match home winning streak dating back to last season was snapped.
Here are three takeaways from a disappointing home loss.
1) DEFENSIVE BREAKDOWN
Four goals allowed at home has never happened before in the FC Tulsa era. In fact, it had been since June 2, 2021 since FC Tulsa allowed four or more goals in a regular season match, also a 4-1 loss, to the hands of Sporting Kansas City II. While Saturday's blowout is an anomaly, FC Tulsa's defense has been trending in the wrong direction, now allowing eight goals over its last three league matches. With two road matches next week, a solution will need to be quick to stem the defensive bleeding.
2) WILLIAMS BAGS ANOTHER
While it may have come in a loss, JJ Williams' goal in the 81′ minute is the American striker's third this season, tied for the team lead. He is the first player in the FC Tulsa-era of the franchise to score goals in each of his first two starts. His 0.99 goals per 90, is 9th-best in the USL Championship and the third best for anyone who has more than 200 minutes played in 2022.
3) DA COSTA CLIMBING
With a goal and an assist in today's loss, Rodrigo da Costa continues to add to his record-setting FC Tulsa career. Now in the midst of his fourth season with the franchise, da Costa has 27 goals and 22 assists, both the most in franchise history. He now leads teammate Joaquín Rivas by two goals for the most in Tulsa history, while his 22 assists are 12 more than the next closest, dwarfing Cristhian Altamirano's 10.
UP NEXT
FC Tulsa will go on a two-match USL Championship road-trip next week, first visiting Memphis 901 FC on Wednesday before wrapping up on Saturday against Tampa Bay Rowdies. Kickoff against Memphis will be at 7 p.m. CT. The match will air locally on My41 and be available to stream on ESPN+.