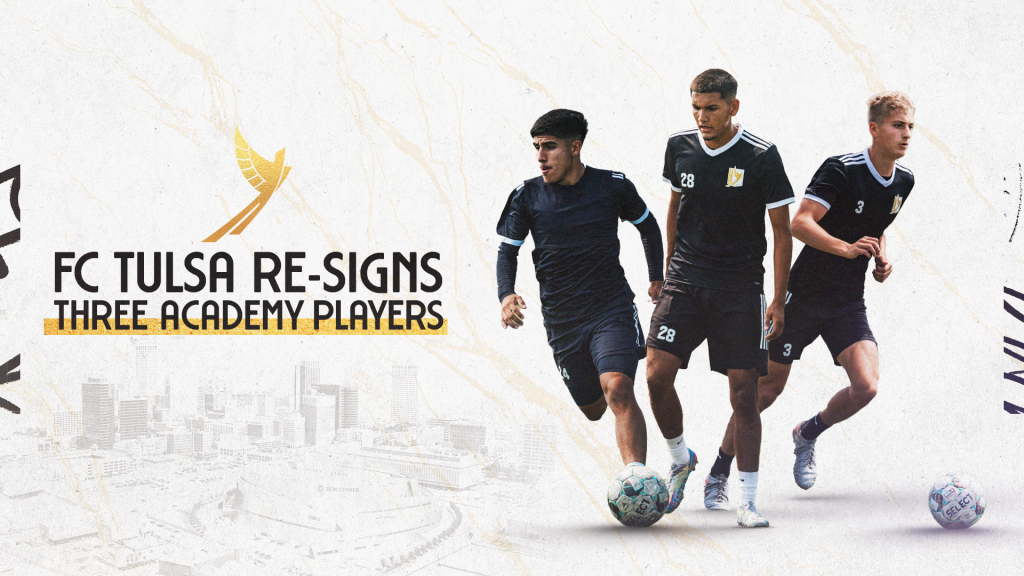 Mota, Fisher, and Hernandez All Entering Second Season with FC Tulsa
TULSA – FC Tulsa continues to fill out its 2022 roster with area talent and build the foundation for the club's Pathway to Pro. Three local youth players have been re-signed to Academy contracts for the upcoming season –Tony Mota, Piercen Fisher and 2021 Academy Player of the Year, Jesus Hernandez. The trio were all a part of last season's roster, but each have yet to make their on-field debuts with the club.
"With a season under their belts, this year the expectations increase for the Academy players," said head coach Michael Nsien. "They have to pick up from where they left off last year and show progression. We will know if they're developing when they start reaching the goals they've set for themselves and have to create new ones. So far in preseason, you can see that some are close to breaking through."
Mota, a 19-year-old central midfielder, is a born and raised Tulsan. As a youth player for Tulsa Soccer Club (TSC), Mota was a part of its ECNL Texas Conference Championship team in 2018. He competed in only one high school season at Claremore High School before focusing on competitive club soccer. In that campaign, Mota racked up 14 goals, was nominated for All-District, and was the team's Offensive Player of the Year, leading the team to the State playoffs.
"Glad to be returning back to my hometown club," said Mota. "Just ready to get in the office and get to work. Con todo adelante, Vamos Tulsa!"
Fisher, a 17-year-old outside back, is also entering his second season with FC Tulsa. Formerly a club player Blitz Academy FC, Fisher now competes for TSC. Since joining TSC, Fisher has won two ECNL National Championships and was recently named a 2021 All-Conference First Team player in the Texas Conference.
"I'm really excited to be back with FC Tulsa for another season," said Fisher. "Last season was a big adjustment, but one that helped me to embrace the daily grind and improve my level of play. My teammates were great mentors helping me not only grow as a player, but as a person and I can't wait to continue that into the new season."
Hernandez, a 19-year-old outside back, is back with FC Tulsa after winning the club's player-voted 2021 Academy Player of the Year award. While he awaits his pro debut, Hernandez did make four matchday squads last season, including taking three roadtrips with the club. Last year, Jesus graduated from the Tulsa Soccer Academy.
"I am glad to be returning as an academy player for the 2022 season," said Hernandez. "I can't wait to be a part of the achievements this team is going to achieve this year. Vamos Tulsa!"
By signing as Academy players, all three maintain their collegiate eligibility while having the opportunity to train in a professional soccer environment.
FC Tulsa now features 24 rostered players as it heads into its first preseason competition, an intrasquad scrimmage set for Saturday.