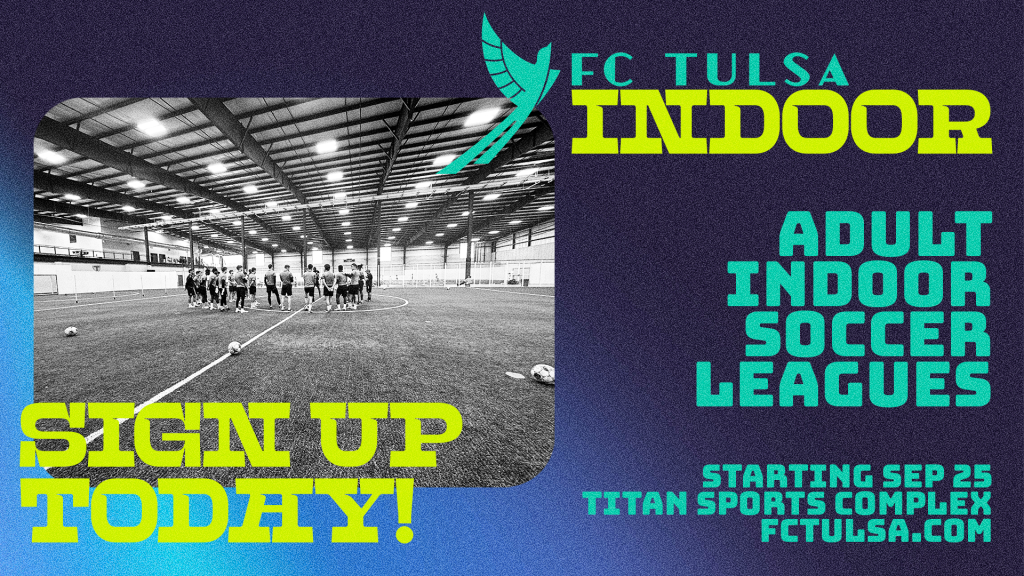 INDOOR Adult Soccer Leagues
Coming Soon
FC Tulsa is introducing indoor soccer leagues for adults beginning in September at Titan Sports and Performance Center. Participants can either start their own team with friends, or join the league as a free agent and FC Tulsa will place them on a team with an opening.
The league consists of eight guaranteed matches (seven regular season matches with one guaranteed postseason match, in addition to a potential bonus championship match double-header).
Each age range meets on a specific night (listed below), though nights are subject to change.
Register Your Team
Interested in starting a team with friends? Fill out the New Team Form Request below. Teams require a minimum of 10 players, but 14 is recommended.
Enter as Free Agent
Interested in playing but don't have a team? Join the free agent pool from which you will be placed on a team with an opening.
Additional Details
– Leagues take place from September 25th through November 19th.
– Sessions begin at 6 p.m.
– Played at Titan Sports and Performance Center
– Each team is guaranteed seven regular season matches and one postseason match
– Includes ticket voucher for an FC Tulsa match in 2023 or 2024
– Includes customized indoor team jersey
– Includes a party hosted by FC Tulsa on the day of the indoor league playoffs
– Cost is $79 per person
Schedule
Monday – Co-ed (16+)
Tuesday – Men's (16+)
Wednesday – Men's (30+)
Thursday – Co-ed (30+)
Sunday – Men's (40+)
Sunday – Women's (16+)
For any additional questions, email leagues@fctulsa.com.