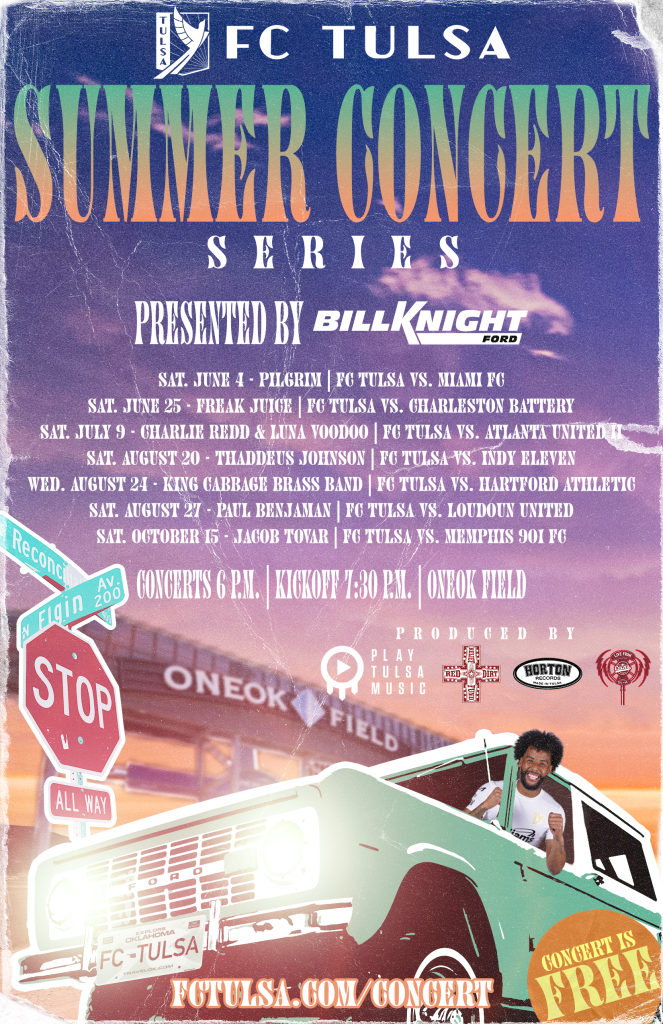 ---
Throughout the summer, FC Tulsa has teamed up with the Tulsa FMAC, Horton Records, Live from Cain's and the Red Dirt Relief Fund to bring fans the FC Tulsa Summer Concert Series, presented by Bill Knight Ford. Before six Saturday night matches at ONEOK Field, FC Tulsa will host a free concert right outside ONEOK Field featuring different Tulsa-based artists! All concerts begin at 6 p.m.
After the concert, enjoy an FC Tulsa pro soccer match and Fireworks Show! Click the link below to sign up for a special ticket offer for any FC Tulsa match following the concerts.
---
2022 FC Tulsa Summer Concert Series Lineup:
---
PILGRIM
JUNE 4
6-7 P.M.
A little bit of Tulsa rock, blues, country, and funk all bundled into one sound.
---
FREAK JUICE
JUNE 25
6-7 P.M.
A fusion of rock, jazz, hip-hop, and reggae, led by the band's founder Tori Ruffin.
---
CHARLIE REDD AND LUNA VOODOO
JULY 9
6-7 P.M.
A modern mix on funk, soul, jazz, and everything needed to get your feet moving!
---
THADDEUS JOHNSON
AUGUST 20
6-7 P.M.
The Oklahoma native was on both Season 9 and Season 16 of American Idol!
---
KING CABBAGE BRASS BAND
AUGUST 24
6-7 P.M.
Oklahoma's only New Orleans-inspired big brass band.
---
PAUL BENJAMAN
AUGUST 27
6-7 P.M.
70's-style rock and roll with a steady dose of loud guitar, straight out of Tulsa.
---
JACOB TOVAR
OCTOBER 15
6-7 P.M.
An Oklahoma return to country's roots featuring crooning honkytonk vocals.
Presented By:
---
Produced By:
---